Scholarship winner to create cheaper water purifier for developing countries
PhD student Eldon Tate has won an AMP Scholarship to develop a new solar water treatment system.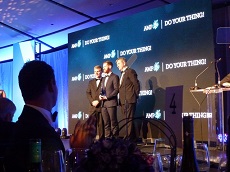 Safe drinking water could become more accessible after Victoria University of Wellington student Eldon Tate won a scholarship to develop a new solar water treatment system.
The PhD student has received a $10,000 AMP National Scholarship to carry out his research, awarded at the 2014 Do Your Thing ceremony in Auckland.
He also receives additional business support and mentoring to the value of $4,000.
The nanotech researcher says he is delighted to win the scholarship and the money will be a significant help.
"To have this extra funding means I can take the technology out of the lab and start real-world testing."
Eldon will develop a low cost water-purification method that uses the energy from the sun, and unique nano-composite materials he has created in his research, to generate clean drinking water.
The system aims to be inexpensive enough to suit developing countries that desperately require access to clean drinking water.
"There are no running costs and it won't require a huge infrastructure set up or large filtration system. This will make it really cheap and efficient," says Eldon.
Traditionally, high-intensity ultraviolet light has been used to purify water but Eldon has developed tiny molecules that have shown to purify water using visible light.
"It actually breaks down the contaminants, so there isn't any by-product or waste left over," says Eldon.
The scholarship means Eldon can build a test model system designed to support the needs of a family home. He hopes to have this completed within a year.
Eldon's research forms part of his PhD study—he is working with supervisor Professor Jim Johnstonfrom the School of Chemical and Physical Sciences to develop the system.
"It will be great to continue the work we've already done into an application. It couldn't have come at a better time."