New Zealander of the Year - Paul Callaghan
Victoria University is immensely proud of Professor Sir Paul Callaghan who was awarded the New Zealander of the Year honour last night. The award recognises an individual who has made an outstanding contribution to the well being of the nation.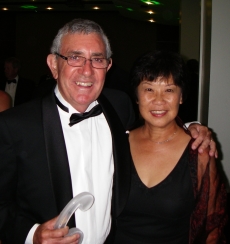 Professor Callaghan received the award for his commitment in connecting science, technology and business for the positive economic development of New Zealand.
"We have come a long way in this country when in two successive years, scientists are singled out as 'New Zealander of the Year'. I'm honoured to follow Ray Avery, and I welcome the chance this gives me to further promote the value of science to our country," he said.
Professor Pat Walsh, Vice-Chancellor of Victoria, says that Professor Callaghan's award is richly deserved.
"He is one of the nation's most distinguished scientists and a world-leader in his field, but more than that, he has contributed so much to public debate and discussion of science and the potential it has to transform New Zealand."
Sir Paul is a world leading scientist in the fields of nanotechnology and nuclear magnetic resonance. His mantelpiece features an array of honours for his endeavours, including a Knighthood for services to science and New Zealand's highest scientific honour, the Rutherford Medal.
Despite battling an aggressive cancer, Sir Paul is still as committed as ever to his passion for science and his vision for New Zealand to become "the most beautiful, stimulating and exciting place to live and work in the world."
In recent years, he has been at the forefront of connecting science and business. His 2009 book 'Wool to Weta' challenges traditional economic thinking and advocates for the potential of science and technology entrepreneurship to diversify our economic success. He puts forward his vision of a future New Zealand where the use of science, technology and intellectual property can provide economic prosperity for the entire country and free New Zealand from simply being a producer of biological commodities.