Tor, who recently completed a Master of Design Innovation, has embarked on a job in Weta Workshop's 3D modelling department where she creates realistic prosthetic eyeballs.
She says that when it comes to hyper-realistic sculptures such as those Weta Workshop has become famous for, the eyes play a crucial role in maintaining believability.
"Eyes are so incredibly detailed and, if they look fake, it can really impact how you see the whole sculpture."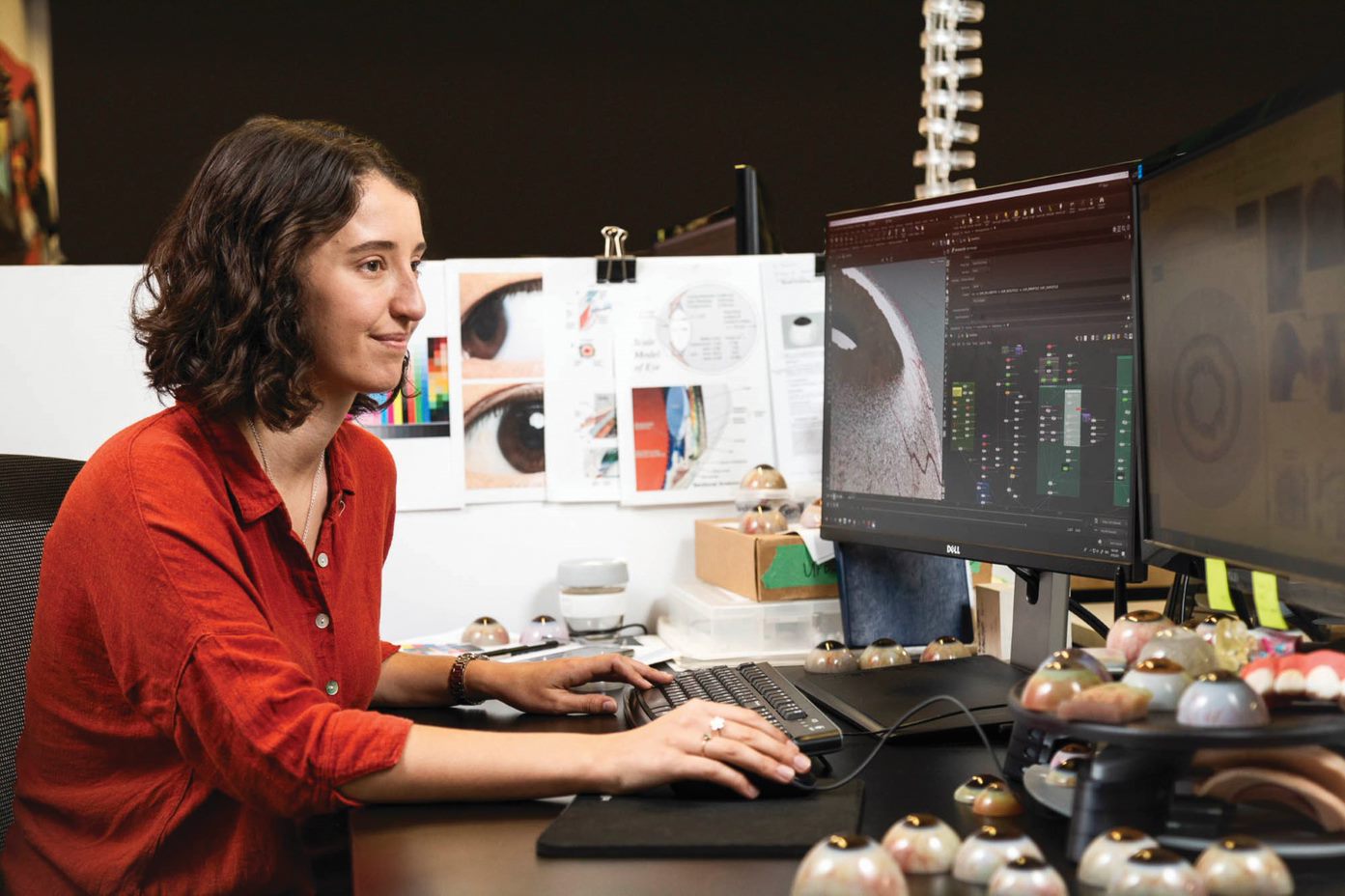 At Weta Workshop, Tor is overcoming this challenge with a state-of-the-art Stratasys J750 3D printer that is based at the University's Te Aro campus and the only one of its kind in New Zealand. This printer uses advanced technology and allows up to six materials to be used at once. It provides her with access to voxel printing, a technique that gives the user control over every single droplet of material that goes into the printer.
"The problem is that you have to find your own way to do this, as there is no voxel printing software available," she says. As well as becoming an expert with the printer, Tor has done a lot of research into eye anatomy to accurately reproduce the complex organ.
"There's a big difference in eye structure from person to person. Not only is there a range of sizes, but they can also change shape depending on what they're doing. Aspects like iris, limbus, veins, and scleral geometry vary, and this can make the eyes look completely different. With the original casting process it was difficult to show these differences, but that's one of the strengths of using this 3D printer."
Tor says an example of this can be seen in the exhibition Gallipoli: The Scale of our War, a collaboration between Weta Workshop and Te Papa. The exhibition features giant figurines—each 2.4 times the size of the humans they're based on. Tor points out that the eyes in these figurines were created with an older casting process. "That was a few years ago. With the 3D printer we could make the eyes five to 10 times more detailed."
When Tor began her Bachelor of Design, she had no idea she'd become so hooked on 3D printing. But a summer scholarship with the University's Industrial Design programme director, Ross Stevens, led to her Master's research project using the Stratasys J750 printer, which in turn led to a six-month research and development grant from government agency Callaghan Innovation.
"I joined Weta Workshop on this grant to focus on voxel printing, but am now in a permanent role. Once I've cracked the challenge with the eyeballs, the plan is to appropriate the process for other projects, so it could be used for all sorts of props.
"I love the amount of problem-solving and creativity the work has, while giving me the opportunity to overcome some really technical problems. When I was younger, I never imagined I would get to become so focused on one very complex type of 3D printing!"