When James Lynex was choosing his preferred hall of residence, his mum knew there was only one option—Victoria House, where she'd met James's father 30 years before. And James wasn't the last member of the family to call Victoria House home—last year, his sister Gemma continued the family tradition and moved into the hall.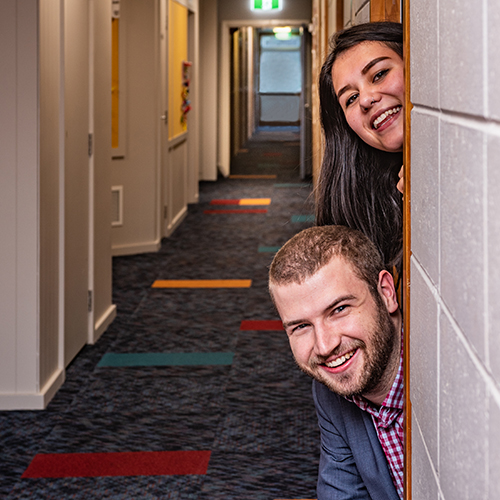 James
What was the highlight of living in Victoria House?
Victoria House has the whole family vibe—everyone always looks out for each other. I was never short of friends to go out for a walk with or go down to town with. Generally, we'd all study together here, and then we'd take a break and play cards each night.
How did your parents meet?
They were both in Wallis Wing, and I guess it just went from there. When I put in applications for halls, mum told me to put Victoria House as my first choice—that's how I ended up here, and it was the same for Gemma. Gemma had the same experience the rest of the family had—the whole cliché thing about everyone being there for each other. At bigger halls you just don't tend to get that as much.
How did you find the transition to living away from home?
I remember it took me a while to learn how to stand on my own two feet. In terms of study, my fellow Victoria House residents were definitely supportive. We figured out pretty quickly who was studying what, and then we could split off into study groups. One of my best friends, who I met in Victoria House, did pretty much an identical degree to me, and that meant we could support each other while we were here.
What advice would you have for Kyndra?
I'd tell her to think about who you want to be known as by the time you move out of here. Think about who you want
to be remembered as, and what sort of friends you want to have. Because, nine times out of 10, you'll probably go flatting with them!
Kyndra
Why did you choose Victoria House?
I actually missed the cut-off date for applying for a hall, so it was all very last minute. I chose my degree because I really want to work with animals and get into conservation one day, and I chose to go into a hall because it was the best way to meet people. And I knew Victoria House—I used to visit my friends here all the time, so when I moved in, I already knew my way around.
How are you adjusting to life in Wellington?
I've always really liked Wellington—I'm from Palmerston North originally—and I used to visit here all the time when
I was in school. I like that it's so different to where I'm from— it's so busy and there's always so much to see. And I feel like the University, and Wellington in general, is so open-minded. You can be friends with people you never expected to be friends with. Everyone's very relaxed about who you are and what you like—they just kind of accept you for who you are.
Have you made friends in Victoria House?
I've made a really good group of friends here—we've got a group of four girlfriends, and we also have a good group of guys we hang out with. Coming from an all-girls school, it's really nice to have guys in our friend group!
Are you enjoying living in Victoria House?
I love Victoria House! It's so fun—everyone is so nice, and you have friends everywhere. The residential advisers are really cool, and I feel like if you go to dinner by yourself, there's not a table you can't sit at.