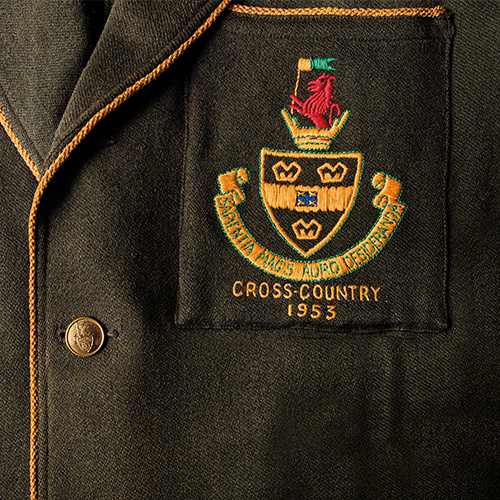 This blazer was donated to Victoria's J.C. Beaglehole Room in 2012 by John Mahan's wife, Jill.
Spotlight on the 1953 Victoria cross-country team
Although rain had fallen during the previous day and during the morning, the track at famed Cornwall Park apparently favoured Victoria University College, for our team made the most of it. The track, however, was not boggy—the rain was enough to soften the top-soil and make the going slightly tougher.
John Mahan, having completely recovered from a troublesome ankle which had hindered his performances during the early portion of the season, won the contest for Victoria with a good time of 38.44 minutes for the 6½ mile course, nine seconds faster than Auckland University College's D. Dow.
Fifth, sixth and seventh places went to Victoria University College who were awarded the Dixon Trophy for teams placing (first tour men home) and also the Shackleford Cup for the North Island teams race.
The winner—John Mahan—impressed most with his seemingly effortless pace, and only in the last few yards was any strain evident. Dick Gilberd, fifth man home, was also nearing exhaustion. Colin Candy, sixth, ran as well as could be expected. His form of late has been steadily improving, although he in not yet in a position to give his previous high standard.
Tim Beaglehole, finishing twelfth, ran an excellent teams' race. Up with the leaders at the end of the first lap, he set the pace well and prepared the way for John Mahan and the others. He ran a good race, and his form was an improvement on previous efforts. He should eventually reach an excellent standard and he is worth watching in the future.
In general, an excellent team combination paid dividends by gaining for Victoria not only the trophies, but an additional eight points in the shield, which made Otago University think twice.