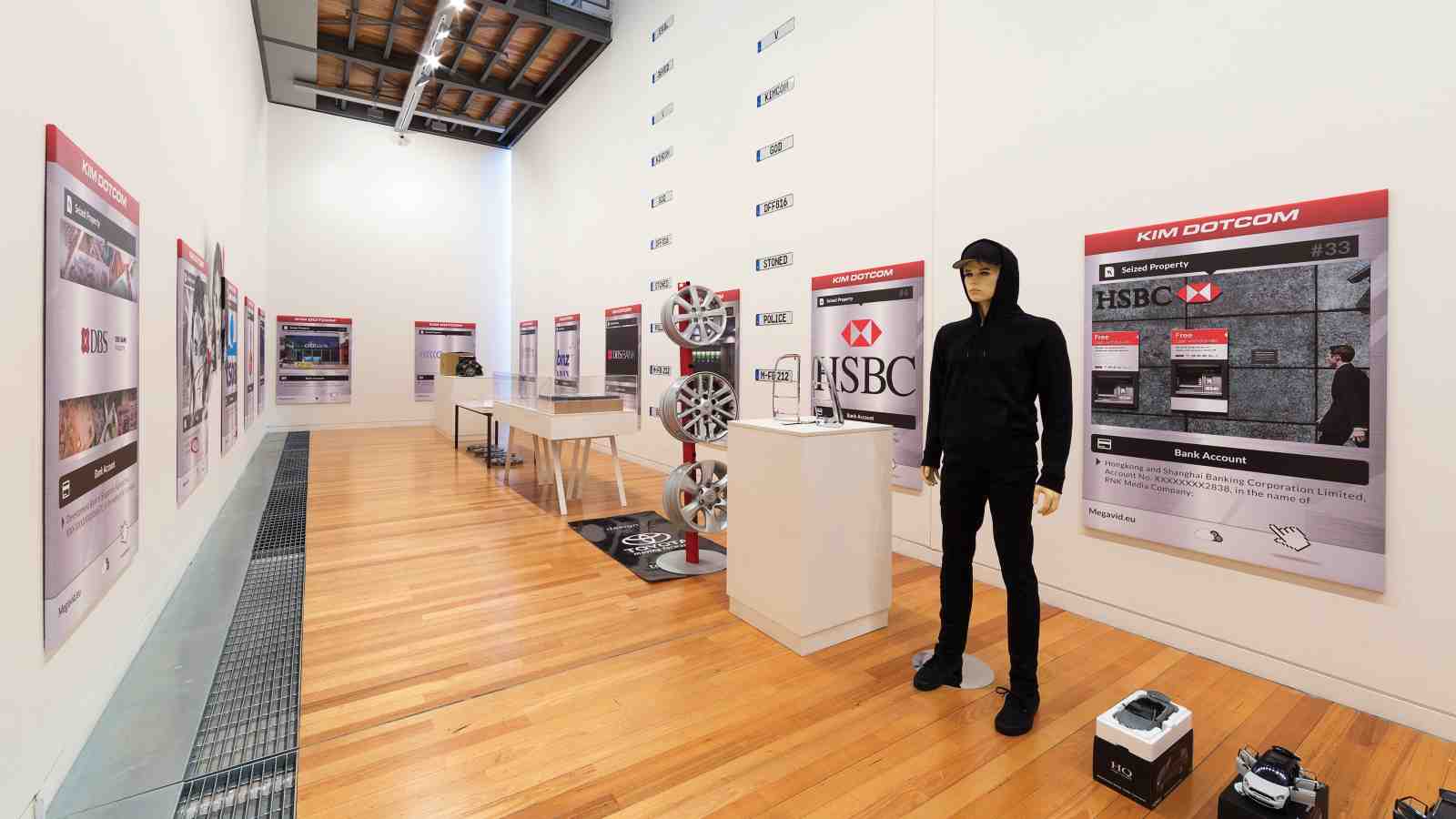 Simon Denny, The Personal Effects of Kim Dotcom 2014, installation view at the Adam Art Gallery, Victoria University of Wellington ©Simon Denny. Credit: Shaun Waugh
The exhibition, by New Zealand-born, Berlin-based artist Simon Denny, recreates the personal property that was confiscated in the 2012 police raid on internet entrepreneur Kim Dotcom's New Zealand mansion.
Originally presented at the Museum of Modern Art (mumok) in Vienna, Austria, and then staged at Firstsite in Colchester, England, Simon Denny's show has been reconfigured for the Adam Art Gallery spaces.
"Over the last two years, Kim Dotcom has dominated New Zealand's media landscape," says Adam Art Gallery director, Christina Barton. "Simon Denny uses this larger-than-life character, and the traumatic event that brought him to public attention, to ask questions about property rights and privacy and the evolving status of information."
Gallery staff have played a significant role in helping to find items for the show.
"It's been an intriguing exercise to work with Simon to realise this," says Christina.
"One of our biggest challenges has been interpreting the list according to our own resources and space constraints."
This included finding a solution for representing $175 million in US currency, which was achieved by converting the amount into New Zealand dollars, then sourcing the equivalent weight in granulated out-of-circulation currency.
Other objects have been sourced from businesses and private collections, for example, a state of the art Sea-Doo jetski, a high end custom motorbike, and a Predator sculpture weighing 800 kilograms made of scrap metal, as well as Toyota car parts and servers from the University's own IT service.
A unique aspect of the Wellington show is the repainting of a mural by graffiti artists Cut Collective, who Dotcom originally commissioned to paint his gaming room.
"In some senses, this show gives us insights into Kim Dotcom's extravagant lifestyle, yet because the items are only those confiscated by police, it also exposes those dimensions that are of interest to the authorities. In this sense the exhibition explores the fate of the individual in a digital age where the very concepts of property, privacy and freedom of information are at stake."
Simon Denny is fast emerging as a leading contemporary artist. He has been selected to represent New Zealand at the 2015 Venice Biennale and a selection of his recent works has been acquired by the Museum of Modern Art in New York, a rare achievement for an artist born in New Zealand.
The Personal Effects of Kim Dotcom runs until 19 December.