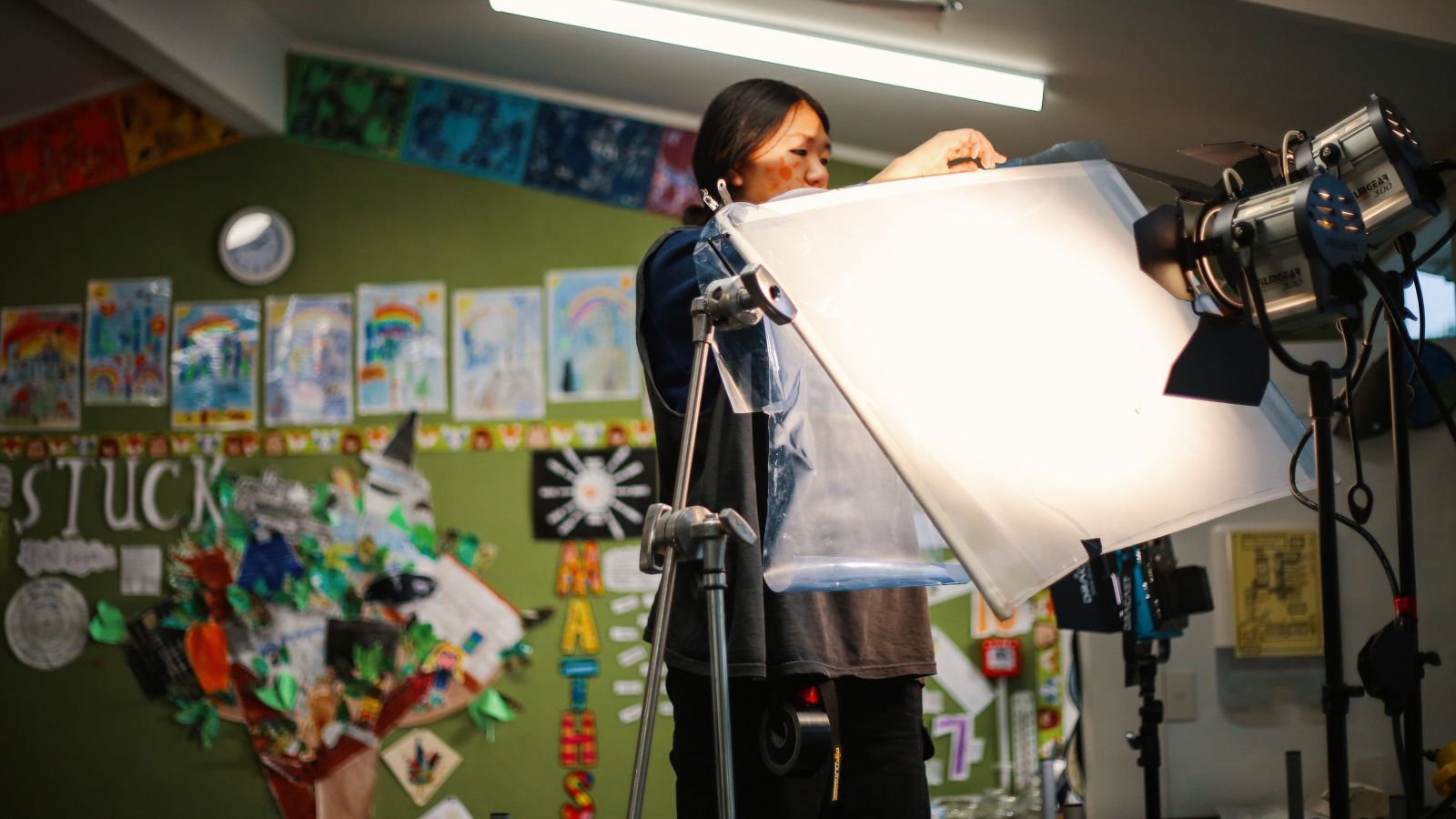 Izzie Lao on set. Photo by Celeste Fontein.
"I originally came to Wellington to study psychology," Izzie says. "A careers advisor at my school wasn't very supportive of my desire to go to Wellington and study, so I took that as a bit of a challenge. Fortunately for me my parents were really supportive, so I was able to come here and study."
Izzie quickly realised that theatre and film were among their passions, so they pivoted their degree to focus more on those subjects. It was during some of their Theatre papers that Izzie met Anna Pastor-Bouwmeester, a technician in the Theatre programme.
"Anna gave me access to so many opportunities," Izzie says. "Because of her I got to design lighting for several Honours degree shows, and she also helped me get to work on the first show I did outside of University.
"I think she saw the inner nerd in me and realised I would be perfect for lighting design," Izzie says. "She was incredible—she provided me with such a safety net and so much support while I was studying, and she was so driven and passionate with the art she created that I was really inspired. She helped me realise that there were so many different opportunities to engage with the theatre world."
Anna took her own life in 2018, but Izzie says her impact and support provided the groundwork for them to build their career.
"I also want to acknowledge Sam Tippet and Paul Tozer, the two technicians who took over from Anna—they are a dream team."
As well as the opportunities Izzie found through Anna's mentorship, they also had access to a number of other opportunities in Wellington during their degree.
"I took part in Young and Hungry, a programme which gives young creatives the opportunity to get practical experience in theatre," Izzie says. "It was such a great way to apply all the things I had learned at University. I'm a really practical person, so I loved the opportunity to get as much hands-on experience as possible and learn from so many different people."
Izzie had only had a few years in their post-graduation career before the COVID-19 pandemic hit.
"Honestly, I thrived in lockdown," Izzie says. "I had just gone through a really busy period with end-of-year shows and then the Fringe Festival, and it was pretty nice to have a break. There wasn't anything I could do about it, so I had to relax."
During lockdown Izzie says they took the opportunity to bond with their flatmates. The break was also a good thing, it turned out, because after lockdown it was straight back into work, with five shows one after the other.
Then Izzie was thrown another curveball—their father was sick. Izzie travelled home to the South Island, putting theatre on hold again while they looked after their father. Sadly, he passed away in 2020, so after spending time with their family Izzie returned to Wellington and to work in theatre. A highlight of this time was joining the Kia Mau Festival team as production manager and getting experience in the organisational side of theatre.
When the second lockdown hit in 2021 Izzie had a few shows cancelled or postponed.
"It really helped me learn how to prioritise," Izzie says. "It also taught me how to be patient and forgiving, and to relax and take a break and worry less about being productive all the time."
Izzie is currently working as an actor in Destination Mars, a show being hosted at Te Papa Tongarewa as part of the Aotearoa New Zealand Festival of the Arts.
"It's really nice to still be working, and I'm very grateful to be in Wellington where overall it feels like we haven't had as bad of a pandemic experience," Izzie says. "I feel like I can trust the people around me, and that there is a real sense of aroha in the community. I feel very lucky and privileged to have all this support."
Izzie says they have had to accept that a lot of this is out of everyone's control.
"I do get scared that the pandemic could be the death of live theatre, but I think it will come back once everything is safer," Izzie says. "I've definitely had a lot of stress dreams about what could happen, but I know we need to just use our time wisely and engage with what we have. I hope we get a lot of new creative work out of this time."
Izzie says they feel very grateful and fortunate that things unfolded as they did.
"I've had the opportunity to pursue theatre as a career and not just a hobby," Izzie says. "I've had amazing mentors who have helped me see my art as a career, and encouraged me to get paid what I'm worth."
Izzie credits the support from their friends and mentors, hard work, passion, and a bit of luck for getting to where they are today.
"The amazing support from producers Vanessa Immink, Nathan Mudge, and Eleanor Strathern was the reason I felt able to ask for full pay," Izzie says. "I also had a very flexible non-theatre job which really helped me make the switch from part-time to full-time theatre work because I could pretty much accept every theatre job that approached me while still having the work I needed to pay my bills!"
Izzie says their friends and family were vital in motivating them to keep going when they lost motivation, and also in making sure they learned when to rest.
"I used to bulldoze through shows and put my health on the back burner, so I got sick a lot," Izzie says. "The support of my friends and family, as well as managing working through a pandemic, has really made me focus on my health and wellbeing as well as my work."
For those looking to start a career in theatre, Izzie has some advice.
"Just start. Anxiety and being scared of things can be hard, but just get started and give it a go," Izzie says. "Go in open minded and genuine and keen and go in wanting to please yourself and you'll be surprised by how far you get."
Once Izzie finishes their work on Destination Mars, they hope to spend time working on their own ideas.
"I want to put my own ideas on a page and back them," Izzie says. "That doesn't necessarily mean I'll put on my own show this year, but I just want to work on creating a full vision that comes just from myself. I also have a new mantra for myself—be challenged, have fun, get paid. Everything I do has to achieve at least two of those things!
"This year I particularly want to have fun—the last two years have been pretty intense. I hope 2022 is good to us!"
Find out more about Izzie's current show, Destination Mars, here.