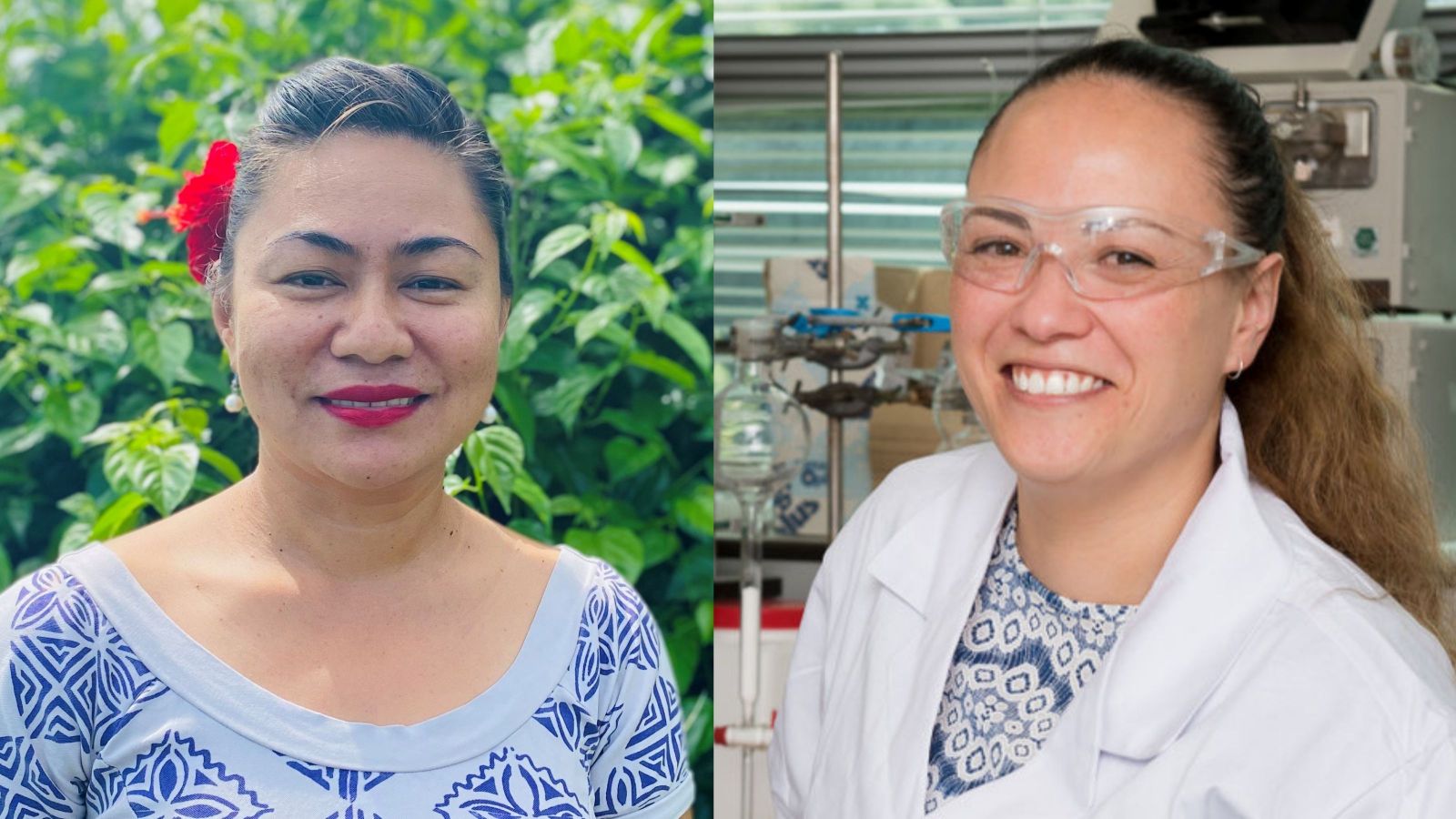 Dr Seeseei Molimau-Samasoni, Dr Helen Woolner
The traditional Samoan medicinal plant matalafi has been found by a group of researchers to be as effective as ibuprofen for treating inflammation.
"Matalafi is used in two ways in Samoa—to treat illnesses attributed to ghosts, and to treat various forms of inflammation," says indigenous Samoan Dr Seeseei Molimau-Samasoni, who is now with the Scientific Research Organisation of Samoa. In her PhD thesis, she discovered the underlying molecular mechanism of matalafi, and her research was subsequently built upon by the postdoctoral research of Dr Helen Woolner (Cook Islands Māori).
The research has been published in the Proceedings of the National Academy of Sciences of the USA this week. This indigenous-led research into matalafi (Psychotria insularum) included a team of scientists and students from Te Herenga Waka—Victoria University of Wellington, as well as researchers from New York University, Stanford University and University of California, San Diego.
"I began my PhD at Te Herenga Waka in 2013, and worked with traditional healers in Samoa to harvest the matalafi and bring it to Aotearoa to find out how and why it works," says Dr Molimau-Samasoni.
Of the 1,562 newly approved drugs from 1981–2019, 64 percent were either natural products, derived from natural products, or based upon natural products or botanical drugs, according to the paper. Matalafi is one of several Samoan traditional medicines to be researched for potential use in modern (western) medicine.
The research identified an iron homeostasis mechanism of action, which means matalafi interacts with the iron within cells of the body. The research also identified the compounds within matalafi which are bioactive—namely rutin and nicotiflorin—which both act to bind iron in a process called iron chelation.
The research has shown that matalafi exhibits anti-inflammatory activity remarkably similar to that of ibuprofen. Iron chelators like matalafi also have the potential to treat iron overload associated with transfusions, and have been identified as prospective agents against common diseases like cancer, neurodegenerative diseases, cardiovascular diseases, and diabetes. "This raises the possibility for applications of matalafi beyond traditional use," says Dr Woolner.
Dr Andrew Munkacsi, who was one of Dr Molimau-Samasoni's supervisors as well as being part of the research team adds, "Our findings also highlighted the sensitivity of the RIM101 gene deletion to the P. insularum homogenate. This gene is a major regulator of lipotoxicity (cell death due to lipid toxicity), which underlies obesity. Also, molecular studies published last year predicted rutin as a strong contender in inhibiting the viral replication of the SARS-CoV-2 virus that causes COVID-19."
"This project is unique in integrating traditional knowledge with different types of biological and chemical methodologies," says Dr Molimau-Samasoni.
"Our research is also remarkable for the integration of the indigenous researcher–community engagement, which has not always been the case with previous studies of Samoan traditional medicine by commercial researchers," adds Dr Woolner.
Assistant Vice-Chancellor (Pasifika) Luamanuvao Dame Winnie Laban is excited to see two Pasifika women doing important work in scientific fields. "It is wonderful to see two Pasifika scientists lead this valuable research, proving the science behind the use of what is a well-known traditional medicine in Samoa. I hope this important discovery will inspire a future generation of Pasifika scientists."
The research was supported by a Te Herenga Waka doctoral scholarship, as well as Health Research Council of New Zealand funding. The Scientific Research Organisation of Samoa also supported the research and assisted with the fieldwork. Other Te Herenga Waka researchers included Professor Paul Atkinson and Associate Professor Robert Keyzers, among others.