Swipe, collaborate and volunteer
A group of Victoria University of Wellington alumna are creating a mobile app to change the way volunteers find opportunities relevant to their skills and interests.
26 April 2017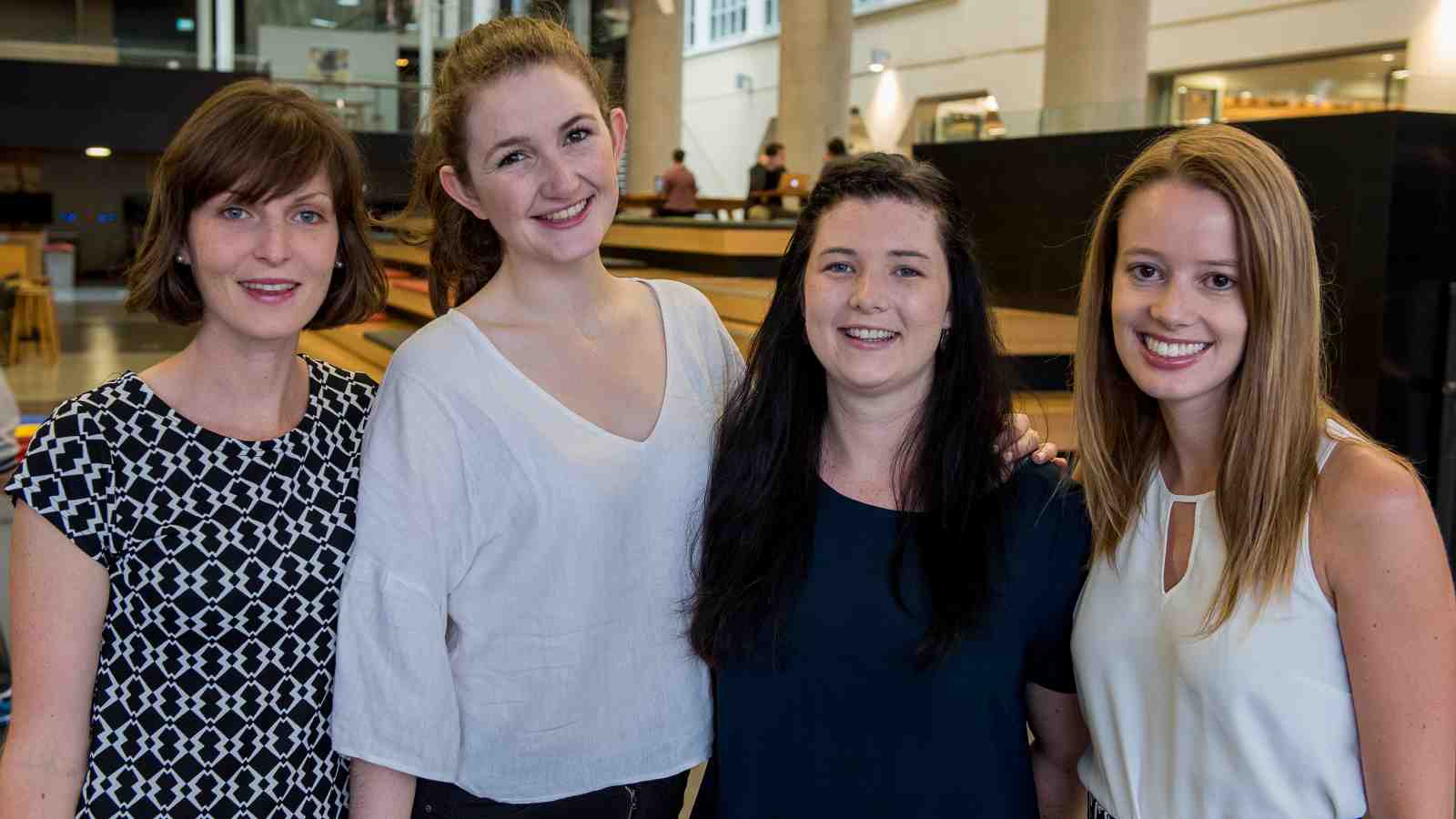 L-R: Holly Norton, Ceara Bickerton, Poppy Norton and Sophie Seymour.
Collaborate was founded by Ceara Bickerton (Bachelor of Science and Postgraduate Diploma in Development Studies), Holly Norton (Bachelor of Arts and Postgraduate Diploma in Development Studies), Poppy Norton (Bachelor of Science) and Sophie Seymour (Bachelor of Arts and Bachelor of Laws) who became frustrated when trying to discover volunteer opportunities in the areas where they felt they could make a difference.
At the recent prestigious web conference, Webstock, the quartet's idea was recognised as part of the BNZ start-up alley where they won a bonus prize of $2,500 and a day with BNZ's User Experience (UX) team. They plan on using the prize money to turn their prototype into a functioning app.
Although hesitant to describe it like a certain mobile dating app, Collaborate does have similarities to Tinder, says Ceara.
"Community organisations post a specific task, which could range from short-term web design project to running a social media campaign, and can connect instantly with skilled volunteers who indicate interest.
"This empowers both community organisations and young people to create positive social change and builds both the experience of volunteers and the capacity of organisations."
It was after Poppy graduated last year that she realised how hard it would be to offer something to her community outside of her fulltime role at Victoria as a Student Liaison Officer.
"I quickly realised that working fulltime and being a young professional didn't match the volunteering landscape.
"Collaborate will make it easier for people who become part of the workforce and still want to do good in their community, while also making it easier for organisations to match with the right person."
Sophie found during her time at Victoria's School of Law that there was huge demand from students wanting to apply for volunteering opportunities. "It's crazy that there were too many people who wanted to help the couple of charities that we knew of when there are so many others who need help. Collaborate will help connect students to the many opportunities out there that need their skills"
Holly says that the group are passionate about using their skills and time to bring about social change.
"Volunteering allows you to work with a diverse group of people that you wouldn't necessarily come across otherwise. It gives you a greater understanding of what is going on around you and empowers and develops your skills to do something about it."