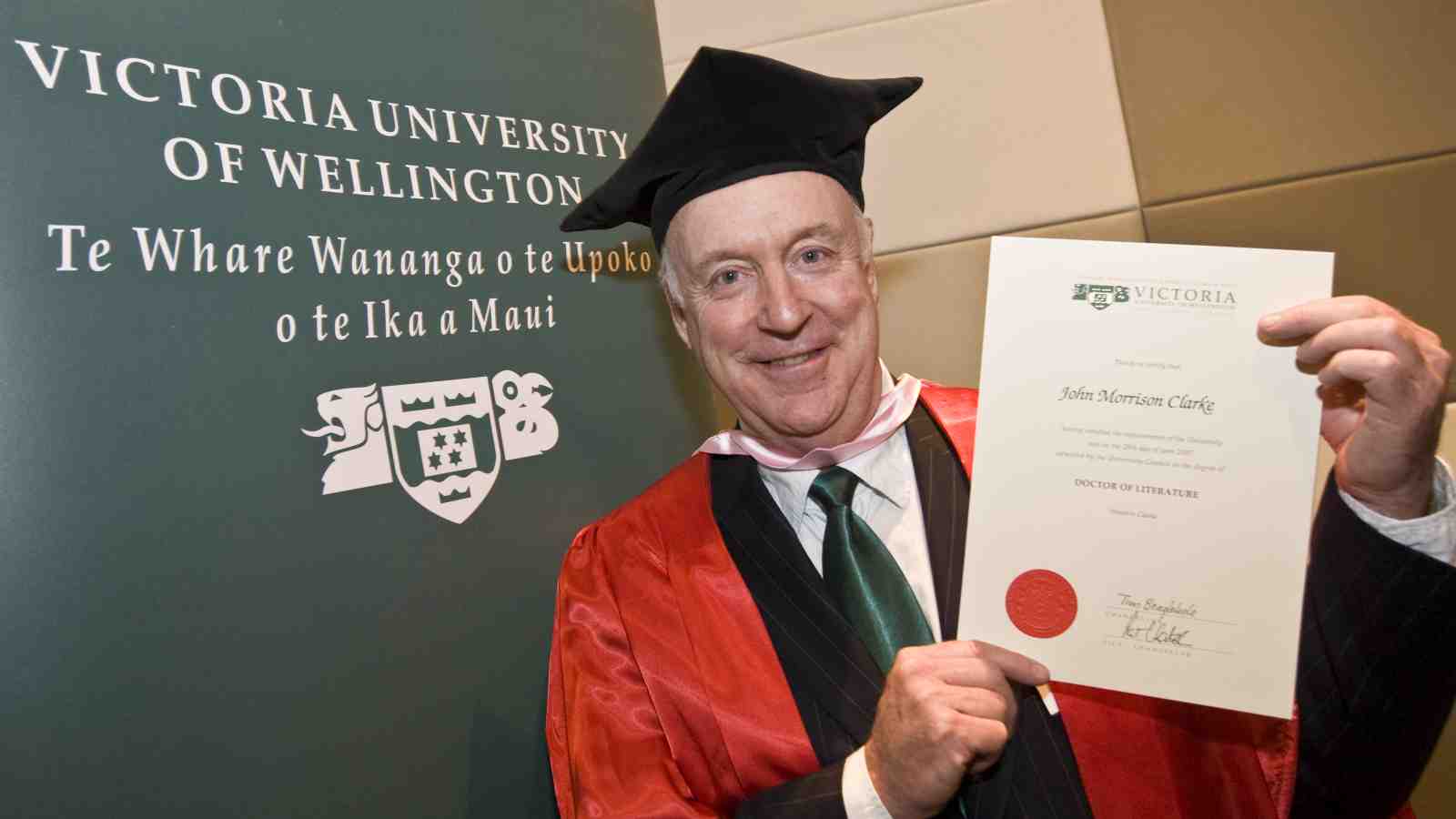 John was a comedian, writer and satirist who first became known in New Zealand during the mid to late 1970s for portraying laconic farmer Fred Dagg.
He received an honorary doctorate of literature from Victoria in 2007 at a special ceremony at an alumni event in Melbourne.
His citation noted: "The timeless humour of the Goon Show shaped John Clarke's generation, inspiring him to become New Zealand's own comic genius. And it was at Victoria University of Wellington in the late 1960s, somewhere between lectures in law, commerce and arts that his comic talent emerged and he began to make his name in student productions and revues."
Director of the Stout Research Centre at Victoria, Lydia Wevers, says John Clarke seemed effortlessly funny all his life, but was also kind, generous and a serious scholar.
"I was lucky enough to be a member of the audience in the immortal EXTRAV years of the late sixties at Victoria-Helene Wong, Dave Smith, Roger Hall, and yes John Clarke. We packed out the Memorial Theatre and laughed till we cried. Then John appeared on television and Fred Dagg was born.
"John was an English student at Victoria which showed in his marvellous book of parodies of famous literary poems in which all famous poems turn out to be written by Australians. As in TS (Tabby Serious) Eliot was born in Mallacoota but he went to school and university in Melbourne and qualified as a surveyor in 1915. 'The Love Song of J Arthur Perpend'.
The honorary doctorate citation in 2007 concluded: "With his comic energy and his incisive and independent take on the world, John Clarke cuts through to the innermost truths of society and politics in the Antipodes. His Fred Dagg costume is now in the Museum of New Zealand Te Papa Tongarewa, but he continues to give real meaning to the words of the German philosopher Friedrich Nietzsche - we should call every truth false that is not accompanied by a laugh."