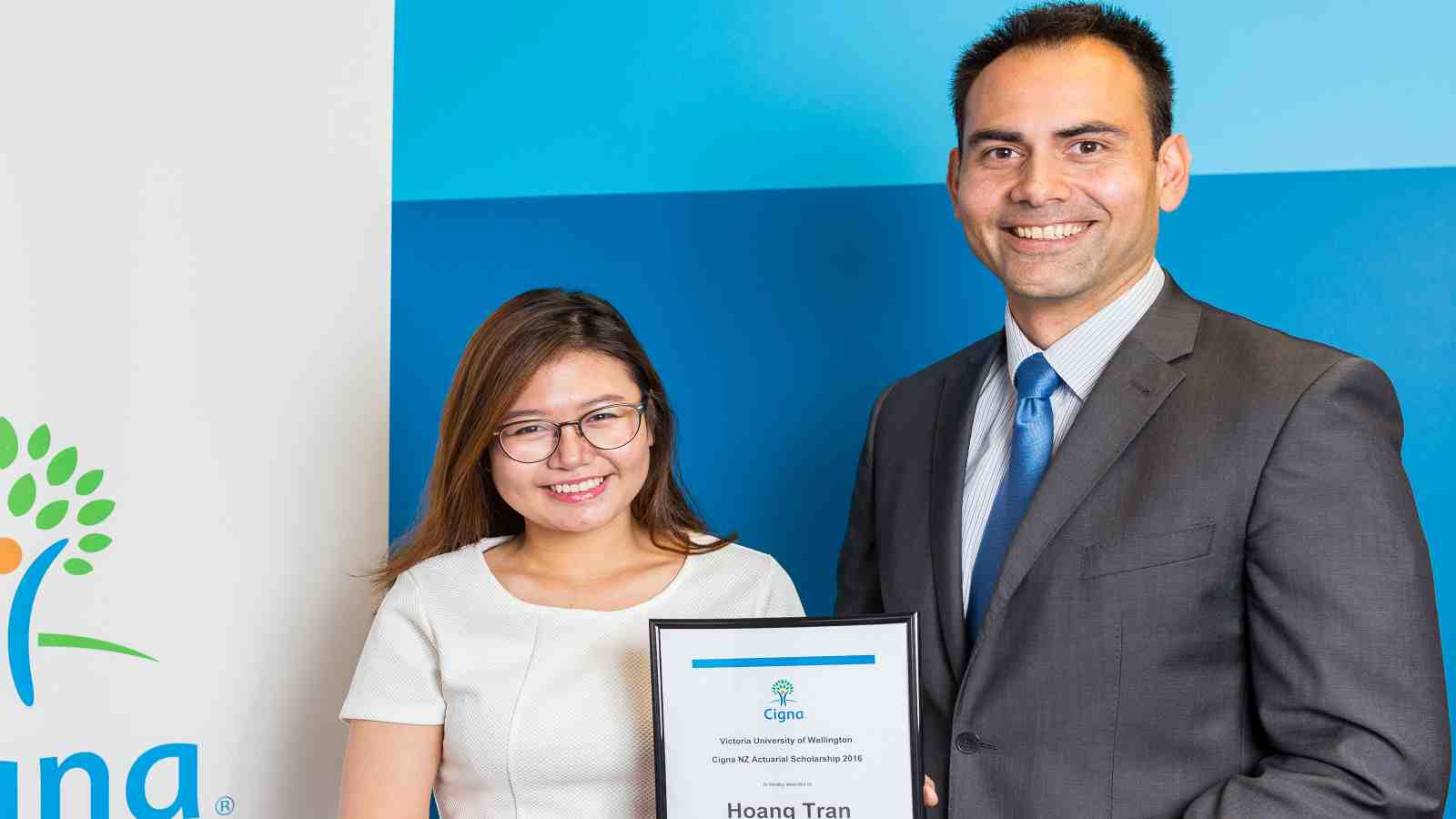 2016 Cigna Actuarial Scholarship winner Hoang Tran receives her award from Cigna New Zealand's Head of Actuarial Nathan Thomas.
Hoang Tran, a third-year Bachelor of Commerce student who is majoring in actuarial science and finance at Victoria, says the $5,000 awarded as a result of winning the scholarship will be a huge help in her final year of study.
"The financial support means I can spend more time focused on my study.
"The scholarship also includes mentoring and work experience at Cigna, which gives me opportunities to pursue my actuarial career path.
"Being an actuary is hard and requires a lot of technical skills. This scholarship has helped me feel more confident and have more courage to face the challenges ahead."
Victoria is New Zealand's only university to offer a degree in actuarial science. The programme was introduced last year and Hoang will be among the programme's first students to complete her studies at the end of this year.
Hoang began her actuarial studies at Victoria's Viet Nam campus, the University of Economics in Ho Chi Minh City, where she completed Victoria Bachelor of Commerce papers before transferring to Wellington in 2014. Hoang will be one of the first students to graduate from this New Zealand-Viet Nam programme established in 2013.
Head of Victoria's School of Mathematics and Statistics Dr Peter Donelan says it is great to see talented students like Hoang recognised.
"I would also like to acknowledge Cigna for establishing this scholarship and creating opportunities for actuarial science students. Working with the actuarial industry is an important aspect of Victoria's programme."
Cigna Life Insurance's Head of Actuarial Nathan Thomas, himself a Victoria alumnus, says Hoang shows impressive knowledge and insight into the actuarial profession.
"Aside from the necessary academic attributes, Hoang has good communication skills and is determined to pursue a career as an actuary."
Mr Thomas says the actuarial profession offers many opportunities in New Zealand and overseas in sectors such as insurance, finance, government, education, health and software development.
The Cigna Actuarial Scholarship was established last year to encourage more students into choosing the actuarial profession as a career path.