Study
The Wellington Faculty of Engineering's hands-on degrees enable students to develop their ideas into programmes, tangible devices and products.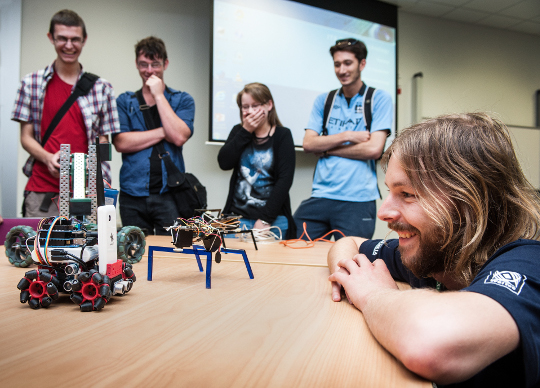 If you are interested in creatively applying the best of science, technology, computing, electronics and networking to real-world systems, then engineering and computer science at Victoria University of Wellington is for you.
The University's Bachelor of Engineering with Honours BE(Hons) is a four-year professionally accredited degree. Although the BE(Hons) is an academically challenging course, there is plenty of support to help you succeed. In addition to learning technical skills, you'll also develop the management skills and knowledge essential in the rigorous environment where professional engineers are employed.
Work placements of 800 hours are a key part of the degree and along with group, research or industry driven projects, give practical experience to the theoretical aspects of engineering design and development.
The undergraduate Bachelor of Engineering with Honours degree has three majors of which students choose one:
Cybersecurity Engineering
Electronic and Computer System Engineering
Software Engineering.
Students may also study a Bachelor of Science (BSc) majoring in:
Computer Graphics
Computer Science
Electronics and Computer Systems
Renewable Energy Systems.
The BSc shares much of the design and implementation focus of the BE(Hons), but is more flexible and takes only three years.
Our postgraduate Master's and PhD degrees build on our international research and make full use of our state of the art technology.
Our staff are enthusiastic and committed teachers and incorporate the latest knowledge into their teaching. Many are internationally recognised as leaders in their field, and can provide experience and guidance in a wide range of projects from developing AI algorithms, to measuring the thickness of Antarctic ice with magnetic resonance techniques, designing orthotics for stroke patients, and Virtual Reality displays.
More information about our programmes of study is on the School of Engineering and Computer Science website.