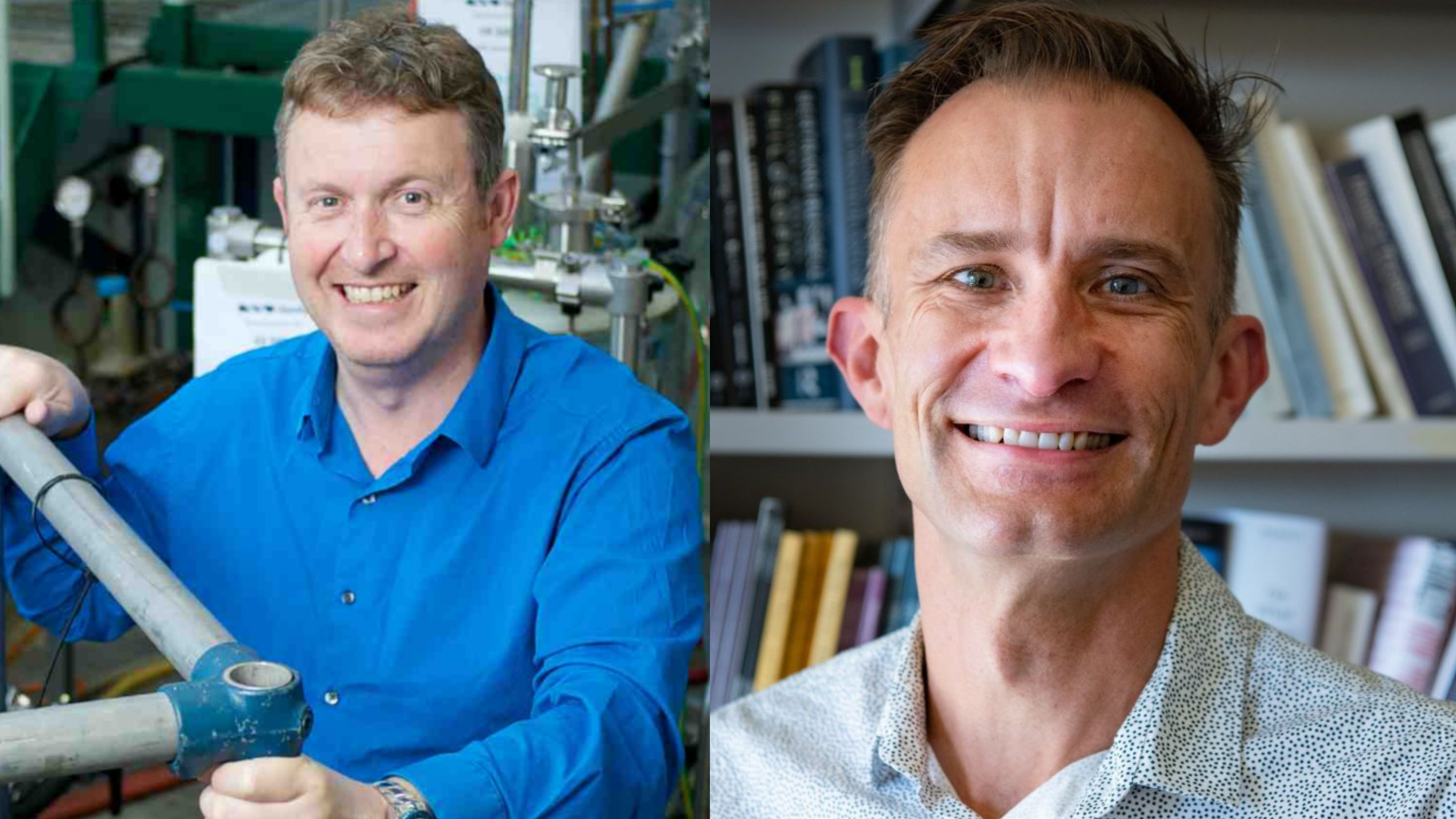 Professor Gary Evans, left, and Professor Simon Keller, right.
Professor Gary Evans, Director of Te Kāuru—Ferrier Research Institute and Professor Simon Keller, Professor of Philosophy and head of school in Te Kura Aro Whakamuri, Rapunga Whakaaro, Matai Tōrangapū me te Ao—the School of History, Philosophy, Political Science and International Relations, were named in the Society's list of newly elected Ngā Ahurei a Te Apārangi Fellows on Thursday March 16.
Being made a Fellow is an honour that recognises distinction in research, scholarship or the advancement of knowledge at the highest international standards. Professor Evans and Professor Keller are world leaders in their area of research and scholarship.
Professor Evans, who became the fulltime Director of the Ferrier Research Institute on March 1 this year, is a leading organic chemist with expertise in medicinal and process chemistry. He has been involved in long-term national and international research collaborations where his discoveries have had significant health and economic impacts.
Professor Evans says he feels both humbled and privileged by the award.
"All the usual emotions run through your head when you're recognised by your peers in a manner such as this. I feel a tremendous responsibility to work alongside the Society, as part of the academy, in order to help nurture and grow the relationship between the research and science sector and the public, as part of our social contract with the people of Aotearoa."
His track-record as a research scientist has already allowed him to assist the New Zealand Government's decision-making through his role as Chief Science Advisor to the Ministry of Business, Innovation, and Employment, a position he held for four and a half years before stepping down in February to focus on his role at the Ferrier. This role included providing advice to the government during their COVID-19 response.
Professor Evans' work has led to fundamental advances in the understanding of the action of enzymes, a new approach to the design and synthesis of potent enzyme inhibitors, and their development as pharmaceuticals for treatment of cancer, gout, and infectious disease. He also developed the methods used by industry for their manufacture. In recognition of this world-leading research, Gary was made a Member of the New Zealand Order of Merit (2014) and awarded the MacDiarmid Medal by Royal Society Te Apārangi (2011).
Professor Keller is a philosopher who specialises in ethics, political philosophy, and the philosophy of mental health and disorder. He says he is delighted to become a Fellow of the Royal Society Te Apārangi.
"It is especially exciting to be joining the other Fellows from here at Te Herenga Waka; I feel a little out of place in that company. I am looking forward to serving the mission of the Royal Society, and in particular to helping serve and promote the humanities and social sciences in Aotearoa."
Professor Keller's recent work has involved interrogating our current, often inconsistent, definitions of mental health. His work on mental health looks at the assumptions behind our ways of dividing mental conditions into the healthy and the unhealthy, and the links between mental health and the living of a good human life. He has written extensively about the moral and political dimensions of relationships, examining family relationships, friendships, erotic love, and patriotism. Working previously at Boston University and University of Melbourne, he has also held visiting fellowships at Harvard University, Rice University, and LMU Munich. Other topics his work explores include well-being ("welfare"), political freedom, equality, the significance of death, and the way we form beliefs about science. He is the author of The Limits of Loyalty (winner of the American Philosophical Association Book Prize) and Partiality, and a co-author of The Ethics of Patriotism: A Debate.
Professor Margaret Hyland, Vice-Provost (Research) commends Professor Keller and Professor Evans for having been recognised as leaders in their respective fields.
"A big round of congratulations to Simon and Gary on this remarkable and well-deserved achievement. They represent what we value highly at Te Herenga Waka: passionate researchers, imagining different ways of understanding the human condition and finding solutions to some of the major questions we face today."
Royal Society Te Apārangi is an independent not-for-profit organisation that supports all New Zealanders to explore, discover and share knowledge. The Society provides funding and learning opportunities for researchers and teachers and school students, and awards medals and elects Fellows who are leaders in their field. These leaders help the Society to provide independent advice to New Zealanders and the government on issues of public concern.