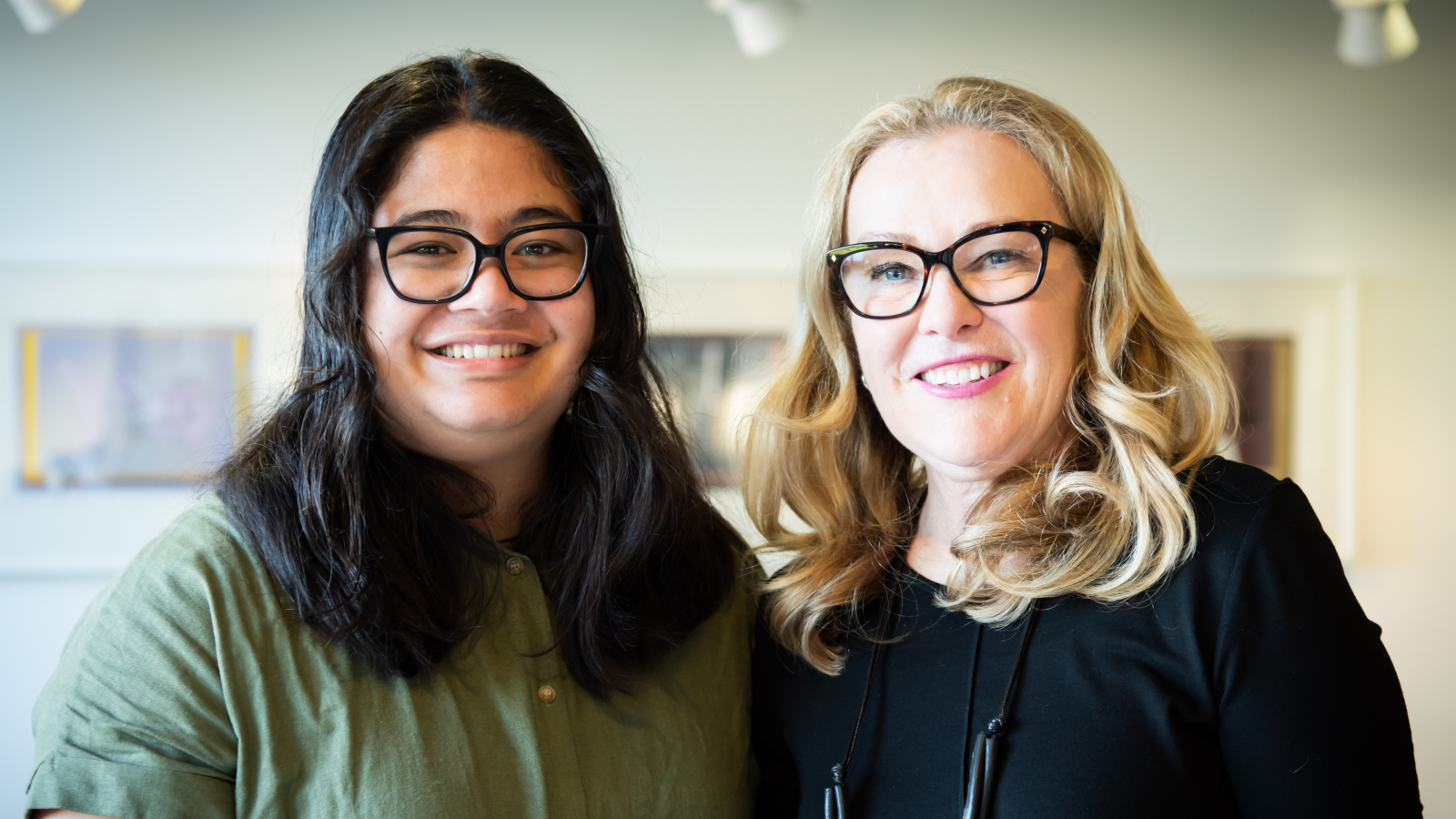 Lana Cleverley and Jennifer Moxon
The Te Herenga Waka–Victoria University of Wellington alumna, and Alumni as Mentors Programme mentor, was one of the two first female graduates hired by IBM NZ in 1984 and following several years working internationally came full circle and was appointed IBM NZ's CEO in 2009.
Jennifer has held several senior roles leading multicultural teams around the world and she is now a professional director. But it could have been a very different career path if she hadn't returned to New Zealand after three years in the United Kingdom working in journalism.
On her return, she began studying business and psychology.

"I always knew I was going to be a mature student. I just knew at the end of four years I wanted to have this degree, and I focused on getting it," she says.

Graduating with a Bachelor of Arts in 1983, Jennifer was one of the first of a cohort of female graduates hired by IBM NZ. IBM was a great fit for her, providing many opportunities to develop her technology, leadership, and innovation skills.

"Every job that I've taken has always extended my leadership career," she says. "I've had some fantastic opportunities and great leadership roles. But I really believe if you want to thrive you need to continue to educate yourself and invest in your skills. I'm continuing to learn."

During her career Jennifer experienced significant changes in the sector, such as the shift of bricks and mortar organisations into online digital spaces, and the emergence of cloud-based businesses. "When I came back in 2009 [as CEO IBM New Zealand] we had a very traditional brand here in New Zealand, we had declining revenues, so I set about changing the business, and pretty successfully," she says.

"One of the roles of leadership is being able to access the creativity in your organisation. When you think of an organisation, it's bricks and mortar, structures, systems and processes. Being able to keep that creativity alive in that business and being able to cultivate and harness it is important."

With her experience leading teams and a strong understanding of successful leadership, Jennifer has some advice for people going into leadership positions for the first time.

"A lot of leadership traits such as resilience and being courageous are things you learn on the job; you can't actually teach any of those sorts of things. But what you can do is share your stories so that people are aware of how they might approach different situations."

"Being resilient is important, being able to lead change, being able to see the big picture and then taking your people on a journey. Those are the sorts of things that worked for me," she says.

A strong proponent of supporting women with science, technology, engineering and mathematics (STEM) backgrounds into the sector, Jennifer was attracted to the University's Alumni as Mentors programme as a way to support and increase diversity and representation in the industry. This year she's mentored fourth year software engineering student Lana Cleverely.

Born and raised in Wellington, Lana has been interested in technology since high school. Initially set on attending the University of Canterbury, Lana credits School of Engineering and Computer Science programme director Dr Craig Watterson for her decision to instead study in Wellington.

"Initially I wanted to go to Canterbury as they have a wider engineering field. But my Dad knew someone here, Craig Watterson, and I got talking to him about the different majors. I also liked the support services here and the 'if you get here, we'll take you all the way approach'. I really liked that," she says.

Lana joined the Alumni as Mentors programme to gain some insights into the industry she'll soon be joining. "One thing I was looking for was some guidance on the best way to start out and Jennifer has been really good for that."

"It's great to get a more experienced view of what's going on [in the sector]. And you get to hear and learn from the mentor's experiences. To know that it is possible, and it is something that I can do, is great," Lana says.

Jennifer has been a mentor right throughout her career and is passionate about helping people reach their full potential.

"I think the mentoring programme is a really positive aspect of the University. Giving back that way really allows you to share a broader perspective about what's going on, and how other people have experienced the early years in their careers," she says.

"I also learn a lot about different things too. Different generations doing different things and showing you how things can be done differently; I really embrace that."

Lana will finish her studies this year and has already secured a position with telco software company Metaswitch.

"I'm sad to be leaving the learning environment I'm in. But I'm also excited about the new opportunities, putting my knowledge into play and taking what Jennifer's taught me and actually utilising it," she says.

"It's rewarding to see people grow," says Jennifer. "I'm going to be really interested to watch her career develop."