Suzi Kerr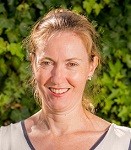 Contact details
Other positions
Qualifications
PhD, Economics, Harvard University, 1995
AM, Economics, Harvard University, 1995
BSc Honours (first class), Economics, University of Canterbury, 1987
Profile
Dr Suzi Kerr is currently a Senior Fellow at Motu and an Adjunct Professor at the School of Government, Victoria University of Wellington. From 1998 to 2009, she was Director and Senior Fellow at Motu. In 2010, she won the NZIER Economics Award. She has also worked at the University of Maryland at College Park, Resources for the Future (USA), the Joint Center for the Science and Policy of Global Change at MIT, and more recently was a Visiting Professor at Stanford University for the 2009/10 year and at the University of the Andes in Bogotá, Colombia in the first half of 2014.
Dr Kerr's current research work focuses on climate change. She empirically and theoretically investigates domestic and international climate change policy with special emphasis on emissions pricing and land use in both the tropics and New Zealand. She also leads work on climate change impacts and adaptation in New Zealand. She has previously worked extensively on economic instruments for managing water quality, fisheries and air quality. She has run four policy dialogue processes, one in the lead up to the establishment of New Zealand's emissions trading system, others on managing water quality in Lake Rotorua, on agricultural greenhouse gas emissions and (co-led) on New Zealand's Low Emissions Future, and she is currently leading a dialogue on New Zealand's ETS.
Teaching
Dr Kerr is available to supervise some students working on climate-change mitigation related topics. In 2016, she is involved in supervision of a PhD student in the School of Geography and Earth Sciences, an honours student in the School of Economics and Finance, and a Masters student in Innovation and Commercialisation.
Contribution to courses in 2016:
SCIE 401 - Climate Science and Decision-making
MMPE 552 - Special Topic: The Economics of Natural Disasters and Climate Change
GOV 502 - State, Economy and Society
Selected publications
Refereed journal articles
Dorner, Zack and Suzi Kerr. 2016 (forthcoming). 'Implications of global emission policy scenarios for domestic agriculture: A New Zealand case study' Climate Policy
Jaffe, Adam B., and Suzi Kerr. 2015. "The Science, Economics and Politics of Global Climate Change," review of The Climate Casino by W. Nordhaus, Journal of Economic Literature. Vol. 53, Issue 1, March
Kerr, Suzi and Vicki Duscha. 2014. 'Going to the source: using an upstream point of regulation for energy in a national Chinese emissions trading system' Energy and Environment Volume 25, Issue 3-4, April 2014 pp. 593-611
Anastasiadis, Simon, Suzi Kerr Marie-Laure Nauleau, Tim Cox, and Kit Rutherford. 2014. 'Does complex hydrology require complex water quality policy?' Australian Journal of Agricultural and Resource Economics Volume 58, Issue 1, pages 130–145, January
Funk, Jason, Chris Field, Adam Daigneault and Suzi Kerr. 2014. 'Modeling the impact of carbon farming on land use in a New Zealand landscape' Environmental Science and Policy Volume 37, March, Pages 1–10
Van Benthem, Arthur and Suzi Kerr. 2013. 'Scale and Transfers in International Emissions Offset Programs' Journal of Public Economics Volume 107, November, pp. 31-46
Cox, Timothy J., Suzi C. Kerr, J. C. Rutherford, Duncan C. Smeaton, Chris. C. Palliser. 2013 "An integrated model for simulating nitrogen trading in an agricultural catchment with complex hydrogeology" Journal of Environmental Management, pp. 268-277
Kerr, Suzi C. 2013. "The Economics of International Policy Agreements to Reduce Emissions from Deforestation and Degradation", Review of Environmental Economics and Policy 7:1, pp. 47–66.
Kerr, Suzi and Adam Millard-Ball 2012. "Cooperation to reduce developing country emissions." Climate Change Economics Vol. 3, No. 4
Kerr, Suzi; Anastasiadis, Simon; Olssen, Alex; Power, William; Timar, Levente; Zhang, Wei. 2012. "Spatial and Temporal Responses to an Emissions Trading Scheme Covering Agriculture and Forestry: Simulation Results from New Zealand." Forests 3, no. 4: 1133-1156.
McDonald, Hugh, and Suzi Kerr. 2012. "Why do New Zealanders Care about Agricultural Emissions?" Policy Quarterly, 8(2), Wellington.
Lundquist, Carolyn J., Doug Ramsay, Rob Bell, Andrew Swales and Suzi Kerr 'Predicted impacts of climate change on New Zealand's biodiversity'. 2011. Pacific Conservation Biology Vol 17: 179-191. Surrey Beatty & Sons, Sydney
Betz, Regina, Stefan Seifert, Peter Cramton and Suzi Kerr. 2010. "Auctioning Greenhouse Gas Emissions Permits in Australia," Australian Journal of Agricultural and Resource Economics Special Issue: Climate Change Volume 54, Issue 2, pages 219–238, April
Books
World Bank. 2016 "Partnership for Market Readiness; International Carbon Action Partnership. 2016. Emissions Trading in Practice : A Handbook on Design and Implementation. World Bank, Washington, DC. Co-led by Suzi Kerr and Ruben Lubowski https://openknowledge.worldbank.org/handle/10986/23874 License: CC BY 3.0 IGO."
2016 Working papers
Royal Society of New Zealand. 2016 'Transition to a low-carbon economy for New Zealand' by expert panel, Ralph Sims, Barry Barton, Paul Bennett, Nigel Isaacs, Suzi Kerr, Jonathan Leaver, Andy Reisinger, and Janet Stephenson and special contributors James Higham and Euan Mason, April http://www.royalsociety.org.nz/media/2016/05/Report-Transition-to-Low-Carbon-Economy-for-NZ.pdf
Leining, Catherine and Suzi Kerr. 2016 'Lessons Learned from the New Zealand Emissions Trading Scheme' Motu Working Paper 16-06. April www.motu.org.nz
Leining, Catherine and Suzi Kerr. 2016 'New Zealand's Low Emission Future: Transformational Pathways' Motu Note #23. April www.motu.org.nz
For a full curriculum vita, including all publications, please see the Motu website.