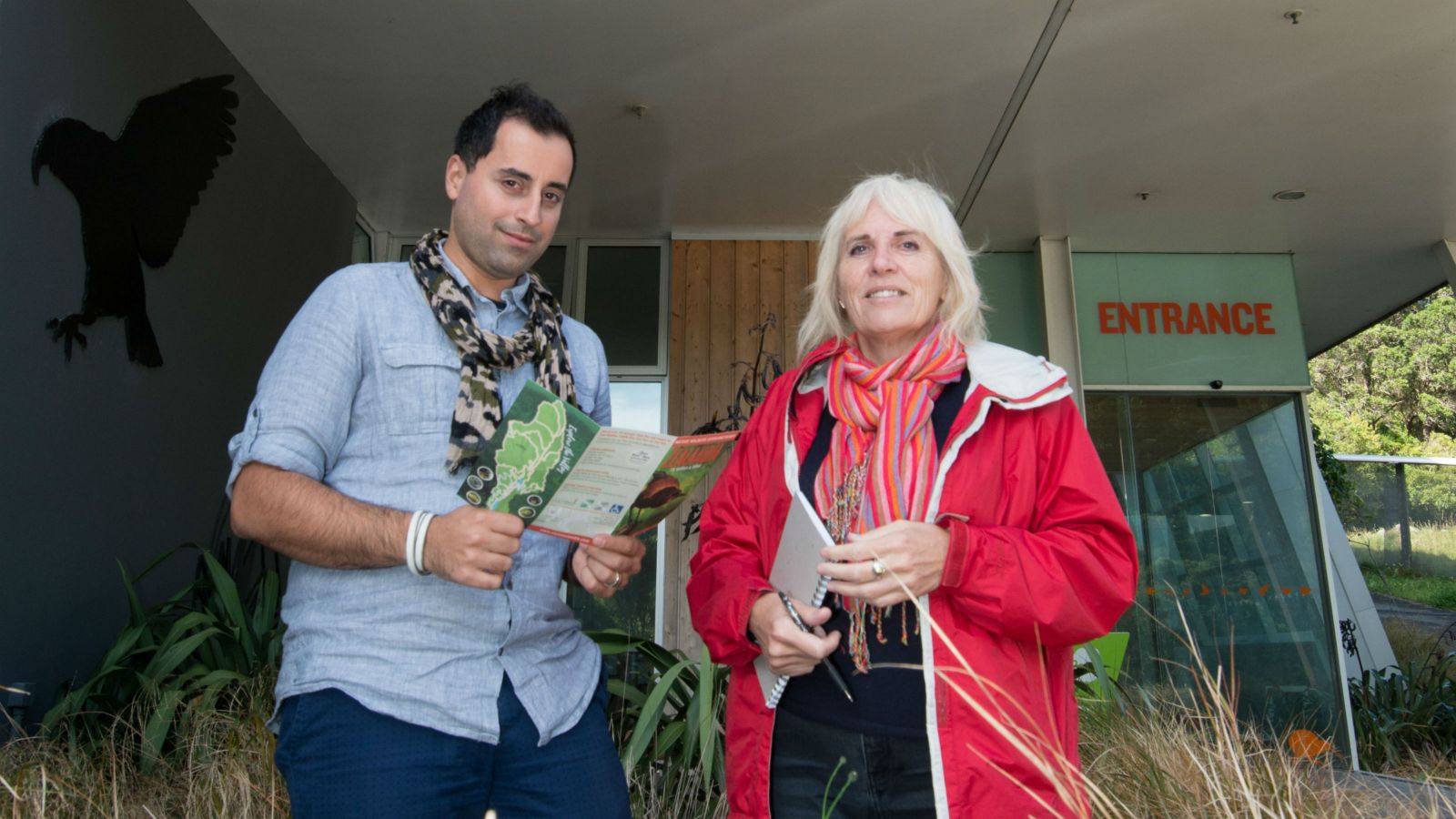 Bruno Marques and Jacqueline McIntosh. Photo: Paul Hillier
Senior lecturer Jacqueline McIntosh and deputy head of the School of Architecture Bruno Marques, along with several students, have created three proposals to bring mātauranga Māori to Zealandia and the Wellington landscape.
Each project looks at different ways of connecting with the landscape, improving wellbeing, and incorporating Māori values into architectural design.
"We've found some deeply meaningful values in the Māori approach to landscape in our age of overconsumption, waste generation, and landscape neglect," Jacqueline says. "And we've really hit it off with the staff at Zealandia—our partnership has been an amazing fit for a lot of the work we want to do."
Master's student Katy Phillips designed a wellness centre to straddle the line between Zealandia and Birdwood Reserve, a smaller bush reserve across the road from Zealandia. The centre would offer traditional healing through rongoā Māori (Māori medicine), with the layout of the centre drawing on the traditional layout of a marae and the body of Papatūānuku (Mother Earth) to encourage health, change, and new beginnings.
William Hatton, also a Master's student, took a wider view, designing a series of interconnecting public spaces starting at Zealandia in Karori and leading to the sea. William's proposal aims to improve access to public outdoor spaces and encourage visitors to connect with the land and each other through a series of landscape architectural installations inspired by the layout of a marae and Māori values.
Undergraduate students Susana Ou and Zarah Sahib (whose work won the University's Summer Gold Architecture and Design Prize) also focused on rongoā Māori, proposing new pathways and signs to highlight the plants already growing in Zealandia and Birdwood Reserve that can be used for healing.
The students hope these projects will start a discussion on how we can further incorporate mātauranga Māori into our daily lives and encourage the sharing of knowledge in this area, Jacqueline says.
Bruno says projects like these, which incorporate sustainability and wellbeing, are an important focus for the Faculty.
"One of our key research focuses is therapeutic and rehabilitative environments. This project is one of a kind, as it addresses issues with architecture and landscape architecture, healthcare, technology, and industrial design."
As well as supervising these Master's projects, Jacqueline and Bruno are part of a cross-disciplinary research group involving academics from the Faculties of Engineering, Health, and Science.
"With an ageing population in New Zealand, we're looking for preventative measures and alternative solutions for the issues that accompany ageing," Jacqueline says. "There is a national imperative to consider mātauranga Māori in everything we do to help improve the lives of all New Zealanders."
The research was supported by the University Research Fund, the University's mātauranga Māori project, the Health Research Council, and local community groups.