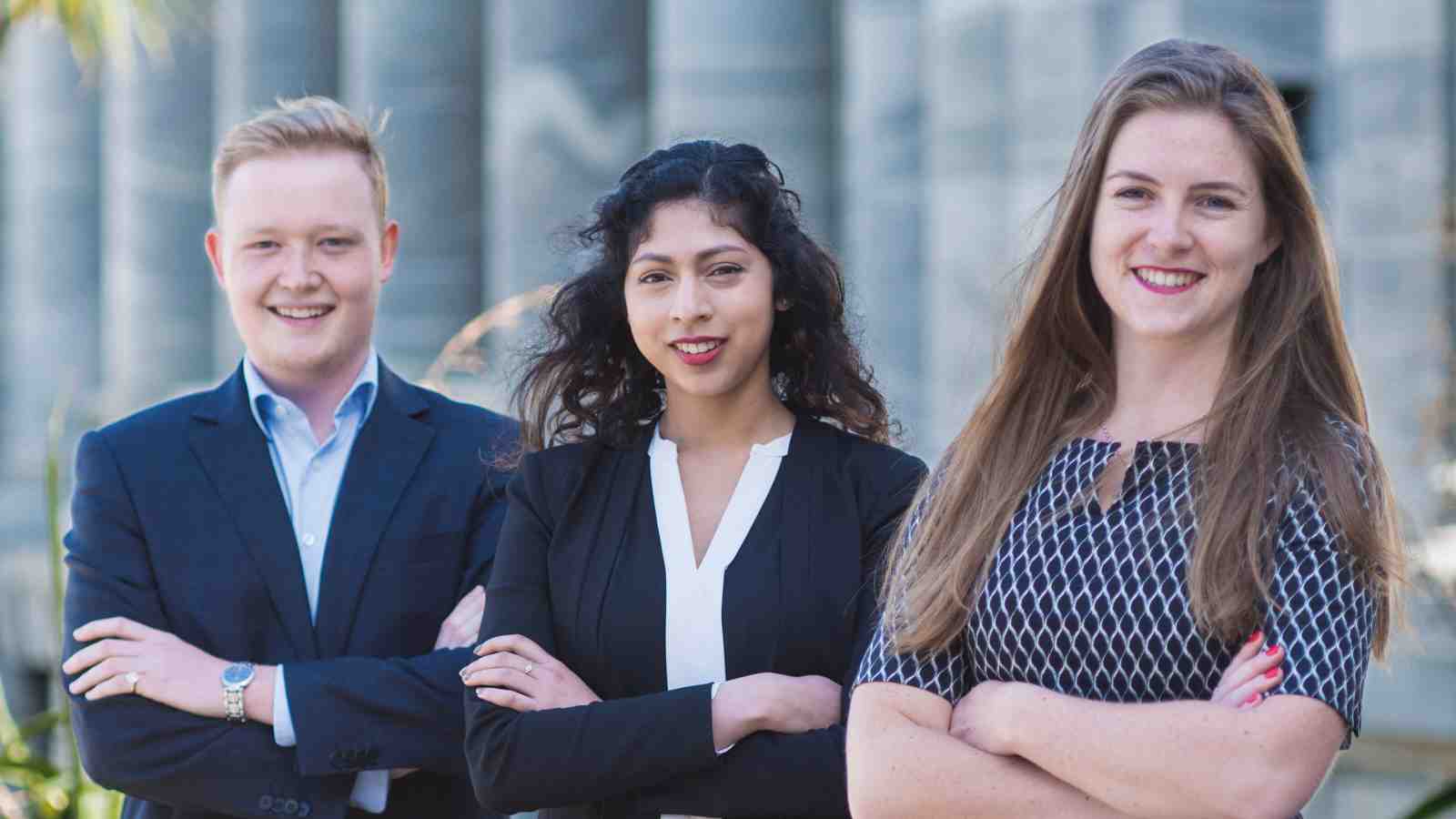 Elliot Isaacs, Sarah Pereira and Stephanie Taylor
Coordinated by Professor Stephen Levine from the School of History, Philosophy, Political Science and International Relations, the programme is in its eighteenth year and gives postgraduate students the chance to spend one day a week working in an MP's office.
While studying for his Master of Political Science, Elliot Isaacs interned for National MP Mark Mitchell and made such an impression that he was employed by the Minister as a private secretary after graduating.
Elliot was joined this year by Stephanie Taylor, who has interned in the Minister's office while studying for her Master of Strategic Studies.
Sarah Pereira interned for former Labour party leader David Shearer in 2016, and is now partway through an 18-month graduate programme at the Ministry for Primary Industries while also completing a Master of Strategic Studies.
All three interns agree the programme has given them invaluable insights into New Zealand's political process.
"My studies gave me the theoretical grounding in how our parliamentary system works but the internship made me realise how tough politics is," Elliot says.
"Most MPs would spend something like 80 to 90 percent of their time on the road, and some of their staff would regularly work 70-hour weeks to stay on top of everything."
Stephanie agrees. "For every policy announcement or comment on an issue of the day, there's a huge amount of preparation and coordination, which the public doesn't see. Compare that against the often low public perception of politicians and you wonder why you'd want to subject yourself to that."
All three agreed New Zealand's democracy is reasonably healthy but felt more needed to be done to increase participation rates—particularly among young people—and to promote cross-party collaboration on legislation.
However, the tone of political debate in New Zealand is far better than in the United States, according to Sarah, who spent two months in Washington, DC, recently on a Mike Moore Scholarship to the United States Congress.
"Having said that, the current state of political discourse in Washington is pretty dire," Sarah jokes.