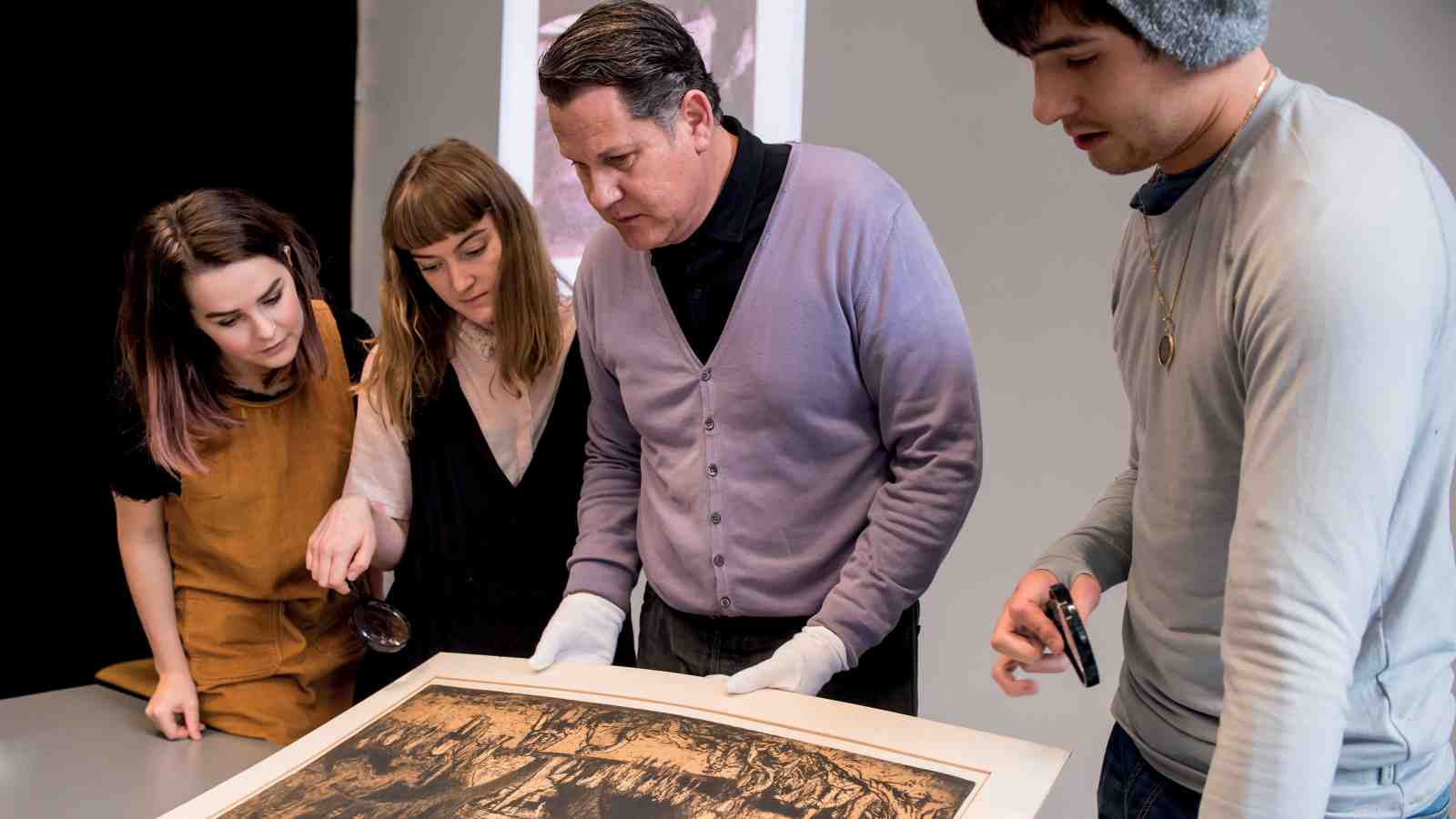 From left: Georgie Keyse, Jaz O'Donnell, David Maskill and Darius Balfoort.
David, a senior lecturer in the School of Art History, Classics and Religious Studies, and 10 students taking his fourth-year History of Prints course, have curated the Adam Art Gallery's latest exhibition Traces of the Wake: The Etching Revival in Britain and Beyond, which explores the etching revival that took place in the early twentieth century.
David spent some of last summer poring over prints held in the collections of Te Papa, the Alexander Turnbull Library and the Auckland Art Gallery, selecting the 65 that feature in the exhibition.
They include prints by Rembrandt, the presiding genius of the etching revival, Charles Meryon, a pioneering master of original etching in France and the American-born James Whistler, a major figure in nineteenth century printmaking, as well as rare New Zealand portraits and landscapes by what David calls 'British Empire' artists.
"The exhibition is an opportunity for people to see works that are unlikely to be shown in our national institutions because they don't fit the current remit of our nationalist history.
"Actually, though, these works by artists who identified as being British, even though they were born or worked in New Zealand and Australia, tell us a lot about a particular period of New Zealand's development."
A special set of relationships make it possible for Victoria to offer postgraduate students the rare opportunity, while at university, to create and stage an exhibition from beginning to end.
"Wellington has a fantastically rich collection of works on paper," says David, "largely held by Te Papa and the Turnbull Library. Their willingness to lend works to us, and the fact that we have a gallery of the calibre of Adam Art Gallery on campus to display them, makes it possible."
His own expertise in the history of prints is another essential ingredient of the venture, which has seen David and his Honours students mount exhibitions at the Adam Art Gallery for the past 15 years. The annual exhibition is supported by Wellington's Woolf Photography, which sponsors the exhibition catalogue.
As well as learning how artworks are stored, how to prepare them for exhibition and the intricacies of installation, each student has researched a group of prints, written an essay on them for the catalogue, will deliver a public floor talk and be involved in publicising the show.
"It's an amazing opportunity," says Georgie Keyse, one of the student curators. "For most of us, it is the first time we've had work published and also the first time we have presented in public."
Another student, Darius Balfoort, has also learnt the ins and outs of borrowing art works, going with David Maskill to Te Papa and the Turnbull and helping to catalogue the prints.
"It's an interesting point in the history of printmaking," he says. "The project has sparked a lot of questions around why printmaking has become relatively unpopular and why so few people are currently working in this field."
The exhibition runs until 20 December and David hopes it will attract a wide audience.
"It's a chance to see some of the most technically brilliant and seldom-seen prints produced in the history of printmaking. Some of the scenes portrayed, such as a view of the ruins of Napier after the 1931 earthquake, are fabulously rare."