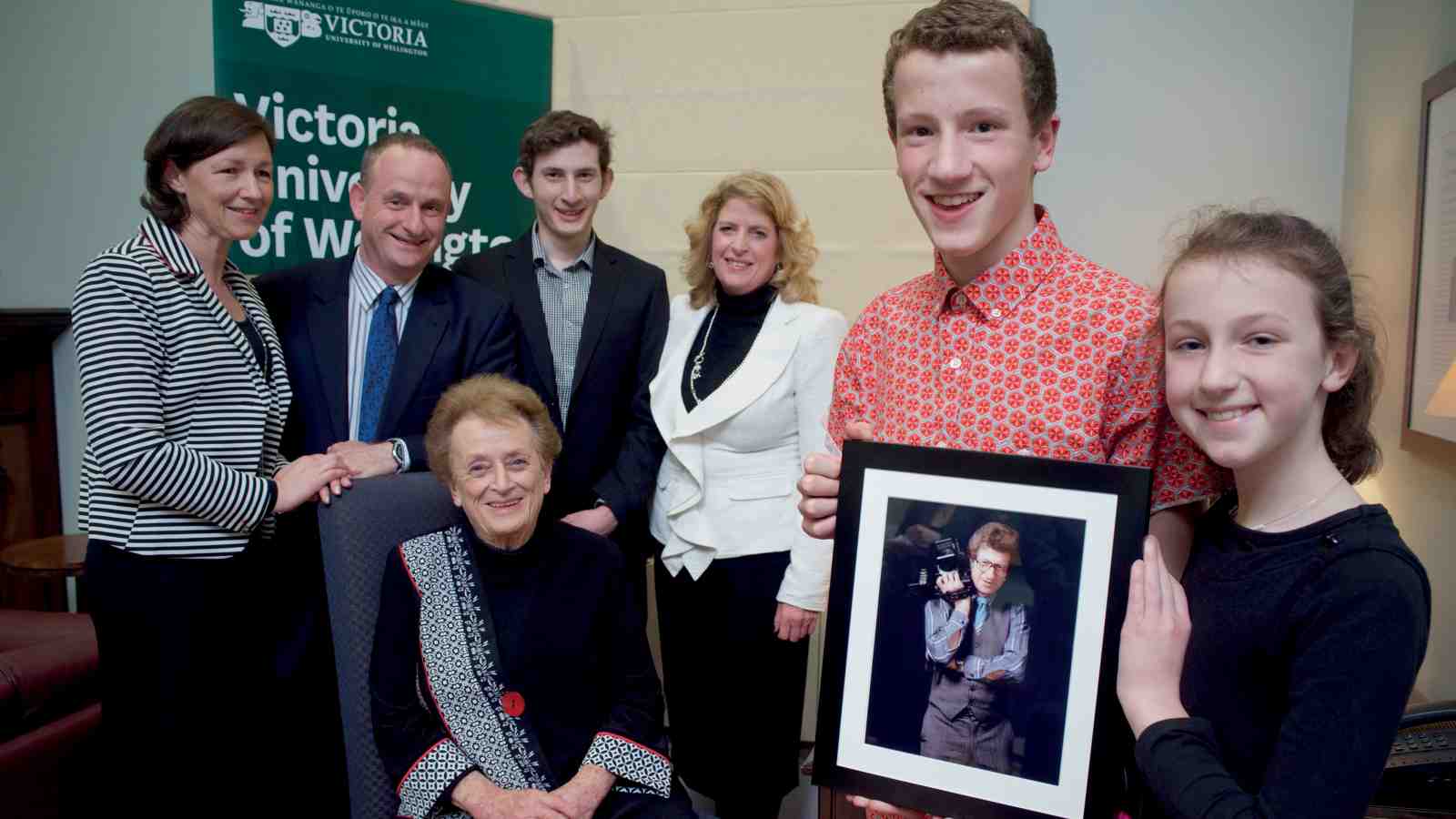 Three generations of Ronald Woolf's family celebrate the new era of the Memorial Trust. From left: Megan Hall, Simon Woolf, Inge Woolf (seated), Sam Hart, Deborah Hart, Noah Woolf and Lily-Jane Woolf (front).
In August, the Woolf family, trustees, supporters and representatives from the University came together to formalise and celebrate the establishment of the endowment.
University development office and foundation executive director Shelagh Murray says the Foundation is "honoured and excited" to carry on the Trust's work. "We deeply appreciate the history of the Ronald Woolf Memorial Trust, and the impact it has had on many young New Zealanders. As its new caretakers, we look forward to safeguarding its integrity and continuing the Trust's excellent work."
The Ronald Woolf Memorial Trust was set up in 1987 after a helicopter accident took the lives of the celebrated photographer, the pilot and a fellow passenger during a photographic mission over Wellington. Since then, the Trust has cultivated learning opportunities for young photographers through its annual scholarship and photographic exhibition.
Ronald's daughter, Deborah Hart, says her father had long envisioned establishing a trust dedicated to supporting young photographers.
"The Trust is very important to the family," she says. "But it was becoming increasingly difficult to ensure the funds were going to the right people. We started to think maybe there's a better way to support young photographers and people with an interest in photography."
Deborah says after extensive research, the Trust decided the Victoria University Foundation was ideally suited to take over, "to take it to a different level, and do things that are in line with what my father wanted".
Pro Vice-Chancellor and Dean of the Faculty of Humanities and Social Sciences Professor Jennifer Windsor says the University is uniquely positioned to realise the potential of the Trust.
"We're able to engage with aspiring photographers from an early stage, and create opportunities for emerging art historians and curators of photography.
"We are well placed to foster their understanding of photography and its evolution through time, and to mentor the next generation of photographic historians, curators and students of photography," she says.
Possible initiatives include the development of an Honours- or Master's-level photographic history course, enabling students to attend conferences or prepare for exhibitions or commissioning a photographic project.
The Foundation will invest the endowment in perpetuity and the Adam Art Gallery will jointly administer the funds with Victoria's art history department.
Deborah says the family is looking forward to seeing the Trust evolve under the University's reign.
"We've got a lot of faith in the University and the Adam Art Gallery to look after the funds.
"This is very much about what Dad wanted to do and we want to see his legacy go on forever," she says.
The Foundation hopes to grow the endowment fund. If you would like to find out more, contact our Development Office.