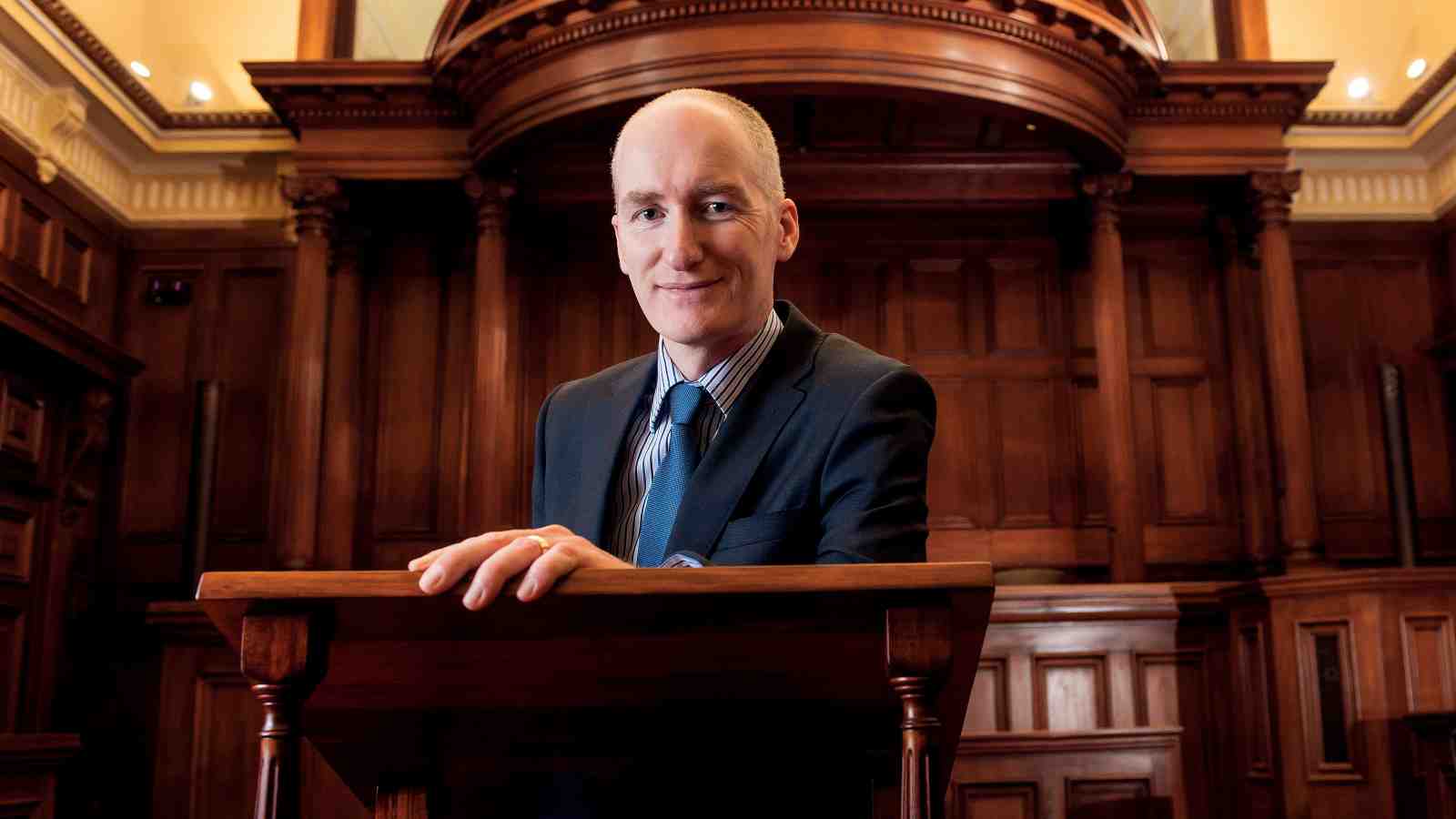 Dr Grant Morris in the Old High Court in Wellington, where Prendergast presided.
New Zealand's second-longest serving Chief Justice, James Prendergast, comes under scrutiny in the biography Prendergast: Legal Villain?, by Grant Morris, a senior lecturer at Victoria's Faculty of Law. Grant assesses Prendergast's career and finds that although he had been considered a pillar of the community while he was alive, people don't view him as favourably today.
"That's an interesting thing about history—do you judge a figure on the basis of when he or she lived and morals at that time or do you judge them in hindsight? Prendergast is a founding father, there's no getting around that. But he's also someone who had a profoundly negative effect on Māori society because of the decisions he made," says Grant.
The "simple nullity" event refers to the case that Wi Parata, a Māori Member of Parliament and a Ngāti Toa chief, took to the Supreme Court in an attempt to recover entrusted land for his tribe.
The judgment by Prendergast and his fellow judge William Richmond ventured beyond the facts of the case to pass judgment on the Treaty of Waitangi.
"The judges used the Wi Parata decision as an effective vehicle for enshrining Eurocentric, imperialist views in law," says Grant. "To justify the view that New Zealand was acquired by occupation and discovery and that the Crown could unilaterally extinguish native title, the judges somehow had to dispose of the Treaty. Their judgment, which was that Māori had no recognisable system of government or customary law, and therefore no sovereignty to cede, became the most notorious example of legal reasoning in New Zealand history. Its effect was to minimise the role of the Treaty and to emphasise that the Treaty in itself had no binding force."
In the biography, which is published by Victoria University Press, Grant leaves the readers to make up their own minds about whether Prendergast is in fact a legal villain, also pointing out many of his achievements. "As Chief Justice, he was a very good administrator of the legal system, for instance, and he did make some major contributions to the New Zealand legal system."
Reactions to the biography have been diverse, says Grant, and can reflect the political outlook of the commentator, revealing the controversy that still surrounds Prendergast today.
"Some say should have condemned Prendergast more—others think I've been too hard on him!"