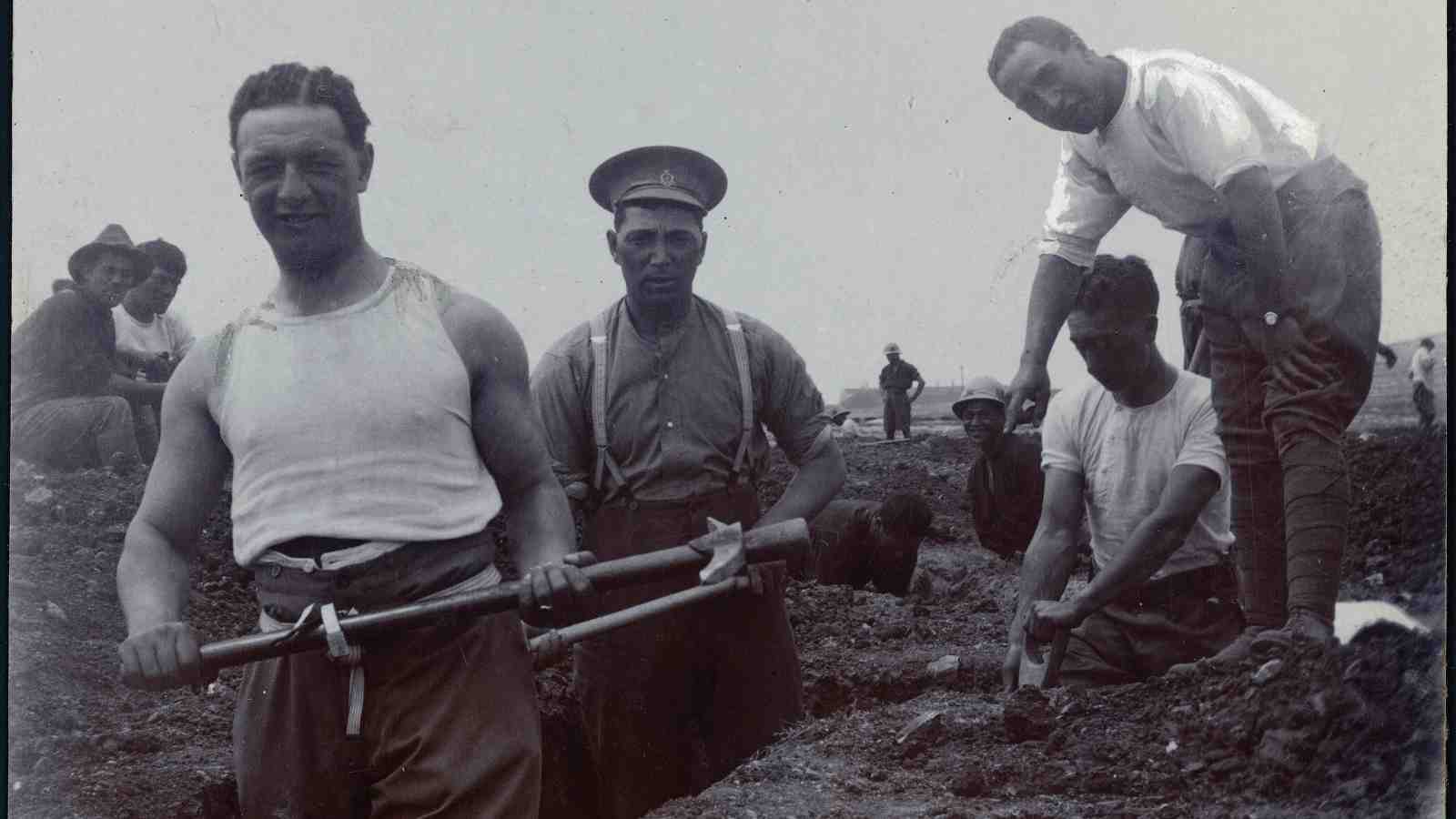 Peter Buck, and other World War I, Pioneer Battalion soldiers, digging a trench in Malta. Credit: New Zealand Free Lance collection, Alexander Turnbull Library, Reference PAColl-7171-57
How We Remember: New Zealanders and the First World War, a collection of 20 essays by a range of prominent New Zealanders, tells stories of the Great War from new, and sometimes deeply personal, perspectives.
Published by Victoria University Press, the book is edited by Professor Harry Ricketts and Dr Charles Ferrall, both from Victoria's English department.
Charles says it's a happy coincidence that more than half the contributors also have Victoria connections. "We were looking for the best people to write, and it just so happened many have links to the University."
Each writer offers a different perspective on remembering World War I, says Harry.
"The stories vary from personal accounts to academic examinations. It depends whether the author is Māori or Pākehā, whether they had ancestors who served or what their academic discipline might be. The book's title asks a question but also suggests how deeply and how much we remember the First World War, and indeed go on remembering it."
One of the contributors is TV3's John Campbell, a former student of Harry's, who has written an imagined story of a real-life soldier, Cecil Carrington. "John went to a remote small town—Awakino—where the war still presses its thumb," says Harry. "He spotted Cecil's name on a war memorial and tried to conceive what the experience must have been like for him and his family."
Harry found writer Jane Hurley's essay particularly touching. "It's a tribute to her father Des, who had been employed at Victoria when he died. He had been writing about New Zealand's prisoners of war in Turkey—those men who perhaps made it through Gallipoli but didn'tsurvive as prisoners."
Charles has also contributed an academic essay to the book. "Maurice Shadbolt's play, Once on Chunuk Bair, which was turned into a film, and his book, Voices of Gallipoli, have contributed hugely to how the First World War is remembered in New Zealand—but those works have mythologised the campaign. I've sought to correct those inaccuracies, as I don't feel they should influence how we remember Gallipoli during the centenary."
Charles says amid a plethora of World War I-related publications being released to mark the centenary, How We Remember offers a different viewpoint. "There's an essay by David Grant on conscientious objectors; Paul Diamond writes about Charles Mackay, the mayor of Wanganui, persecuted on the home front for his presumed homosexuality; Anna Rogers' essay is about nurses in the First World War; and John Horrocks raises questions about the process of memorialising and commemorating.
"We like to think this provides something of an alternative to the deluge of military history that's coming out at the moment."