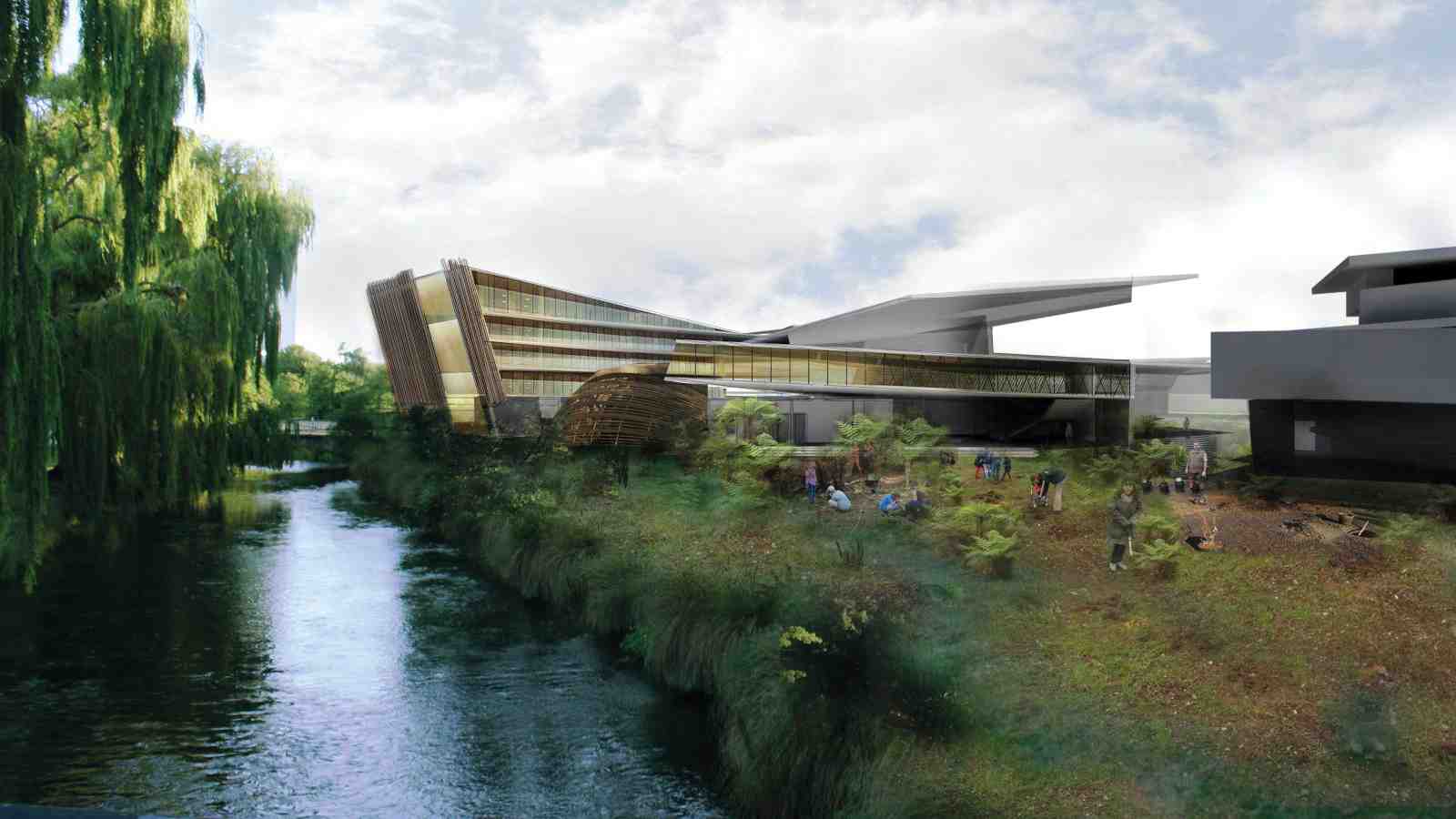 Education Centre Perspective, showing outside horticulture and learning spaces. Credit: Will Hope and Luke Bryant
The students have been part of Studio Christchurch, an initiative hosted last summer by Christchurch Polytechnic Institute of Technology, which set real-world design challenges for a group of young architects from Victoria, Lincoln University, Unitec and The University of Auckland.
During an intensive four weeks, second- and third-year architecture and interior architecture students were challenged to devise creative new concepts for the planned Performing Arts Precinct.
The precinct, adjacent to Victoria Square and the Avon River, with connections to Cathedral Square, is a major part of the proposed redesign of Christchurch city.
The students, who also attended public lectures, took part in field trips and had input from a range of specialists, critiqued Christchurch City Council's blueprints for the Arts Precinct, tested their solutions and outlined their ideas at public events, including a presentation to the council.
The winning design, by Victoria students William Hope and Luke Bryant, proposes a much larger Ngāi Tahu cultural centre than has been included in the council's current plan. The buildings would include the current modernist-style Christchurch Town Hall and a new contemporary landscape space to celebrate and experience Māori performing arts.
"Working in collaboration with student peers, having physical access and tours through some of the city's most prestigious and damaged buildings, alongside regular lectures by locals and internationals, helped to maximise the potential of our design," says Luke.
Course coordinator Mark Southcombe, a senior lecturer in the School of Architecture at Victoria, says participation in Studio Christchurch exceeded his expectations. "It was a large and diverse project for students to tackle so early in their architectural careers.
"While students' designs were diverse and speculative, their ideas illustrated possibilities and pitfalls that were true to life and of great relevance as exemplars to Christchurch designers as the city is being reconfigured."
Each group's work was critiqued by renowned New Zealand architect Sir Miles Warren and David Shepard, current president of the New Zealand Institute of Architects.
Other projects created by the students included a new urban quarter, including courtyards and laneways; art galleries; a rehearsal space with large windows, enabling the public to watch performers practise; residential buildings; and a ramp leading to a rooftop green public space.