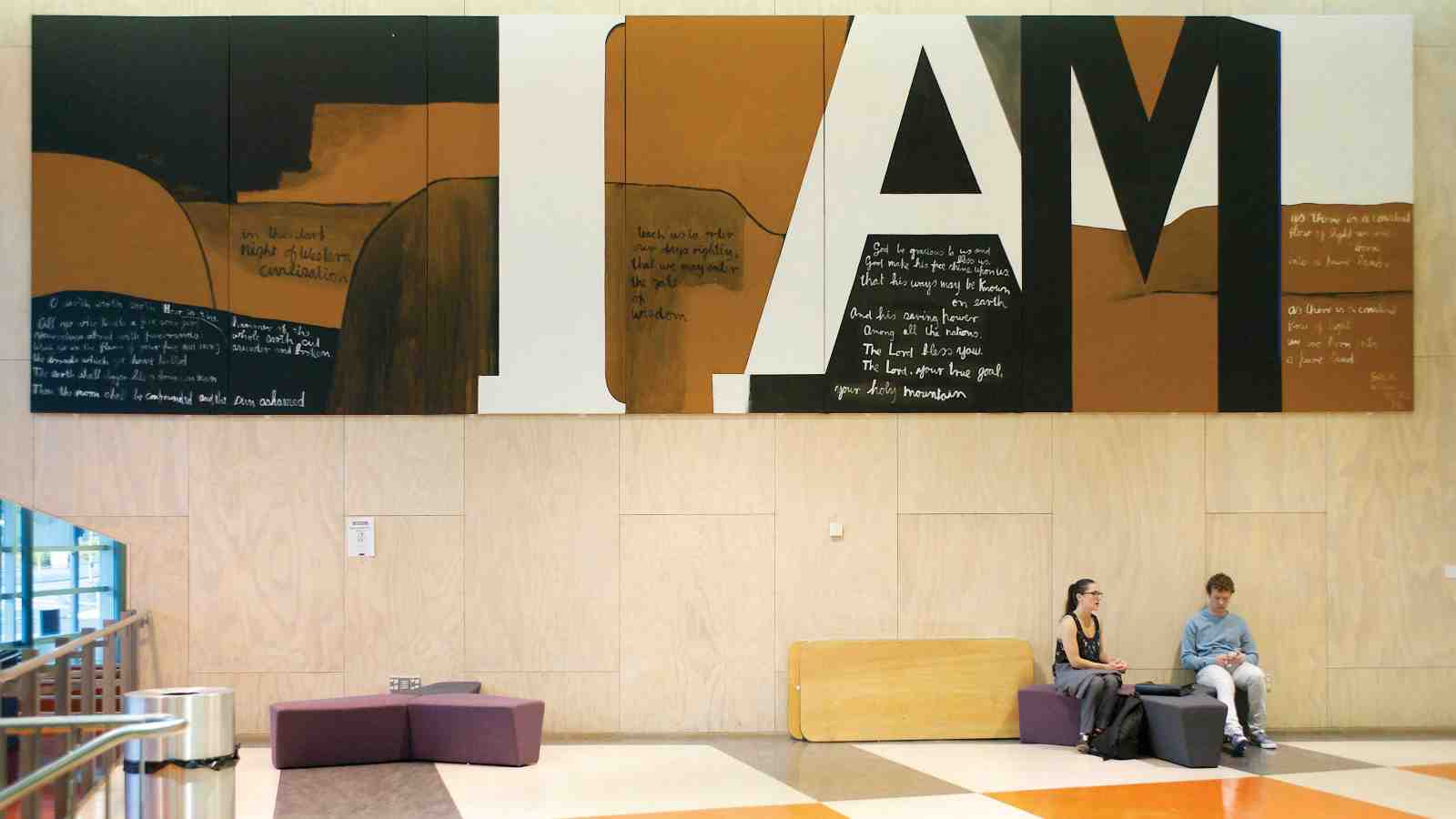 Historically significant artists such as Colin McCahon, Frances Hodgkins, Evelyn Page and Ralph Hotere rub shoulders with modern and contemporary figures such as Robin White, Julian Dashper, Fiona Pardington and Hye Rim Lee. They are among the artists represented in the University's art collection, which now comprises more than 550 works.
The story of the collection's development originates with members of the University's staff club dipping into their own pockets to purchase a still-life painting of a vase of daffodils by then prominent local artist, Sam Cairncross in 1947. As the painting was originally acquired for the walls of the staff common room, the painting has been given a special place in Milk and Honey, the University's staff and postgraduate café situated at one corner of the Hub on Kelburn campus.
Since those earliest days, the University has provided modest funds to develop a representative collection of recent New Zealand art. For many years the selection of works was undertaken by academics who were committed art lovers, rather than art professionals.
Two of the most adventurous acquisitions were made by such individuals. Douglas Lilburn and J.C. Beaglehole went out on a limb to buy Frances Hodgkins' Kimmeridge Foreshore (circa 1938) while on sabbatical in England in 1956, using their own money to secure the deal. In 1972, Tim Beaglehole, who inherited his father's passion for art, managed to secure funding through a QEII Arts Council grant to match the University's contribution to buy the largest work in the collection, Colin McCahon's Gate III (1970).
Christina Barton is director of the Adam Art Gallery, which manages the collection. She says these were bold purchases that showed great foresight and laid important groundwork for the evolution of the University's art collection.
Gate III now hangs in the grand foyer of Rutherford House at the heart of Pipitea campus.
"Bringing one of Colin McCahon's largest paintings to the central city campus recognises how Victoria has expanded," says Christina.
Now that the collection is managed by professional Adam Art Gallery staff, it has grown and expanded in ways that might have surprised its original advocates. The collection now includes photography, conceptual art and moving image works, and artists have been commissioned to produce works that are responsive to the University.
For example, in 2011, Wellington-based photographer John Lake spent several months observing university life and documented the experience in a portfolio of 10 framed photographs, together with an archive of moving and still images and interviews that provide a lasting snapshot of the Victoria community at that moment.
"We are very proud of the collection, which is widely regarded as nationally significant," says Christina.
"Our role is to ensure that it keeps developing in ways that are true to the original vision of Victoria staff who believed that art can play a vital role in the university environment, and to contribute to the wider work of art historians and curators who recognise the value and importance of New Zealand art and the artists who make it."
View video clips about the collection, or visit the Adam Art Gallery website to access the VUW Art Collection catalogue.
To organise a tour of the collection, contact ann.gale@vuw.ac.nz.