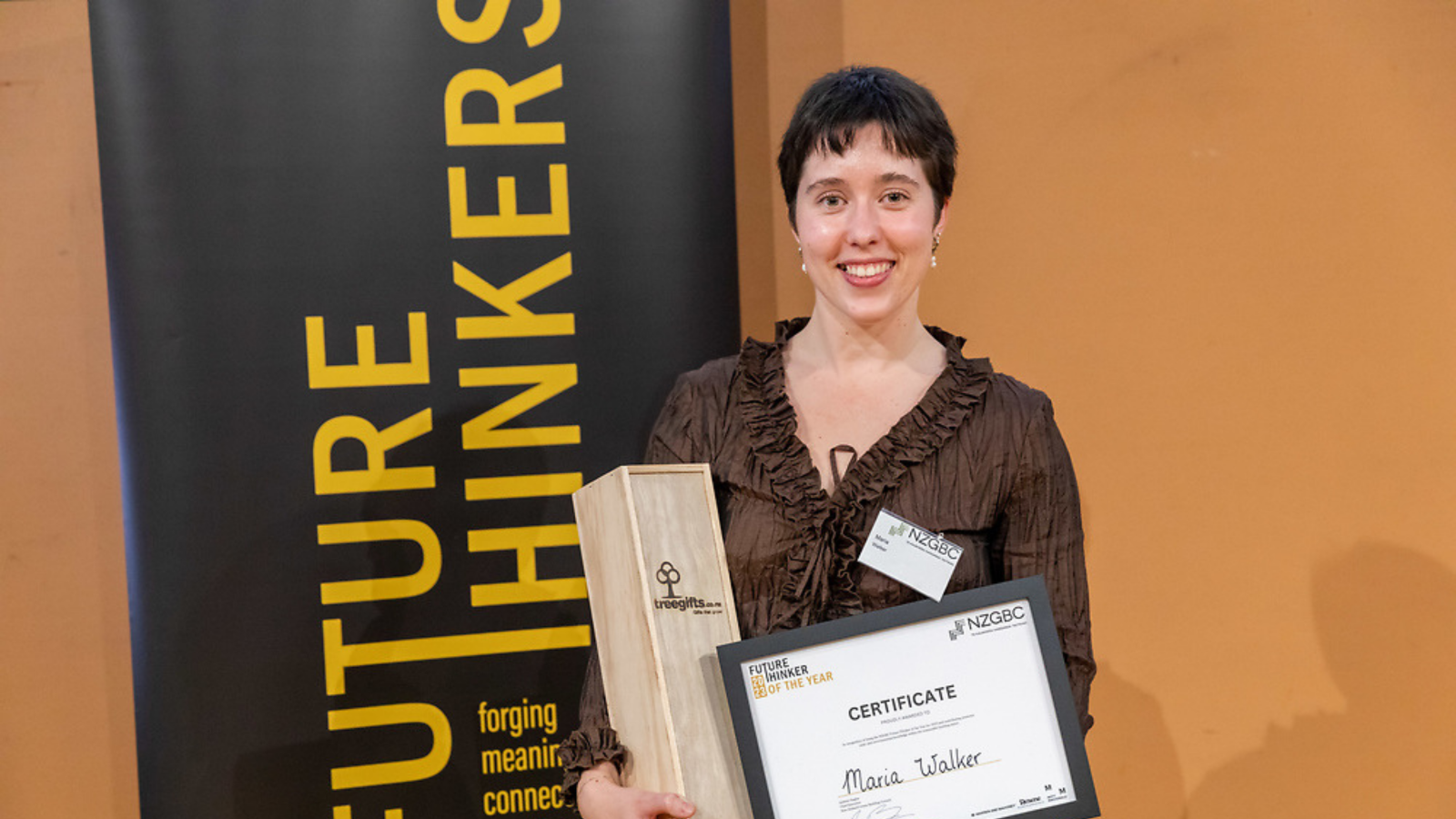 Future Thinker of the Year is awarded annually by the New Zealand Green Building Council (NZGBC), to a student or recent graduate who is demonstrating exemplary environmental sustainability knowledge and leadership. Last year the award was given to Te Herenga Waka Master's student, Eloise Blewden.
Maria completed her Master of Architecture (Professional) in 2022 at the Wellington Faculty of Architecture and Design Innovation—Te Wāhanga Waihanga-Hoahoa, and will graduate in May. Her thesis explored the key market entry points and barriers for mycelium bio-composites—building material made from plant biomass and fungal networks. She is using these natura based solutions for new materials and ways of construction.
She was one of four finalists asked to present on their chosen topic before a panel of judges at an event hosted by the NZGBC on Thursday night. She was up against fellow School of Architecture students, Emily Newmarch and Oludolapo Ibrahim Olanrewaju, both current PhD candidates at the University; and University of Auckland student Luis Medrano.
Speaking at the award ceremony after her win, Maria thanked her fellow finalists, and her Aunty Barbara.
"I'm thrilled that, as finalists, NZGBC provided this platform for us to share our innovations and our challenges to the industry last night. For my own vision and mahi to have been acknowledged is an honour.
"Thank you to everyone who supported me, but to my Aunty Barbara, you are my inspiration."
Vajini Pannila​, Principal Registered Architect at Warren and Mahoney, who was a judge at the event, says the judging panel was impressed by Maria's ability to identify key challenges hindering innovation in the industry.
"Her creativity in illustrating solutions and systems for overcoming these challenges were impressive. She demonstrated the passion and leadership skills that will enable her to positively influence the network."
Maria's video application is watchable on the NZGBC YouTube Channel.
Presenting Maria with the award was last year's Future Thinker of the Year, Eloise Blewden, who was on the judging panel this year. Speaking at the event, Eloise said it was a very tough to choose between the four finalists as they were all exceptional.
"You've all displayed future thinker qualities and made brilliant presentations—it was a tough decision for all of us!
"Maria, we all agreed your presentation was engaging and inspiring, with clear and actionable steps to meet the challenges we're facing. I'm very excited for you to engage with the Future Thinker network."
Eloise says the opportunities afforded to her as an NZGBC Future Thinker have been invaluable—firmly cementing her career as a designer focused on sustainability—and that each of the finalists would have the chance to join the network too.
"It has opened me up to a huge variety of career paths and opportunities within the sustainability space, and the chance to engage with other students and young professionals who are passionate about making positive change."
Emily Newmarch made her presentation on low carbon design and reducing embodied carbon in projects. Her proposed topic was an extension of her PhD, where she articulated a solution to current carbon data complexities and acceleration pathway to get more projects to net carbon zero by the 2030 deadline.
Oludolapo Ibrahim Olanrewaju's research explores sustainability at the building project and product levels. He combines qualitative and quantitative research techniques to solve environmental product declaration (EPD) data quality issues, using modern construction technologies for whole-building life cycle assessment.
Four other current Wellington School of Architecture students also made the shortlist for the award before the finalists were selected, including Ruby Crooks, Maggie MacKinnon, and Rana Abdollahi Rizi.
Dean of the Wellington Faculty of Architecture and Design Innovation, Professor Robyn Phipps, says she is absolutely delighted to see the students' expertise in sustainability and forward thinking being recognised in this prestigious award.
"I'm immensely proud that our students are having incredible success at the NZGBC Future Thinker awards and demonstrating exceptional knowledge, leadership, and innovation.
"The School of Architecture equips our students to be future leaders in sustainability, teaching the technical knowledge, skills in critical thinking, an innovative mindset, and awareness of Mātauranga Māori."
She says the Faculty is internationally renowned for its expertise in sustainability education and research, and many of the academics within the Faculty have close relationships with the NZGBC.
"Sustainable architecture is so critical in today's world. There is no denying that our climate is changing, and as designers and researchers we have a responsibility to decarbonise the built environment and provide the regenerative solutions needed for future generations."