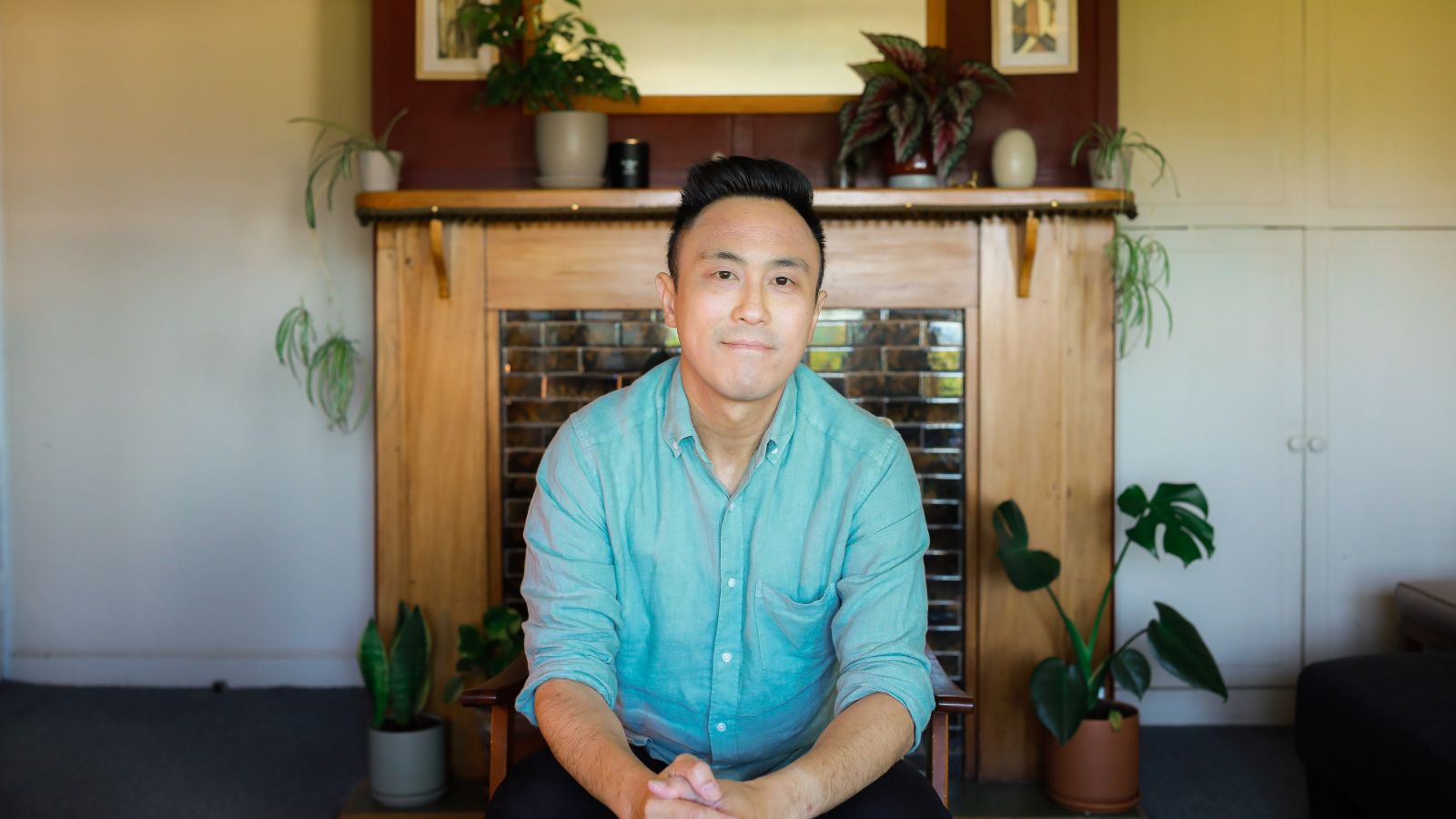 Chris Tse
"A group of my friends would get together and share their own poems at lunch time," Chris says. "I decided I wanted to give it a go too.
"In a way it was my first creative writing workshop. I would print out my poems and arrange them in little sets in a plastic binder."
His next creative writing workshop was at Te Herenga Waka, when he took one of the International Institute of Modern Letters' (IIML) undergraduate poetry classes. It was this class that made him want to pursue poetry as his form of choice, and he made it his goal to complete the Master of Arts (MA) in Creative Writing from the IIML, which he successfully did in 2005.
"Even though I've made and been involved in many great creative projects since I graduated, I fondly remember my time at the University as a period of concentrated creativity, whether it was at the IIML or collaborating on theatre and film projects. The skills and experience I learned gave me a solid foundation on which to build a career in the arts."
Chris admits that he thought he'd have a book published within a few years of completing his Master's, but in reality it was 2011 before his work appeared in a poetry collection, AUP New Poets, followed by his first full collection in 2014.
"Both of those books featured poems that I started writing in my MA year, so I worked on them for a long time. It was a slow process for me, especially in the year or two after finishing university when I was figuring out how to balance full-time work with writing.
"There were many moments of self-doubt and thoughts of giving up, but I stuck with it. Writing can feel like such a hopeless pursuit sometimes, but when you finally have something published, whether in a journal or your own book, all that stress is worth it."
Chris has now published three acclaimed collections of poetry: How to be Dead in a Year of Snakes, HE'S SO MASC, and Super Model Minority. He also co-edited Out Here: An Anthology of Takatāpui and LGBTQIA+ Writers from Aotearoa, with Emma Barnes.
"Editing Out Here was one of the most challenging but rewarding experiences of my career to date. I'm really grateful that Emma Barnes agreed to work with me as co-editor, and that Sam Elworthy at Auckland University Press believed that we could do it.
"It seems kind of funny to me now that I was really worried about having to justify the need for this book to exist when we put the original proposal together and then later when we applied for funding. There has been so much growth in the visibility of queer writers in Aotearoa and around the world in the last few years since we started reading and considering work for Out Here. New journals like eel magazine and bad apple gay are providing great platforms for the next wave of queer literature."
Chris says he is extremely grateful for all the incredible opportunities poetry has given him.
"I've been able to perform and speak at events and festivals, including some in other countries. I've met and become friends with so many great poets and writers who are part of my global writing whānau."
In 2022, Chris was appointed Poet Laureate, a role he will hold until 2024. The Poet Laureate Award celebrates outstanding contributions to New Zealand poetry. The Laureate is an accomplished and highly regarded poet who can advocate for New Zealand poetry and inspire current and future readers. They are supported by the National Library of New Zealand to create new work and promote poetry throughout the country.
"Getting the phone call to offer me the role was one of the most surreal and unexpected moments in my life so far. My own response surprised me—I had to take a moment to compose myself."
Chris says the significance of the role and its legacy was hard to grapple with at the first, but that he is honoured to be Poet Laureate—particularly because the appointments process begins with nominations, so he feels like he truly has the support of his peers and the community.
"I'm excited about collaborating with poets around the country and creating opportunities for poets and poetry to reach new audiences."
Chris says his time as Poet Laureate will be filled with invitations and requests, but he also hopes to get some time to start his new book.
"I normally balance a full-time job in the public sector with my creative life, so my days are pretty busy," Chris says. "Staying motivated can be hard, particularly when I don't have a lot of time to write. There is also a surprising amount of admin involved in being a creative, so I spend a lot of time after work sending emails, answering emails, fighting with spreadsheets, doing Zoom calls… just like my day job! The poetry life isn't always glamorous!"
Chris says his creative process can also be a bit "scattershot and unpredictable."
"I don't set a writing routine for myself because I've found that doesn't work for me. I collect ideas and scraps of lines until I have time to sift through them and see if they have the potential to be poems."
Chris says he spends a lot of time walking around the city or doing dishes while thinking about his poems. Editing and rewriting also takes up quite a bit of his time—it can sometimes take years for a single poem.
Long-term, Chris wants to "keep making cool stuff with people and to keep challenging myself so I don't get comfortable in my own creative practice.
"That might mean dabbling in other forms and seeing what opportunities that can create for poetry."
For those looking to follow in Chris' footsteps, or to pursue a literary and creative career, Chris has two pieces of advice:
"I don't know if that's still a thing that's pushed on new writers but for me it seemed like there was this pressure to 'find your voice'. The one thing I wish I'd been told was to be patient—that finding your voice as a writer can take some time. For me, it involved more than just writing and reading—it was also about life experience and figuring out my place in the world and in relation to other people."
On a lighter note, Chris also says the most important thing is to have fun.
"Parts of writing can be hard work, so make sure to have fun and incorporate some play into your creative practice when you can."