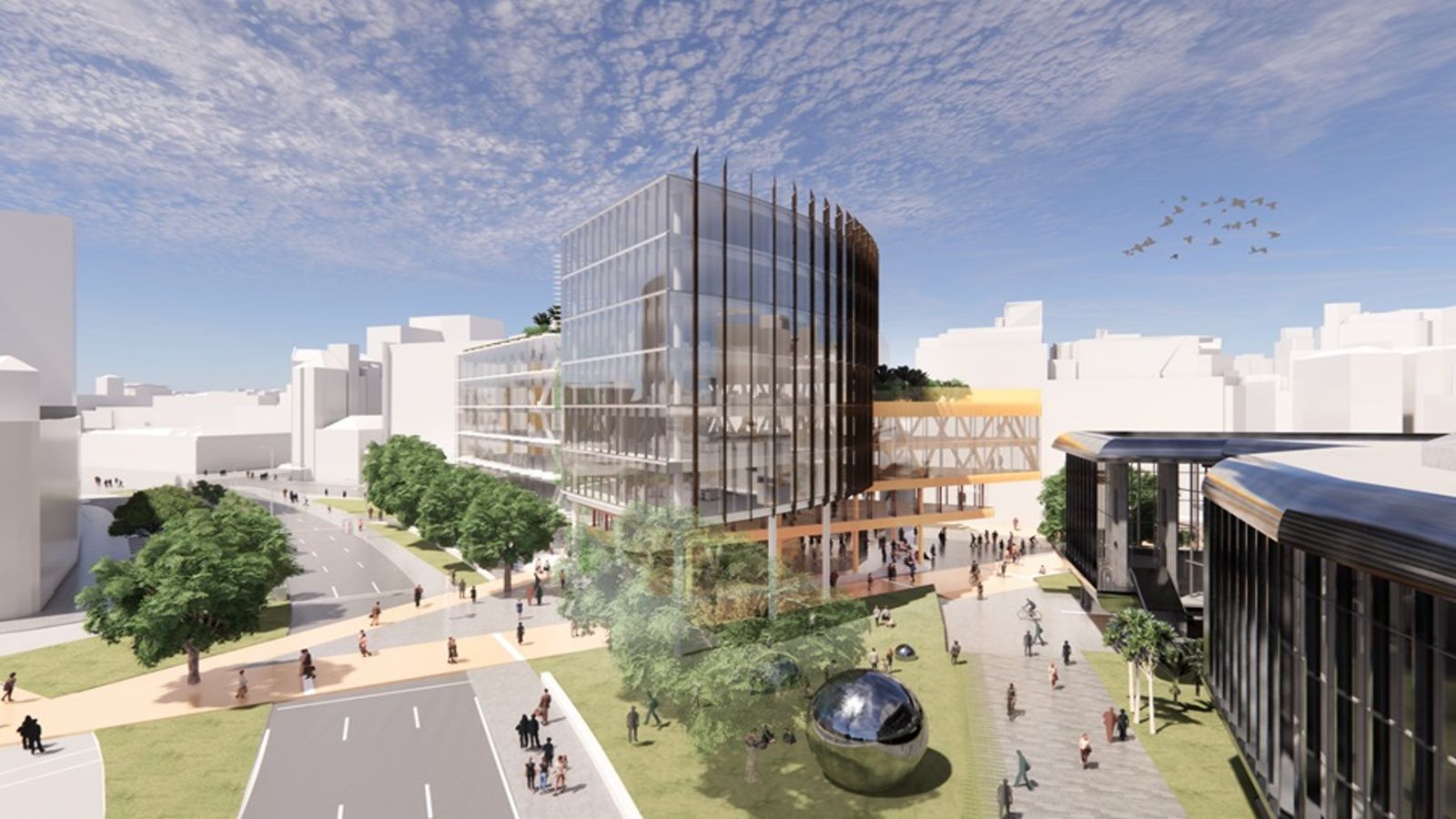 On Monday 6 December the University's Council agreed to commit to a 25-year lease of levels one and two, and part of the ground floor, in the new building. The NZSO Board confirmed its commitment to co-locating the space on Friday 26 November and will sub-lease level two from the University.
This new commitment between the University, NZSO and site developers Willis Bond means the national music centre will now occupy space in both the Michael Fowler Centre carpark development and the Wellington Town Hall, forming a hub of vibrant community engagement supporting greater access to music and the arts for the creative capital.
The Michael Fowler Centre carpark development was committed to by Wellington City Council in September 2021 when it agreed to a 175-year ground lease with Willis Bond. The proposed GreenStar building will be multi-level and provides public spaces that increase connectivity between Te Ngākau Civic Precinct, the waterfront and the north end of Cuba St.
The University's New Zealand School of Music—Te Kōkī (NZSM) will occupy part of the ground floor, where there will be a public-facing space to celebrate music. On level one, modern offices and state-of-the-art teaching spaces will be used by NZSM academic and administrative staff. There will also be spaces for collaboration between the NZSM and NZSO.
The NZSO will occupy part of level two as its administrative base, where it will also have sound-proofed practice rooms and ensemble rooms for its musicians.
Professor Jennifer Windsor, Pro Vice-Chancellor of Humanities, Social Sciences and Education, says: "Being located in this creative precinct will help us to add vibrancy to our city centre and bring us closer to community partners.
"We are delighted that the NZSM will share a dynamic and purpose-built space with our partners the NZSO. This will offer exciting opportunities for high-end learning and professional development for our students, as well as easy access to state-of-the-art teaching, rehearsal, research, and performance spaces."
The national music centre is a collaboration between the University, NZSO and the Wellington City Council.
"The NZSO is excited to be part of the national music centre project. As a concept of national significance, it will be the NZSO's first real home and will cement Wellington's place as Aotearoa New Zealand's arts, culture and heritage lighthouse," says NZSO Chief Executive Peter Biggs.
"We see our partnership with Wellington City Council and the NZSM as an important collaboration enabling us to reach more of our young people, more of our communities and more of the world from a world-class facility."
The new development will begin in late 2022. The NZSM anticipates it will open its teaching spaces to students in Trimester 1, 2026 and the NZSO will occupy the space from January 2026. The Wellington Town Hall remains on track to open in 2024.