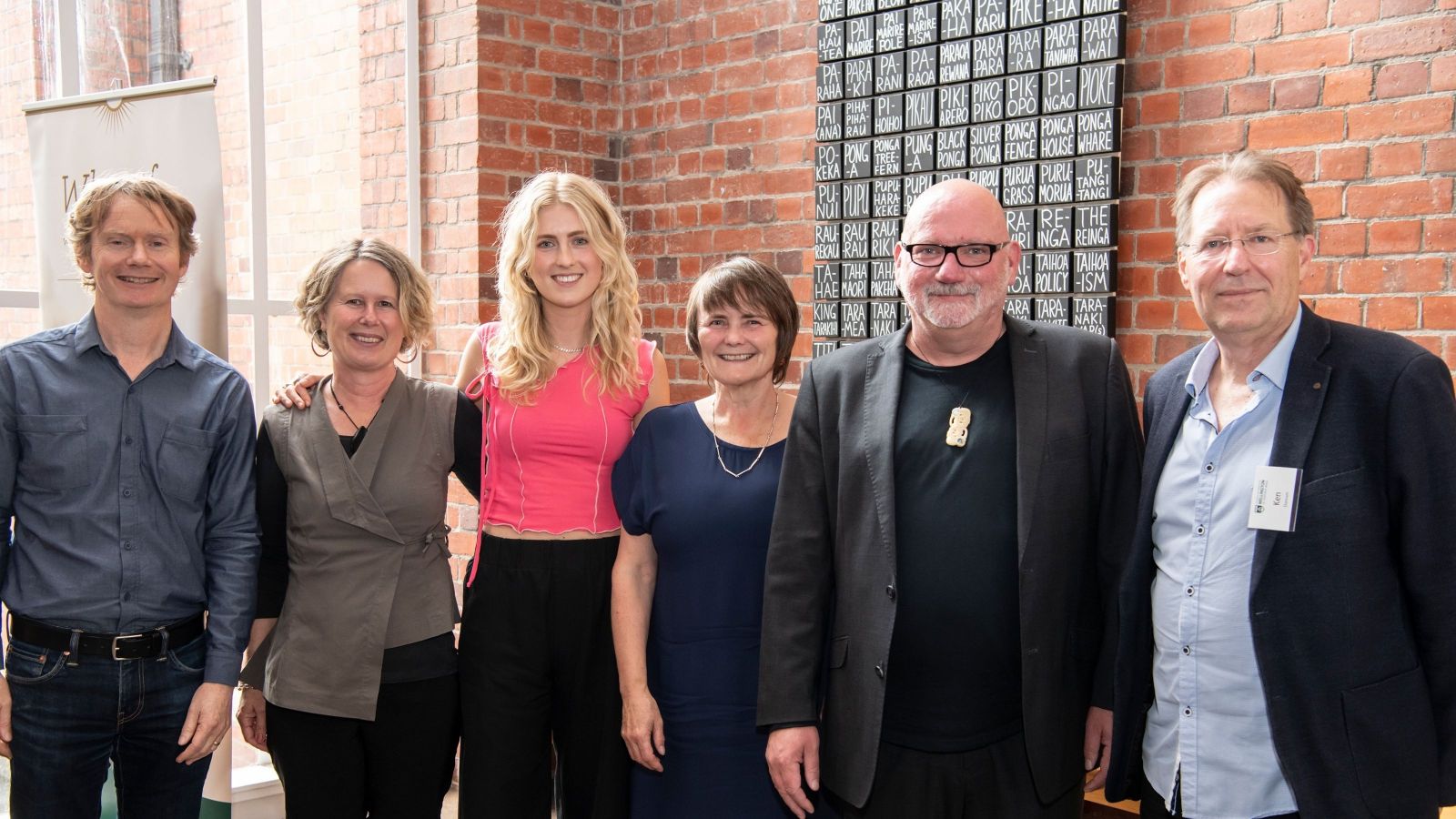 Damien Wilkins, Lynette Mentink, Georgia Wright, Catherine Fitzgerald (who gave the Brad McGann Award), Jonty Hendry (who gave the David Carson Parker Prize) and Ken Duncum
A feature film script about three young women thrown together by a pop song has been awarded
the 2021
David Carson-Parker Embassy Prize in Scriptwriting at Te Herenga Waka—Victoria University of Wellington.
Written by Georgie Wright as part of her 2021 Master of Arts folio at the University's International Institute of Modern Letters (IIML), the screenplay Body On Loan is described by its examiners as a "really enjoyable read with great characters and relationships, vibrant dialogue and resonant emotional depths" and "a page-turner with smart interesting characters and a great mix of drama and comedy".
Named in honour of the late David Carson-Parker, who established the prize to support the Master of Arts (Scriptwriting), it is continued by David's partner Jeremy Commons through the Victoria University of Wellington Foundation. The $3,000 prize is awarded annually to an outstanding Master of Arts (Scriptwriting) student at the IIML.
Body On Loan features Piper, a disillusioned songwriter and singer who is forced to trade her best song to escape her exploitative recording contract, only to see it become a hit for up-and-coming artist Rox. After Piper semi-accidentally pushes Rox offstage and becomes a figure of hate on social media, Rox and Piper find themselves trapped together on a cross-country trip in a mobile slaughterhouse driven by 15-year-old superfan Stevie who has her own passionate and personal connection to the song.
Georgie says, "It's such a rare and special opportunity to have your writing treated with so much care and respect, by classmates who constantly push you to dig deeper. I'll sorely miss sitting in Ken's sunny office, ranting at him for half an hour about all my creative angst, before being calmly guided back on track with a handful of wise questions and observations."
Fellow Master of Arts student Lynette Mentink has won the Brad McGann Film Writing Award for her feature film script Lily.
Named in honour of the late Brad McGann, who was the writer/director of In My Father's Den, the award is also worth $3,000.
Lily is an odd-couple drama about Sarah, a former river guide now struggling to adapt to the confines of her life as a young mother, and Lily, a prickly older woman whose self-sufficient existence is destroyed when Sarah washes up on the beach near her home.
Examiners described Lily as a "beautifully written insightful screenplay which was a pleasure to read" and "engrossing, moving, clear, original and a huge achievement".
Lynette says "The best thing about my MA year hands down was the amount of quality feedback I received from my mentors and classmates.
"That feedback made me brave enough to start again (twice!) with a blank page in order to delve deeper into what I was trying to bring out of my characters."