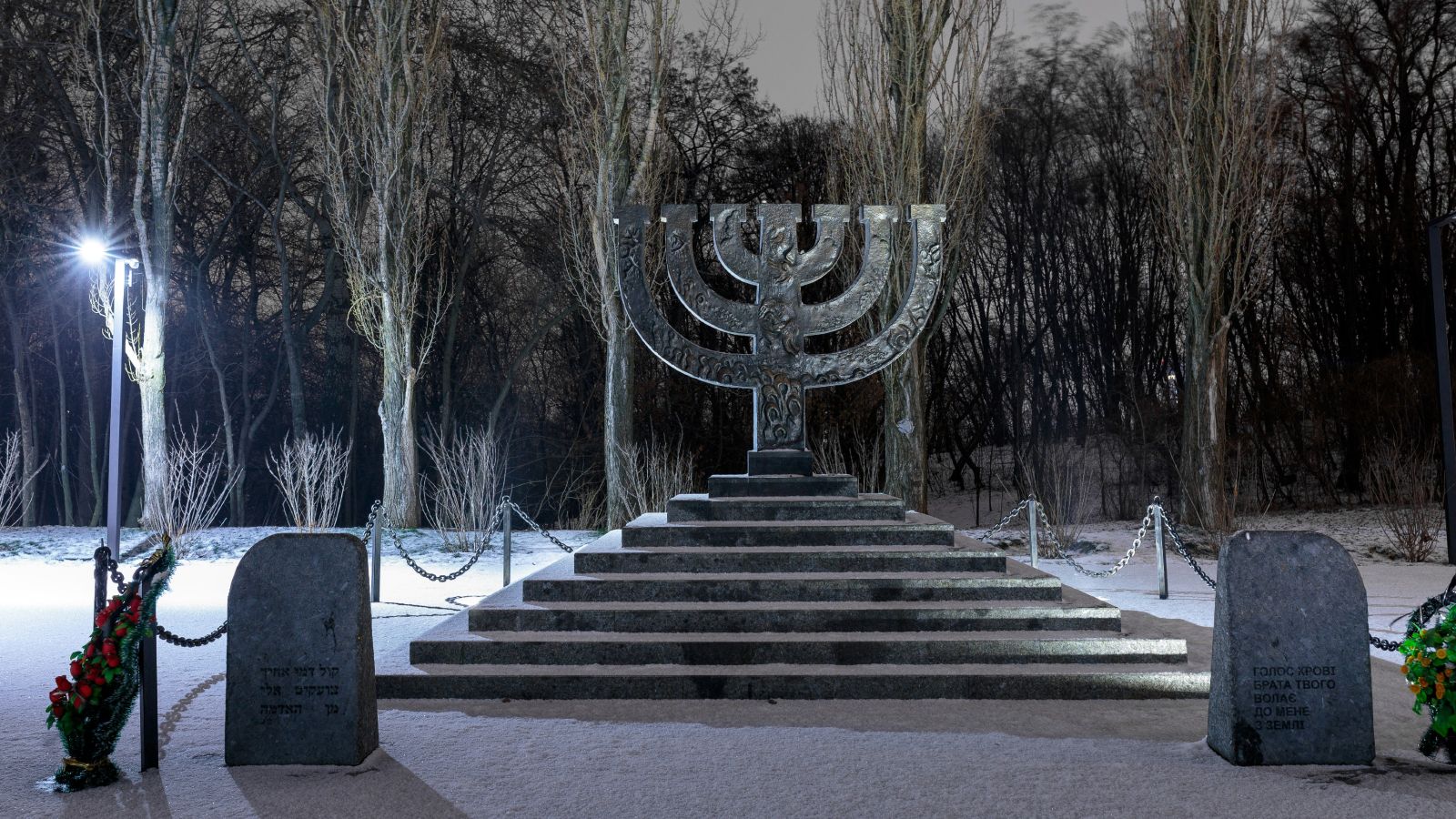 A memorial on the site of the 1941 Babi Yar massacre in Ukraine.
When violist Xi (Lucy) Liu came to Te Herenga Waka—Victoria University of Wellington as a PhD candidate after studying music in China and Russia, she didn't expect to end up co-producing a film based on 'Requiem – the Holocaust' by composer Boris Pigovat.
Lacrimosa Dies Illa, which she produced alongside her supervisor Emeritus Professor Donald Maurice, tells Pigovat's story while exploring the music of the Holocaust Requiem in relation to the event that spurred it, the 1941 Babi Yar massacre in Ukraine. The film will premiere at the Penthouse Cinema in Wellington on Thursday 6 May at an event co-hosted by the Holocaust Centre of New Zealand.
"When I moved to Wellington to study, I knew Professor Maurice was a highly regarded music researcher and viola teacher, so I was eager to learn under him. He introduced me to Pigovat's music—it was heart-rending, very touching, and I had no hesitation in going ahead with a PhD project based on the Holocaust Requiem," says Lucy.
For Lacrimosa Dies Illa, Lucy interviewed Pigovat at his home in Israel, and wrote a biography of him as part of her thesis. Her ability to speak Russian not only allowed her to speak with Pigovat directly, it also meant she was able to translate the subtitles for the segments of the film recorded in Russian and Ukrainian, which is similar to Russian.
"When Professor Maurice and I decided to embark upon this project in March 2017, we booked the rehearsal space for July 2020," says Lucy, who performs the viola solos in the recording by the University's New Zealand School of Music Orchestra. "When COVID-19 hit, we scrambled to make a plan B, but it wasn't necessary—it was as if God had opened a window for us to film the orchestra and then closed it again."
Professor Maurice says, "Creating a documentary film about Boris Pigovat's Holocaust Requiem was always a dream for me, but I hadn't really figured out how to do it effectively. When I began working with Lucy on her PhD it became clear. Her command of Russian and her superb viola playing gave clarity to how we would proceed."
COVID did impact the filming a little, as Professor Maurice had been scheduled to interview Ukrainian violist Valentyna Bukrak on location at Babi Yar, but with the help of a Ukrainian film crew this was achieved remotely.
The Babi Yar massacre claimed Pigovat's grandparents and aunt, and Lucy recorded his response to this: "I knew that I had to write this part of the Requiem to depict, by means of music, this ruthless conveyor of death, to try to express the feelings of horror, helplessness, pain, and despair experienced by those who lived and died in this terrible time. If the listener feels the pain and shudders, I would consider my task accomplished."
In completing her thesis, Lucy wanted to make sure Pigovat's legacy was secure. "I also wanted to remind the audience that, while our life seems comfortable now, we need to remember not to forget about history, always at risk of happening again."
Lucy's experience creating Lacrimosa Dies Illa has opened her up to more fields beyond her specialty of viola. She is grateful to Professor Maurice, who finished at New Zealand School of Music—Te Kōkī last year. "Professor Maurice supported me in my ideas, he was always positive and encouraging. He also gave me direction where it was needed, but encouraged me to use my abilities and learn new skills along the way."
She is looking forward to taking the skills she learned at the University to continue working in the creative fields in New Zealand, and sharing her work with everybody at the premiere of Lacrimosa Dies Illa, which is being held in the 80th anniversary year of the Babi Yar massacre.
Lucy will graduate with her PhD in Music at a University ceremony next month.
Event details:
Lacrimosa Dies Illa, featuring 'Requiem – the Holocaust'
6–7.30 pm, Thursday 6 May
Penthouse Cinema & Cafe, Brooklyn, Wellington
Book here