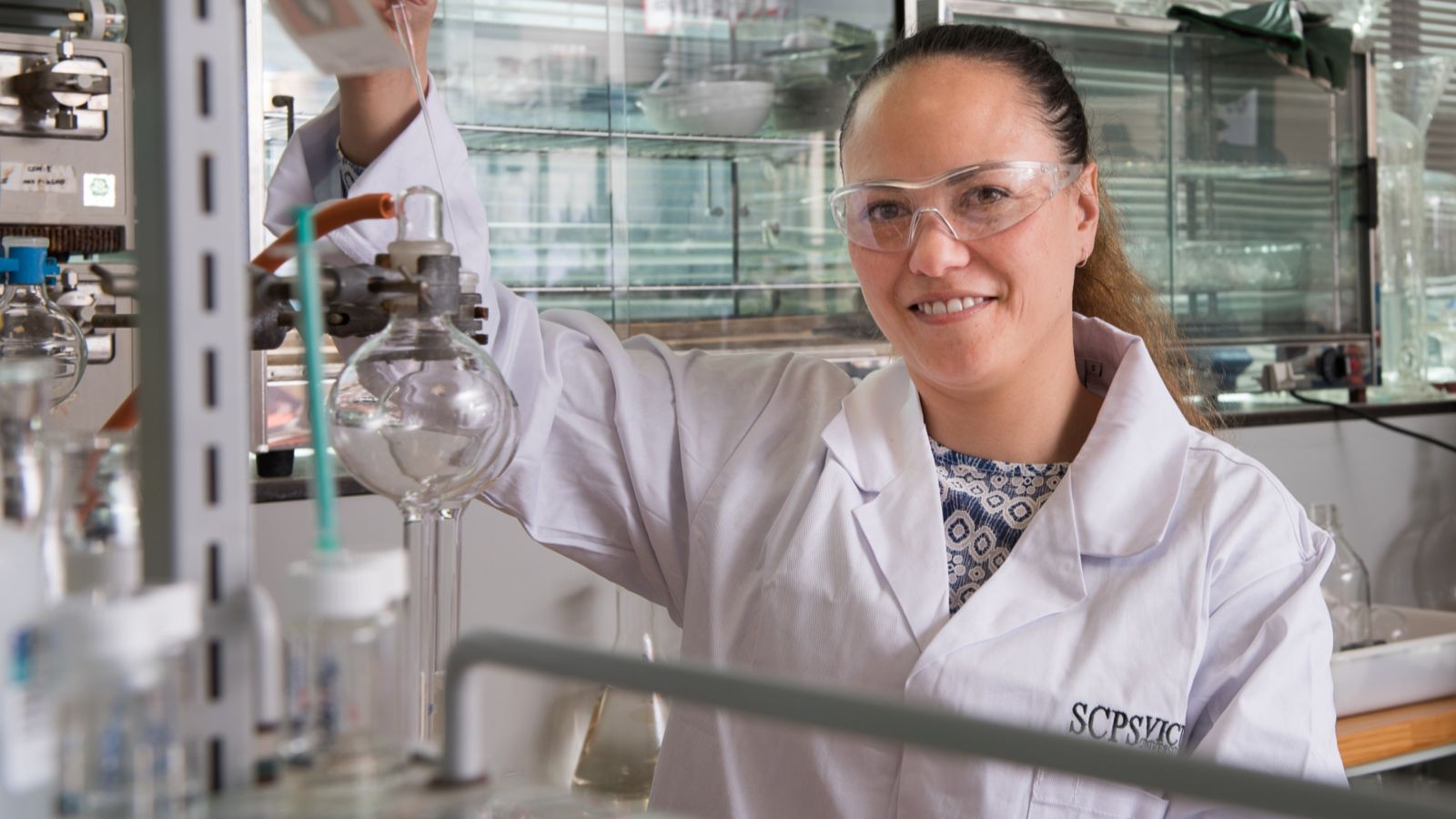 Dr Helen Woolner
Originally supported by a New Zealand Health Research Council Pasifika Postdoctoral Fellowship, Dr Helen Woolner has spent the last several years investigating a traditional Samoan anti-inflammatory plant and its potential to treat a wide range of conditions, from cancer to tuberculosis, Alzheimer's to obesity. She is also researching the science behind other traditional medicines from the Cook Islands, Samoa, and New Zealand.
The Biennial Zonta Science Award will further support Dr Woolner's work, giving her the financial support to visit pharmaceuticals and natural product laboratories and explore collaborative research possibilities in Europe.
"It will enable me to travel overseas to visit the Helmholtz Centre for Ocean Research in Kiel, Germany. There I will collaborate with Professor Deniz Tasdemir, the Head of the Marine Natural Products Research Unit," she says.
The Zonta Science Award supports an emerging scientist who will benefit from the recognition and support the Award provides, including the opportunity to travel and meet other scientists in their field. The Award aims to support women in STEM by celebrating the success of women in science.
"The Zonta Science Award recognises not only the person's excellence in science but also their communication skills and community involvement. The ability to promote science and be a role model for other young women are winning attributes in which Helen has excelled," says Dr Jan Pearson, Convenor for the Award.
Promoting science and supporting others into a scientific career is something that is very important to Dr Woolner.
"I am passionate about the success of Pasifika students in science," Dr Woolner says. "As a student, Iworked with Te Ropu Awhina mentoring undergraduate Pasifika students at Victoria University of Wellington in subjects that I was familiar with, mostly chemistry.
"This role also involved outreach projects, where we would go to low socioeconomic areas in Wellington and give primary, intermediate, and high school students a day of 'hands-on' science. They were exposed to the fun behind science and hopefully inspired to take science as a subject."
Dr Woolner originally left high school with no formal qualifications. After the birth of her first child, she enrolled in He Huarahi Tamariki, the school for teenaged parents, where her enthusiastic and supportive teachers made her realise she wanted to pursue science as a career.
"My journey has certainly been challenging and I attribute my achievements to the support and advice offered by so many people, to whom I am immensely grateful" says Dr Woolner. "Reference to Edgar Albert Guest's motivational poem 'Don't Quit' when the chips were down was well exercised!"
Due to COVID-19 restrictions the official awards ceremony will be held in Wellington in 2021.