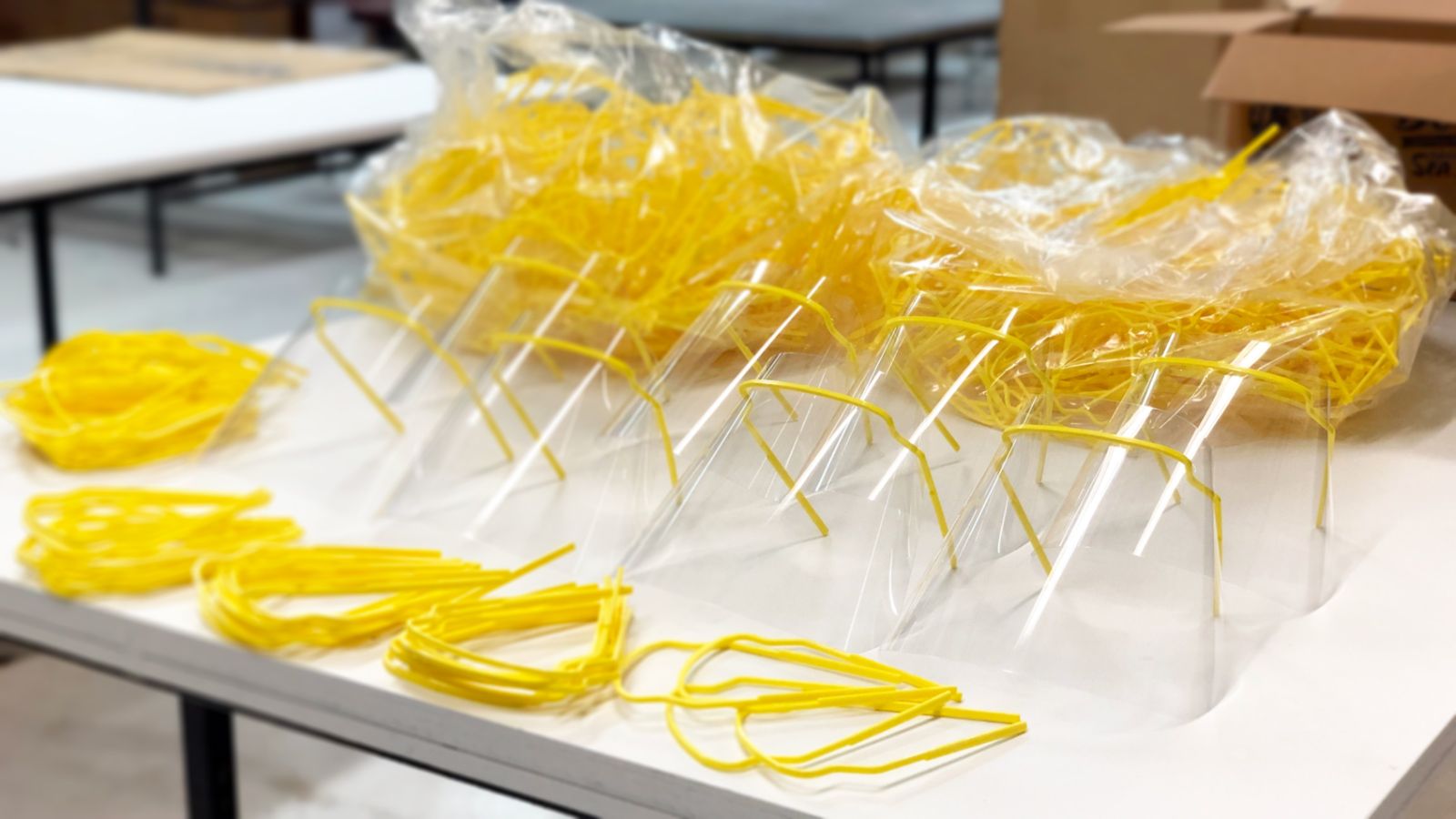 The face shields
Led by Dr Edgar Rodriguez, the School of Design Innovation has supplied over 700 face shields to Dr Lance O'Sullivan in Kaitaia, Te Rūnanga o Raukawa health provider, Ora Toa Cannons Creek Medical Centre in Porirua, Waiora Community Health Centre in Foxton, Upper Hutt Health Centre and Port Nicholson Medical Centre in Wellington. They are working with a Lower Hutt factory, Uniplas, to create the shields, with the School of Design Innovation team using laser cutting to create the face shield, while Uniplas uses a technique called injection moulding to create the frame that allows the user to wear the shield.
The face shields provide another layer of protection for medical workers—they can be worn over face masks to reduce the risk of exposure even further. Dr Rodriguez and Faculty of Architecture and Design workshop team leader Ken Howe were immediately supported by University management to access laser cutting the shields on site at the school during alert level 4, Dr Rodriguez says.
"By using these techniques, we can create shields in the thousands," Dr Rodriguez says. "It is also much faster and more hygienic than 3D printing.
"There are some similar 3D printed shields around, but unfortunately they need to be disposable as it's unhygienic to reuse them as they would risk spreading the virus."
Uniplas usually produces food packaging, which means they are familiar with the extremely high hygiene standards needed to create medical equipment.
The design of the shields is a simple plastic frame connected to a transparent plastic sheet. Both components can also be safely disinfected and reused.
"We tried to supply first to communities who needed them the most," Dr Rodriguez says.
The ability to supply these communities came about from community connections and relationships maintained by University staff, Dr Rodriguez says. He has a long-standing relationship with Dr O'Sullivan, while connections with Te Rūnanga o Raukawa and Te Ati Awa ki Whakarongotai are thanks to Paul Meredith, formerly of the Office of the Deputy Vice-Chancellor Māori.
The design was originally created by a team at the University of Auckland in conjunction with medical professionals. The University of Auckland then got in contact with Dr Rodriguez to help with manufacturing, design changes, and distribution. They were able to take the shields from design to manufacturing within two weeks.
"Auckland contacted me because of my expertise and current work with them, but also because they knew we had the digital manufacturing capability to help," Dr Rodriguez says.
Creating and distributing these masks has been a real community effort and a great example of Kiwis pulling together, Dr Rodriguez says. As well as working with local factories and utilising community connections, Dr Rodriguez and Ken also worked closely with local suppliers and received help from neighbours, University management, the School administration team, couriers, and family members— everybody doing their bit from within their bubbles to make this possible.
"We had to secure materials for the masks the night before lockdown, and due to strict safety protocols we can't have students help us," Dr Rodriguez says. "We were very grateful to local suppliers like Gordon Harris that worked late with us to pack some of the materials we needed for the shields."
Dr Rodriguez says he believes this project indicates the importance of having this type of equipment available at the school.
"The University of Auckland contacted us to help with this important project because of our existing relationship, but also because of our state-of-the-art facilities for digital manufacturing at the School."