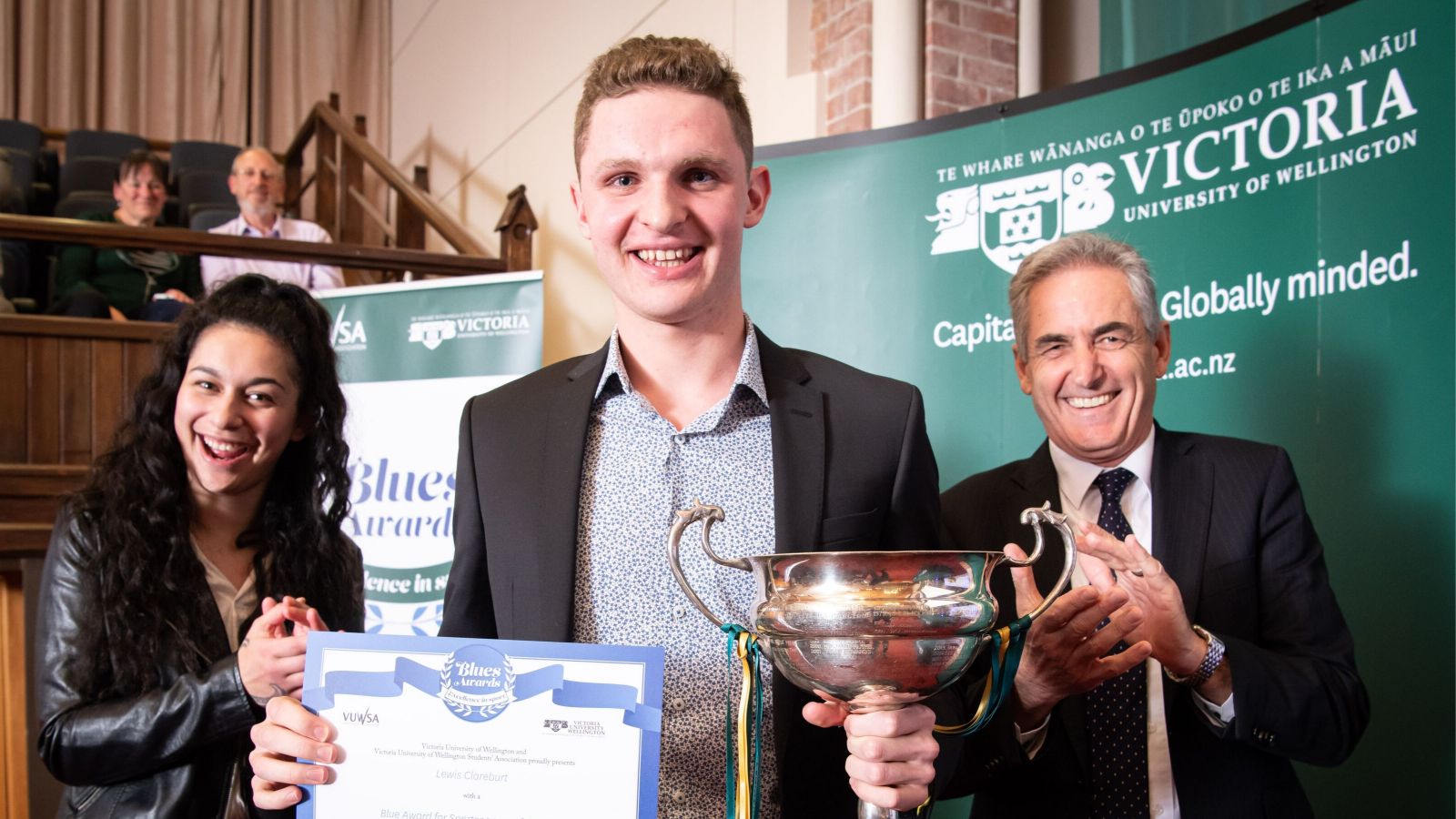 VUWSA President Tamatha Paul, Lewis Clareburt, and Vice Chancellor Professor Grant Guilford
For a second year running, Lewis Clareburt has been awarded the Sportsperson of the Year and Māori Sportsperson of the Year Blues Awards for his national record-breaking international sporting achievements in swimming.
Presented annually in partnership with Victoria University of Wellington Students' Association (VUWSA), the Blues Awards are the highest sporting accolade the University can give to students who have brought credit to the institution through their sporting achievements or contribution to sport.
Sixty-three awards were presented to the University's top athletes, sports clubs and administrators at last night's ceremony.
Lewis is of Tainui descent and is currently studying towards a Bachelor of Commerce. In July at the World Swimming Championships in South Korea, Lewis swum the race of his life to claim a bronze medal in the 400 metres Individual Medley. In doing so, Lewis took more than two seconds off the national record and was the first New Zealander to win a medal at the event since 2015. Lewis also qualified for the 2020 Olympic Games in Tokyo.
Clark Samuel was named Pasifika Sportsperson of the Year.
Clark is currently studying towards a Bachelor of Arts and a Bachelor of Laws. Clark was a member of the New Zealand Men's U24 Underwater Hockey Team, who placed third at the 2019 Age Group World Championships in August.
Sports Club of the Year went to Victoria University of Wellington Athletics Club.
Over the past year, the Victoria University of Wellington Athletics Club has grown to become one of the best performing harrier clubs in Wellington, with some standout team and individual performances. Last year, they were winners of the Melrose Shield Track & Field competition. In the same month they achieved 3rd place in the Senior Men's Open Grade at the National Road Relays. In May this year they organised the University Relay event, in which over 80 teams from across Wellington competed. The Club has also worked hard to welcome newcomers and achieve excellent attendance at their weekly club runs, with numbers ranging between 20 and 60—more than ever before!
Christopher Sole was named Sports Administrator of the Year.
Christopher is currently studying towards a Bachelor of Science and a Bachelor of Commerce. Over the last two years, he has restarted the Victoria University Tennis Club and sustained around 150 members in his capacity as President. He has worked with a range of stakeholders to build the club's visibility and momentum, running social weekly sessions with strong attendance and organising coaching demonstrations. Christopher has also been heavily involved and instrumental in the success of his community Tennis Club who have achieved outstanding success over the last year, including Sport Wellington's Club of the Year award in 2019.
The 2019 Victoria University of Wellington Blues Award recipients:
Sportsperson of the Year and Māori Sportsperson of the Year
Lewis Clareburt for swimming
Pasifika Sportsperson of the Year
Clark Samuel for underwater hockey
Sports Club of the Year
Victoria University of Wellington Athletics Club
Sports Administrator of the Year
Christopher Sole, Victoria University of Wellington Tennis Club
Blue Awards
Ainsleyana Puleiata
Alistair Ford
Amy Foreman
Angus Hazelton
Ben Paviour-Smith
Ben Wade
Bianca Nagaiya
Caleb Delany
Clark Samuel
Conner Simes
Courtney Stone
Dylan Sharma
Emily Williams
Erin Roxburgh-Makea
Estelle Macadré
Francesca Grange
Grace McLean
Hannah Taylor
Harry Hornabrook
James Preston
James Sales
Jordan Cohen
Katie Cory-Wright
Katie Barrott
Lewis Clareburt
Libby Bradley
Lisa Yue
Maddy Nash
Madeleine Hazelton
Max Ruffell
Michael Sole
Milly Douglas
Mohsen Maddah
Nathan Tse
Paddy Carter
Rebecca Lynch
Seamus Anderson Kane
Sean Beresford
Shakked Noy
Shamus Langton
Stella Bismark
Stephanie Lynch
Stephen Harding
Tiaki Fabish
Toby Gualter
Tom Martin
William Stables
Sports Club Blue Awards
Victoria University Cheerleading Club (The Vipers)
Wellington College Old Boys & Victoria University of Wellington Rugby Football Club (OBU)
Victoria University of Wellington Tennis Club
Victoria University Rowing Club
Victoria University of Wellington Athletics Club
Victoria University Netball Club (Team Vic Netball)
Sports Administration Blue Awards
Aleisha Amohia
Christopher Sole
Li Hao Yeoh
Mohsen Maddah
Amy Foreman