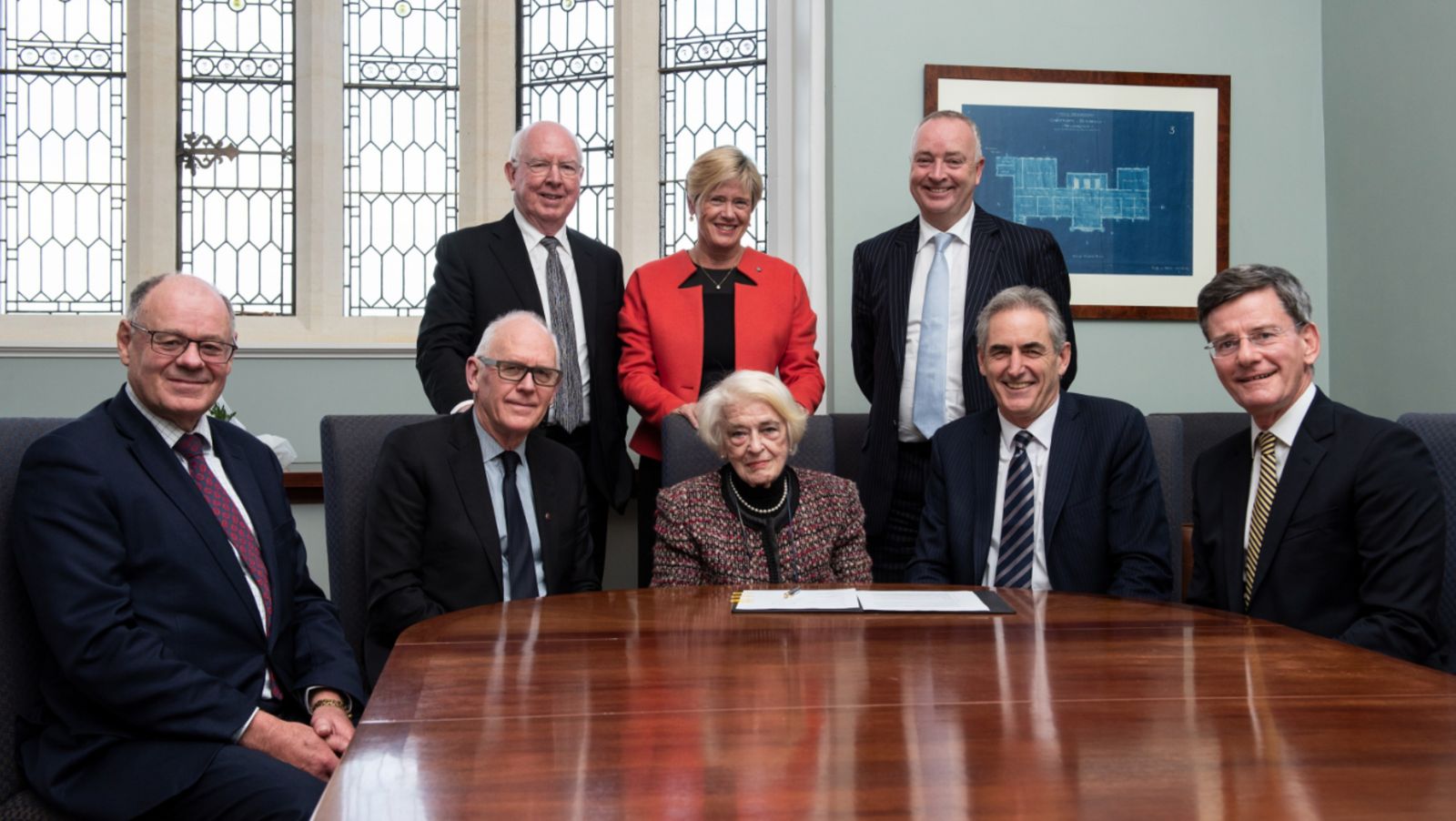 L-R Front Row: Adam Foundation trustee Alasdair McBeth, NZSO CEO Christopher Blake, Verna Adam, University Vice-Chancellor Grant Guilford, Adam Foundation trustee Chris Finlayson QC. L-R Back Row: NZSO past Chair Donald Best, Dame Kerry Prendergast, WCC CEO Kevin Lavery
The gift was first pledged by the Adam Foundation in 2017 and University Vice-Chancellor Professor Grant Guilford says it was an important early mark of confidence in the project. The agreement was formally signed yesterday in the University's Victoria Room between the Adam Foundation, the University and the NZSO. It will see the Adam Foundation gift $4 million towards the fit-out of a state-of-the-art music performance and teaching facility in the strengthened and refurbished Wellington Town Hall, the former Municipal Office Building and the Michael Fowler Centre. The centre will also be available for use by the wider community.
The Adam Foundation has made a significant contribution to arts philanthropy in Wellington for more than 40 years.
Professor Guilford says it is a generous gift, which will help ensure the success of the national music centre project.
"It is a fitting legacy that the Wellington Town Hall auditorium will be known as the Adam Auditorium, in recognition of the wonderful generosity of Verna and the late Denis Adam. Their confidence in the centre has been instrumental to the University and the NZSO in securing further leadership gifts and in attracting greater support for the project. We believe the impact on music and the arts in this country will be profound."
Verna Adam on behalf of the Adam Foundation says, "The Adam Foundation has been involved with the University for many years. We were pleased to support, for example, the Adam Art Gallery and the Adam Concert Room. When this opportunity came along, the Foundation saw it as a tremendous opportunity to continue to support the University and our world-class NZSO."
NZSO Chief Executive Christopher Blake says Verna and the late Denis Adam have always been passionate concertgoers and supporters of the NZSO. "Since 2000 this has included Adam Foundation sponsorship of the NZSO National Youth Orchestra, enabling many young musicians to fulfil their dreams. This year the National Youth Orchestra celebrates its 60th birthday and this incredibly generous gift will mean even more opportunities for young musicians and future NZSO players in the national music centre."
The University and the NZSO have committed to raising $30 million towards the fit-out of the national music centre. Dame Kerry Prendergast, Chair of the joint fundraising committee says, "Denis and Verna's support has given a confidence and momentum to the fundraising by encouraging others to be a part of this exciting vision."
The Adam Foundation gift agreement follows this week's announcement from the Wellington City Council that 101 Wakefield St, formerly the Municipal Office Building, will become part of a national music centre, which will be home to NZSM and the NZSO.