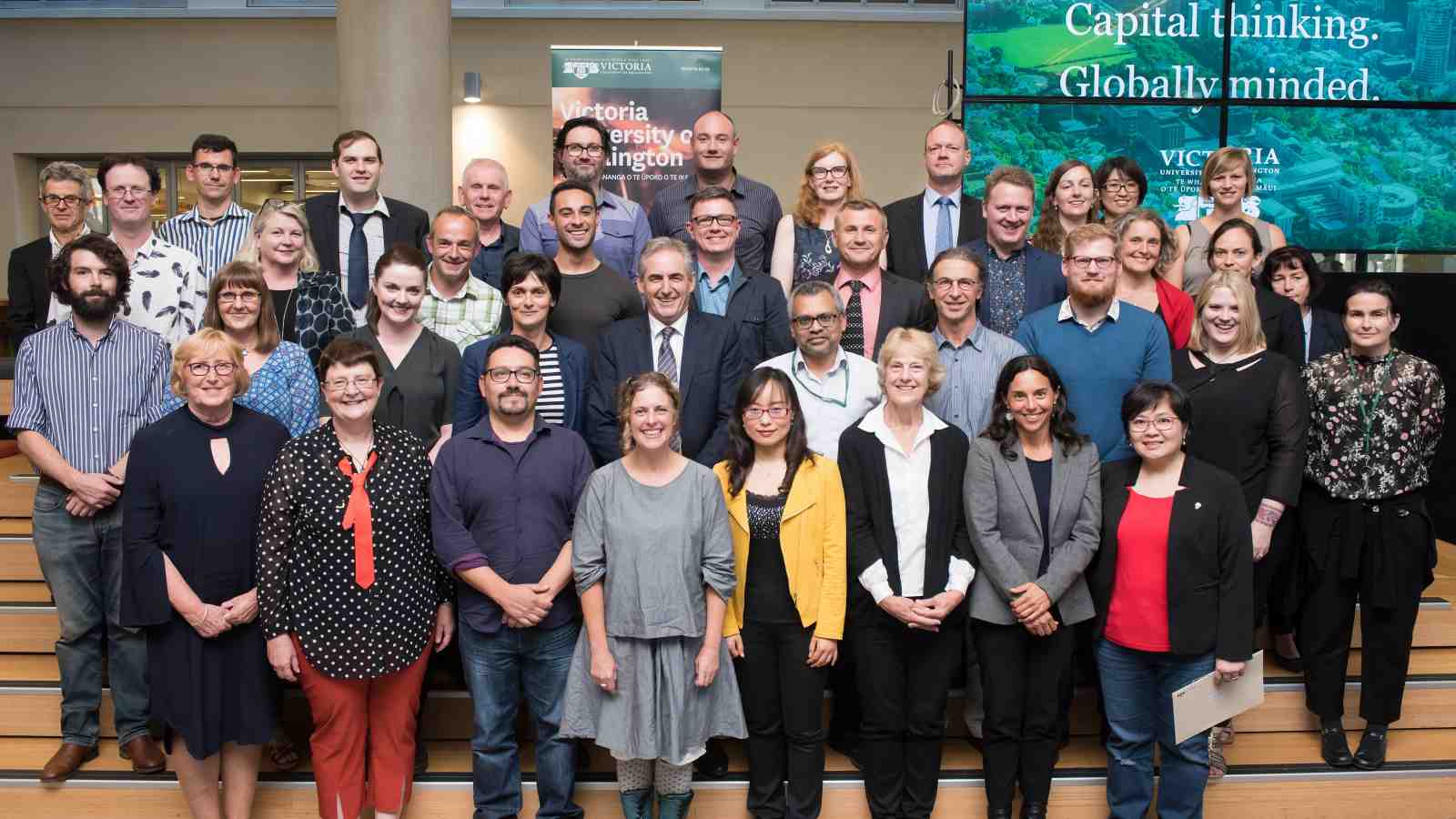 Vice-Chancellor Professor Grant Guilford with the Staff Excellence Award winners.
Awards were given out for excellence in research and teaching, as well as for equity and diversity excellence, engagement excellence, health and safety excellence, and professional staff excellence.
In addition, this year the Te Rautaki Maruako Tutor Excellence Award was presented for the first time, acknowledging staff who work directly with students to facilitate their success.
Speaking at the ceremony, Vice-Chancellor Professor Grant Guilford said that the awards were a chance to recognise the University's most engaged and hardworking people.
"We are a university that prizes excellence. This commitment to excellence spans everything we do—in research, in teaching, in engaging with our community and in the professionalism of those of us whose role it is to support others to succeed.
"These awards are a chance to say thank you and well done, to ensure our high achievers all know how proud we feel of them and—in a wider sense—to declare how important staff excellence is to the aspirations of our ambitious university."
The University is proud to acknowledge the following staff members:
Research Excellence Award
Professor Tim Stern, School of Geography, Environment and Earth Sciences
Associate Professor James Bell, School of Biological Sciences
Professor Ilan Noy, School of Economics and Finance
Teaching Excellence Award
Associate Professor Thierry Jutel, School of English, Film, Theatre and Media Studies
Dr Amanda Gilbert, Centre for Academic Development
Dr Anita Mortlock, School of Education
Engagement Excellence Award
Dr Dean Knight, School of Law
Dr Maria Bargh, Te Kawa a Māui / School of Māori Studies
Early Career Teaching Award—Individual
Dr Greta Snyder, School of History, Philosophy, Political Science and International Relations
Early Career Teaching Award—Team
Dr Rhian Salmon, Science in Society, Science Faculty
Dr Rebecca Priestley, Science in Society, Science Faculty
Early Career Research Excellence Award
Dr Bing Xue, School of Engineering and Computer Science
Dr Valerie Wallace, School of History, Philosophy, Political Science and International Relations
Dr Corinne Seals, School of Linguistics and Applied Language Studies
Dr Larah van der Meer, School of Education
Dr Rachael Shaw, School of Biological Sciences
Te Rautaki Maruako Tutor Excellence Award
Dr Steven Archer, School of Mathematics and Statistics
Emily Devaney, School of Law
Lauren Daroux Greig, School of Law
Pita Roycroft, School of Law
Harry Ross, Engineering and Computer Science
Dan Scudder, School of Design
Joshua James, School of History, Philosophy, Political Science and International Relations
Rory Sudfelt, School of Information Management
Equity and Diversity Excellence Award—Individual
Nan O'Sullivan, School of Design

Equity and Diversity Excellence Award—Team
Dr Nicole Moreham (Team lead), School of Law
Professor Marc Wilson, School of Psychology
Professor Graeme Austin, School of Law
Dr Nessa Lynch, School of Law
Associate Professor Martien Lubberink, School of Accounting and Commercial Law
Dr Jan Smitheram, School of Architecture
Linda Bowden, Centre for Academic Development
Ivy Guo, Library
Michelle King, Health Programme Office
Catherine Nelson, Mauri Ora (Student Health)
Viv Abbott, Human Resources

Health and Safety Excellence Award
Eoin Davidson, School of Psychology

Professional Staff Award for Excellence—Individual
Bernard Blackburn, School of English, Film, Theatre and Media Studies
Em (Emma) Lewis, Development Office and Foundation
Andy (Andrew) Newman, Finance
Ann Pocock, Student Services
Ian (Jan) Vorster, School of Chemical and Physical Sciences, Science

Professional Staff Award for Excellence—Team
Janet Attrill, School of Linguistics and Applied Languages
Bernie Hambleton, School of Linguistics and Applied Languages
Patrick Coelho, School of Linguistics and Applied Languages
Carlos Espinoza, School of Linguistics and Applied Languages
Matthew Vink, School of Linguistics and Applied Languages