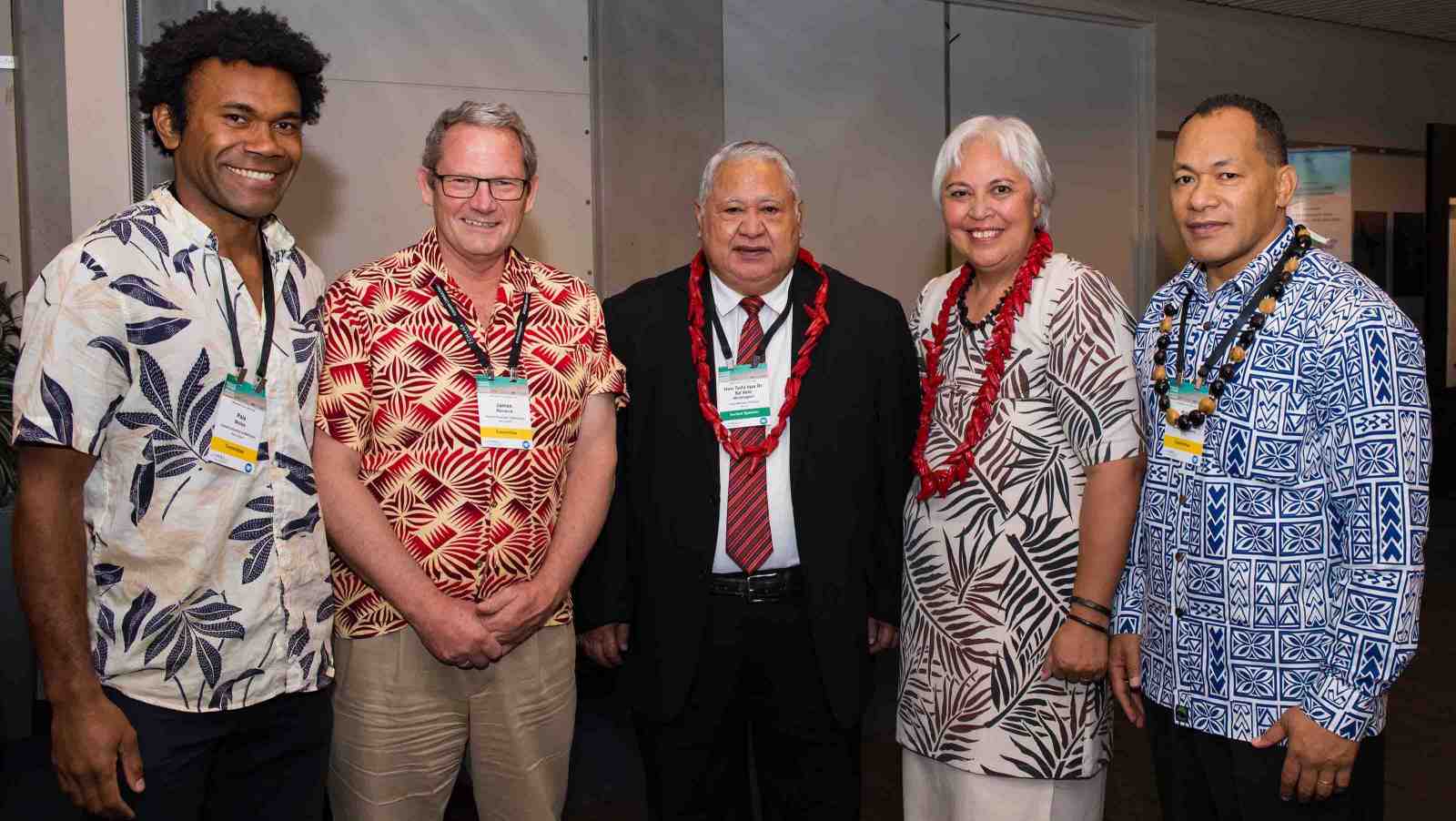 Conference organisers from L-R: Dr Pala Molisa, Professor James Renwick and Luamanuvao Hon. Winnie Laban from Victoria, Kosi Latu from SPREP, with Samoan Prime Minister (centre) Tuila'epa Dr Sa'ilele Malielegaoi.
Speaking at the closing of the Conference, organisers from Victoria University of Wellington and the Secretariat of the Pacific Regional Environment Programme (SPREP) summarised three days of presentations by over 160 scientists, researchers, artists, legal minds, politicians, activists and indigenous rights experts.
Victoria Business School lecturer Dr Pala Molisa told the audience: "Business as usual is broken. We can't continue with this extractive, growth-oriented approach to life. We need a mindset of shared responsibility for Earth, our common home, and the natural resources it contains that are critical for life.
"This has to involve grappling with the root causes of climate disruption in systems of power such as colonisation, patriarchy and capitalism."
Victoria climate scientist Professor James Renwick said this reframed mindset is a matter of urgency as research showed global carbon emissions need to be reduced as soon as possible.
"During the Conference, we heard that every five years' delay in peaking global emissions means 20cm more sea level rise. And with present emission rates, we currently have no more than 10 years to act to ensure we don't exceed the 1.5 C maximum rise in global temperatures that 195 countries committed to in the Paris Agreement," he said.
"There's a real threat that in the next 50 years, we'll push the West Antarctic ice sheet over the threshold to irreversible melting. If we reach that limit, we're locking in metres of sea level rise that will seal the fate of many low-lying Pacific islands. We'll see the disappearance of whole Pacific islands, homes and cultures that have existed for thousands of years."
SPREP director general Kosi Latu spoke of the need to incorporate traditional knowledge with the science and policy.
"We know climate change affects all of us. So the solution needs to take into account all key stakeholders, including the people of the community, and reflect the traditional knowledge, and the local knowledge of our people. We need to build on that and find new ways of expression and collation.
"We also need urgent action now from our global community to lower their greenhouse gas emissions. Collectively we can make the difference we need for our planet, but we need to act now."
Victoria's Assistant Vice-Chancellor (Pasifika) Hon. Luamanuvao Winnie Laban adds that the importance of the arts in tackling climate change was another key theme.
"Through art, people can tell stories about climate change issues in a way that others can connect with. Only after we have engaged both our heads and our hearts will we be able to chart a collective course and succeed in stopping climate change," she says.
Other themes included:
Laws need to be more effective, inclusive and aspirational, to encompass both mitigation and adaptation measures, and ensure equity across all sectors of society
Laws must be evidence-based, which includes evidence from traditional knowledge
Action is needed in all sectors, from those at the top (governments, big businesses), through to communities and individuals and grassroots organisations
The need to build capacity in the Pacific region to ensure programmes to tackle climate change are fit for purpose and managed adequately and ethically