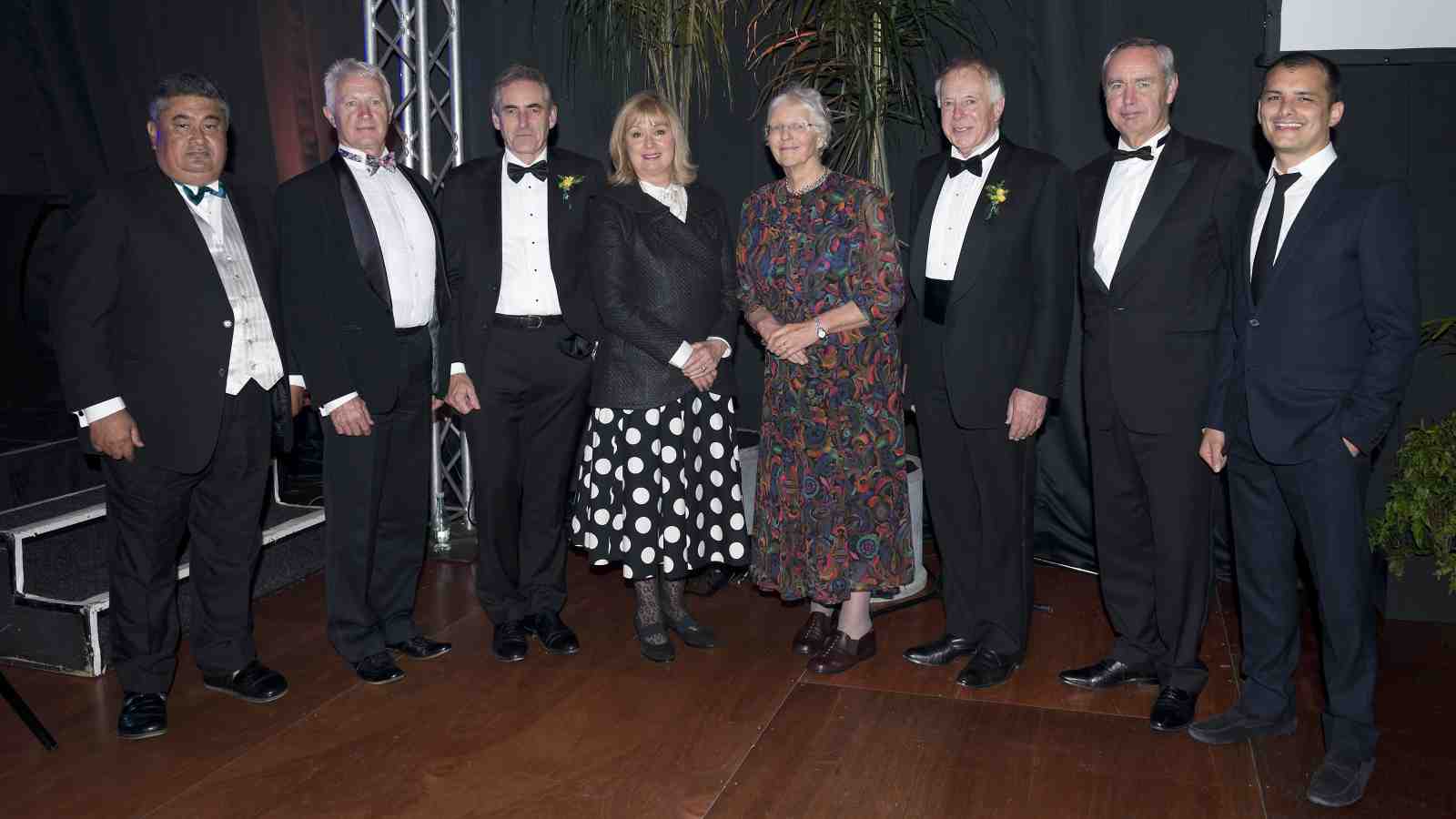 Tamati Kruger, Ian Ferguson, Vice-Chancellor Professor Grant Guilford, Helen Kedgley, Penny Jamieson, Chancellor Sir Neville Jordan, Alan Isaac and Derek Handley.
All six recipients of the biennial event were on hand to accept their awards at Shed 6 on Wellington's Queens Wharf.
Recipients were Olympic gold-medallist Ian Ferguson, businessman and sports administrator Alan Isaac, the world's first woman ordained a diocesan bishop of the Anglican Church Penny Jamieson, curator and artist Helen Kedgley, Māori leader and social and political analyst Tamati Kruger and entrepreneur Derek Handley.
Victoria University Chancellor Sir Neville Jordan says the evening was a great success.
"It was an honour to have so much talent and mana under one roof," he says.
"This year's recipients have each demonstrated an exceptional talent, and Victoria University is hugely proud of them and their achievements locally, nationally and on the world stage.
"These awards do more than celebrate their profound and lasting achievements. They recognise the talent, courage and innovative thinking that has propelled them the civic leaders we know them to be.
"Victoria University prides itself on its high calibre of graduates. The success of these six outstanding alumni is testament to the University not only contributing to the global community, but taking a leading part in growing its future," Sir Neville says.
Victoria has presented Distinguished Alumni Awards since 2006 as a way of recognising and honouring the contribution made by its graduates.
Ian Ferguson MBE
Ian Ferguson (BCA (Accounting), 1977) has demonstrated that achieving sporting greatness does not need to be at the expense of higher education.
He attained a university degree while pursuing his world kayaking titles and has since built a highly successful business. At the same time, he has supported the next generation of talent through coaching and management roles.
The Rt Rev'd Dr Penelope (Penny) Jamieson DCNZM
Penny Jamieson (PhD, 1976) was the first woman in the world to be ordained a diocesan bishop of the Anglican Church.
After only five years as Vicar of Karori West with Makara in Wellington, Penny was consecrated to the position of Bishop of the Anglican Diocese of Dunedin. It was a role that was not without its challenges, but Penny approached her pioneering position in the Church with humility, creativity and compassion.
Tamati Kruger
Tamati Kruger, Ngai Tūhoe, (BA (Hons) in Māori Studies, 1978) is a Māori advocate and social and political analyst who has dedicated his career to the development of his iwi.
Tamati was instrumental in securing the largest Treaty of Waitangi settlement to date for the Central North Island Iwi Collective and was chief negotiator of the Tūhoe-Te Urewera Treaty of Waitangi Settlement.
Helen Kedgley
Helen Kedgley (BA in Political Science, 1969) is one of New Zealand's most creative and outstanding curators who has worked at Pataka Art Museum in Porirua City since its inception in 1998, most recently as its Director.
She has curated over 80 exhibitions of Māori, Pacific Island and contemporary New Zealand art. Since taking on the role of director, Pataka has seen record visitor numbers.
Alan Isaac CNZM
Alan Isaac (BCA, 1974) is a successful businessman and sports administrator who was Managing Partner, Chairman and Chief Executive Officer of KPMG during his 35 years with the firm.
He was Chair of New Zealand Cricket and both Vice President and President of the International Cricket Council and has held numerous governance roles in business, health, sporting and community organisations.
Derek Handley
Derek Handley (BCA (Finance), 2000, BBSc, 2000) is a New Zealand entrepreneur and former Founding CEO of The B Team, which he helped set up alongside Sir Richard Branson and Jochen Zeitz.
He is also a committed astronaut-in-waiting with Virgin Galactic; an adjunct executive professor at AUT; chair and co-founder of NZAX-listed B-Corp Snakk Media; a board director at Sky Television; and a New Zealand Arts Foundation Trustee.