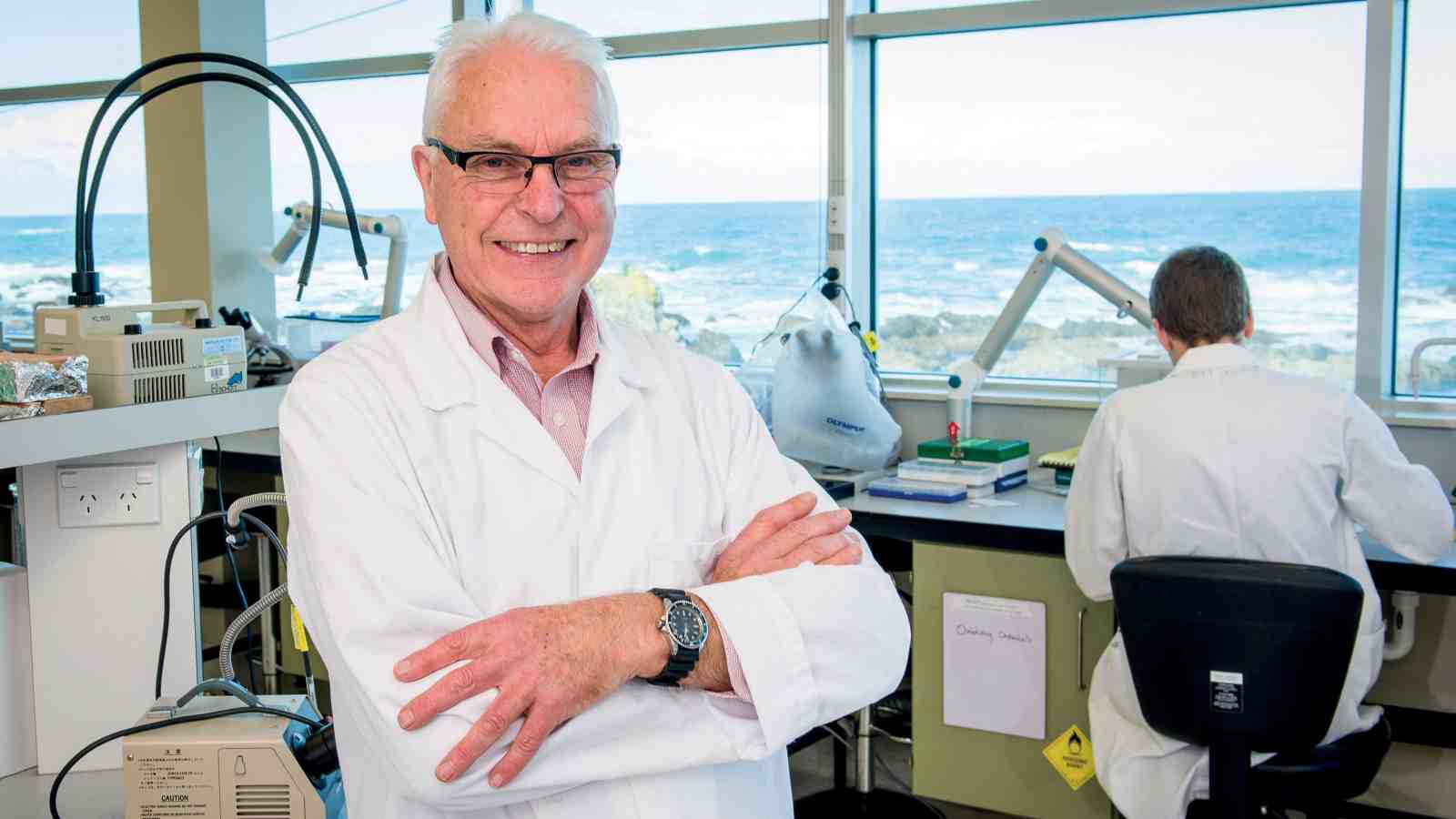 Victoria University's Coastal Ecology Laboratory was practically Alan's second home, where he kept marine specimens, maintained equipment and conducted his own research.
But after five decades he's ready to hang up his lab coat and farewell the university that gave him many skills, experiences, friends, memories and tasks that he says ranged "from the sublime to the ridiculous".
It was a very different era when Alan arrived at Victoria as a 16-year-old in 1965. He walked out of Wellington Boys' College straight into Victoria's Zoology Department as the University's first technical trainee.
From his second day, when he found the laboratory's human skeleton sitting in his chair wearing his lab coat, it was apparent that this was no average working environment.
The young Alan kept undergraduate laboratories in top condition, looked after the two tuatara and in-house rodents and prepared fish, rats and other animals for class dissections.
As the 'general dogsbody', he also made coffee for the technicians' morning tea. This meant boiling water in the billy that rested on an asbestos mat over a Bunsen burner. He always washed the billy thoroughly beforehand, as it was likely he'd boiled items like cats' heads in it earlier, while preparing teaching specimens.
Alan had always shown an artistic talent, and in an age where publications relied on hand-drawn images, his skills were soon put to good use. He drew and painted illustrations that were used as teaching aids, and many others were published in local and international books and journals.
Early in his career, Alan was afforded extra training opportunities in glassblowing, metalwork and histology, as well as time to study at Wellington Polytechnic, and then London University College on a Queen Elizabeth II Scholarship, while working at the Central Veterinary Centre in Surrey.
He rose through the ranks, becoming a technical team leader who manages staff servicing undergraduate teaching laboratories and coordinates the technical side of things, to keep things running smoothly. He is also involved on a few University committees.
The animal skeletons he has worked on—sharks, orangutans and rodents among them—are testament to some of his many skills. Armed with surgical instruments and taxidermy books, Alan pieced skeletons together, bone by bone, for research and teaching. "One time, an iguana skeleton arrived in a shoe box from Australia, in hundreds of pieces. Needless to say it was a challenge to get that accurate … and to this day I have no idea if the vertebrae are entirely in the right sequence."
As a founding member of the University's civil defence team, he was involved in setting up a flying fox for a training exercise in 1979, which whizzed from the Easterfield building rooftop to the Rankine Brown building.
His ability to find unusual tasks has not waned in his later years. In January this year, he was a key player in rounding up and relocating 15,000 bees that had found a home in the walls of a University building.
Despite this, Alan feels he is now ready to step back from Victoria. "I'll miss the students and my colleagues and all the interesting and highly qualified individuals, but I think 50 years is a good innings."