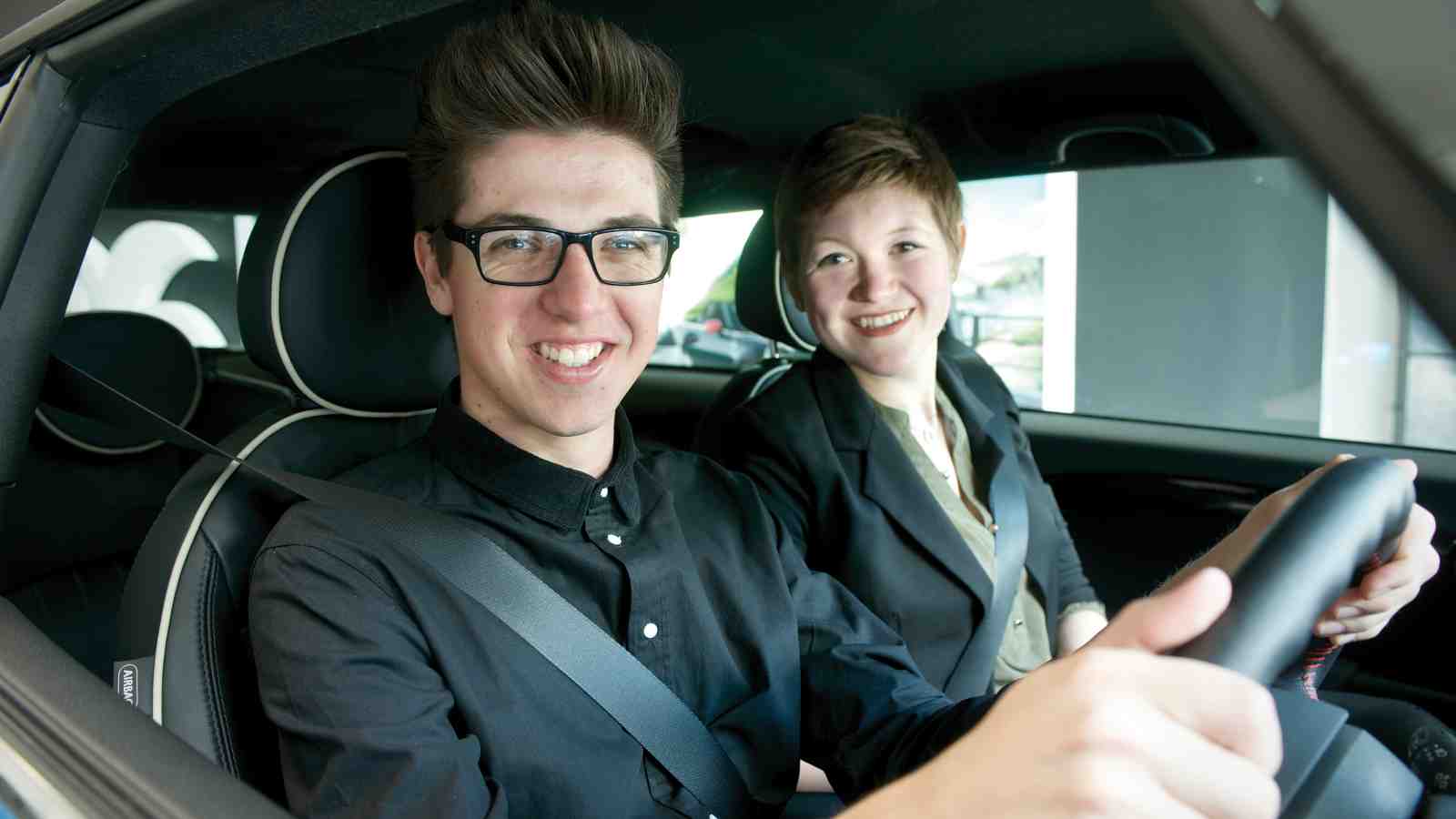 Competition winners Sean Harris and Anna-Maria Michels.
The challenge was to bring BMW Group's Auckland-based head office into the 21st century, representing what the global car brand stands for in 2014.
The third-year class started the project in groups and then broke off to work on individual aspects, competing against fellow classmates.
Nina Englert, managing director of BMW Group New Zealand, says collaborating with Victoria's School of Design represented a unique opportunity to assist in the education and learning of the University's students. "BMW Group is heavily involved in design through our ever-evolving model range, so it was a good fit," she says.
Course coordinator Bettina Neu says the quality of the projects made it difficult to pick one stand-out entry, with Sean Harris and Anna-Maria Michels, both third-year Bachelor of Design Innovation students, named joint winners.
The pair were two of five finalists flown to Auckland to present their interpretations to a panel of senior managers from BMW Group New Zealand.
In the end, says Bettina, the risk-taking of Sean's concept and the comprehensive nature of Anna's concept stood out.
"The Mini brand uses the phrase, 'Be bold. Be unafraid. Be MINI.', but unfortunately that's not experienced when you go into a typical showroom," Sean says. His concept is an audiovisual installation that evokes the ultimate driving experience within a showroom environment. As customers walk into the Mini section they will hear a car ignition start, followed by a heartbeat pulse that leads them around the car. The sound increases as they move further into the room.
Anna approached the challenge differently, focusing on the physical design.
For her personal project, she looked at the stairs and reception area. Her designs were based on the design of the new BMW i series and interior materials. "The key was to create something timeless," she says.
Anna enclosed the metal stairs with non-structural walls, including a dedicated merchandise display and floor-to-ceiling advertising screens facing the motorway—and potential clients.
For the reception area, she based her design on the new BMW i3 car interior.
Nina says it was a real pleasure hosting the class at BMW at the outset of the process, then seeing the final design concepts.
"We'll review feasibility of the respective projects to ascertain if there is a way to implement them, as they would be a fantastic new addition to our existing premises."