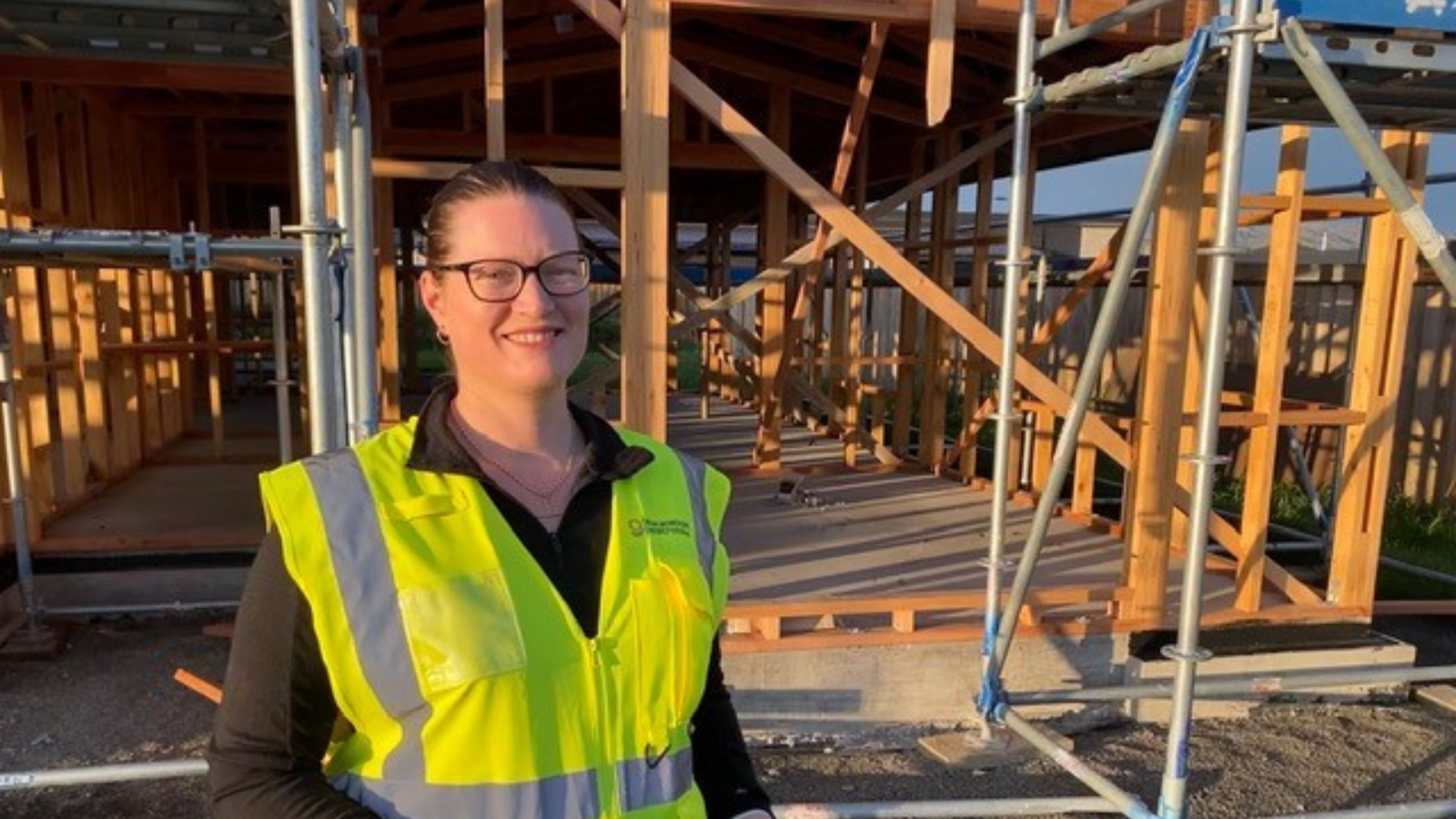 "It's hard. It's definitely difficult. But if you can organise and discipline yourself, it's achievable."
Gemma grew up in Northland and met her husband when the pair were serving together in the Royal New Zealand Air Force. After several years of moving around for work, they settled in Marlborough with their two kids—Luke and Jake.
She got a job in building administration with the Marlborough District Council, but after about three years she says she could feel herself plateauing and realised she wouldn't be able to get much further in her career without a technical qualification.
"I started looking at what I could do, and when I saw the building science course, I thought that would be both interesting and relevant to my career."
"At that time moving to Wellington wasn't on the cards. But when my husband was unexpectedly offered a promotion and posting to Wellington with the Air Force, I thought to myself, this is my chance! It was too good an opportunity to turn down."
Gemma enrolled for a Bachelor of Building Science at Te Herenga Waka—Victoria University of Wellington's Faculty of Architecture and Design Innovation—Te Wāhanga Waihanga-Hoahoa.
As an adult student, and the first in her family to attend university, Gemma said it was "different" at first, but she quickly realised obtaining a degree was achievable.
"A lot of the other students were not much older than my own kids. Occasionally, during school holidays, I'd take my eldest son Luke to campus, and people would do a double take at me, not him—he tended to fit into the crowd more than I did!
"But the younger students in my cohort were great and I was welcomed into their group. I quickly developed a good rapport with them, they were very inclusive."
The only real difference Gemma noticed was she tended to ask a lot more questions than her eighteen-year-old peers.
"I know they say that 'Cs get degrees', but I was never there just to pass. As an adult student, I was both paying to attend university, and not working, so I made the most of every opportunity I possibly could.
"I was probably the most annoying person in the tutorials, as I was always asking questions, but I wanted to learn as much as I possibly could!"
Her hard work paid off, and Gemma not only made the Dean's List all three years of her degree, but she is graduating top of her class in May —something she says she's "super proud" of.
"It feels good that all the organisation and discipline paid off!
"I used to get up at 5.30 in the morning, so I had uninterrupted time to focus on my study. This also meant I was available for the kids from the time they woke up until they went to school".
She says there's no particular secret to her success, just a lot of pre-planning.
"I'd note family activities, tests, assignment due dates, kids' sports games on a wall planner—and I endeavoured to get my assignments finished the week before they were due, just in case something else cropped up with the boys."
Gemma says she couldn't have done it without her husband who picked up the "lion's share" of the duties at home, but she's also incredibly grateful for the support of her lecturers.
"Nigel Isaacs, Wallace Enegbuma, and José Nunez Collado in particular—they're especially knowledgeable, approachable, and supportive.
"Many of the lecturers are at the top of their game within the sector in New Zealand and I found the best way to learn was to participate wholly and ask lots of questions, which they were always happy to answer."
For Gemma and her family though, Marlborough was their chosen home. So, when she finished her studies last year, they moved back to Blenheim where the District Council welcomed Gemma back with open arms.
"After three days back at Council it was like I'd never left, except now I'm doing the work I want to be doing."
Gemma is now a Building Control Officer for the Council, processing building consent applications to ensure the proposed work meets the requirements of the New Zealand Building Code, and she will soon be carrying out inspections to ensure building work is carried out in accordance with the approved plans.
"I've taken so many of the skills I learned at the University and put them into practice with how we do things here—it's been great to use all that theory in the real world."
She's coming back to Wellington in May to graduate, and she's stoked that her kids will be there in the audience to cheer her on.
"My husband, my own mum, and the boys will all be attending my graduation which is so special as I could not have done it without their support.
"Being a mum and studying full time was a challenge, but I hope that it has shown my boys that dedication, discipline, and perseverance is key to success—that if they set their minds to something, they can achieve it too."