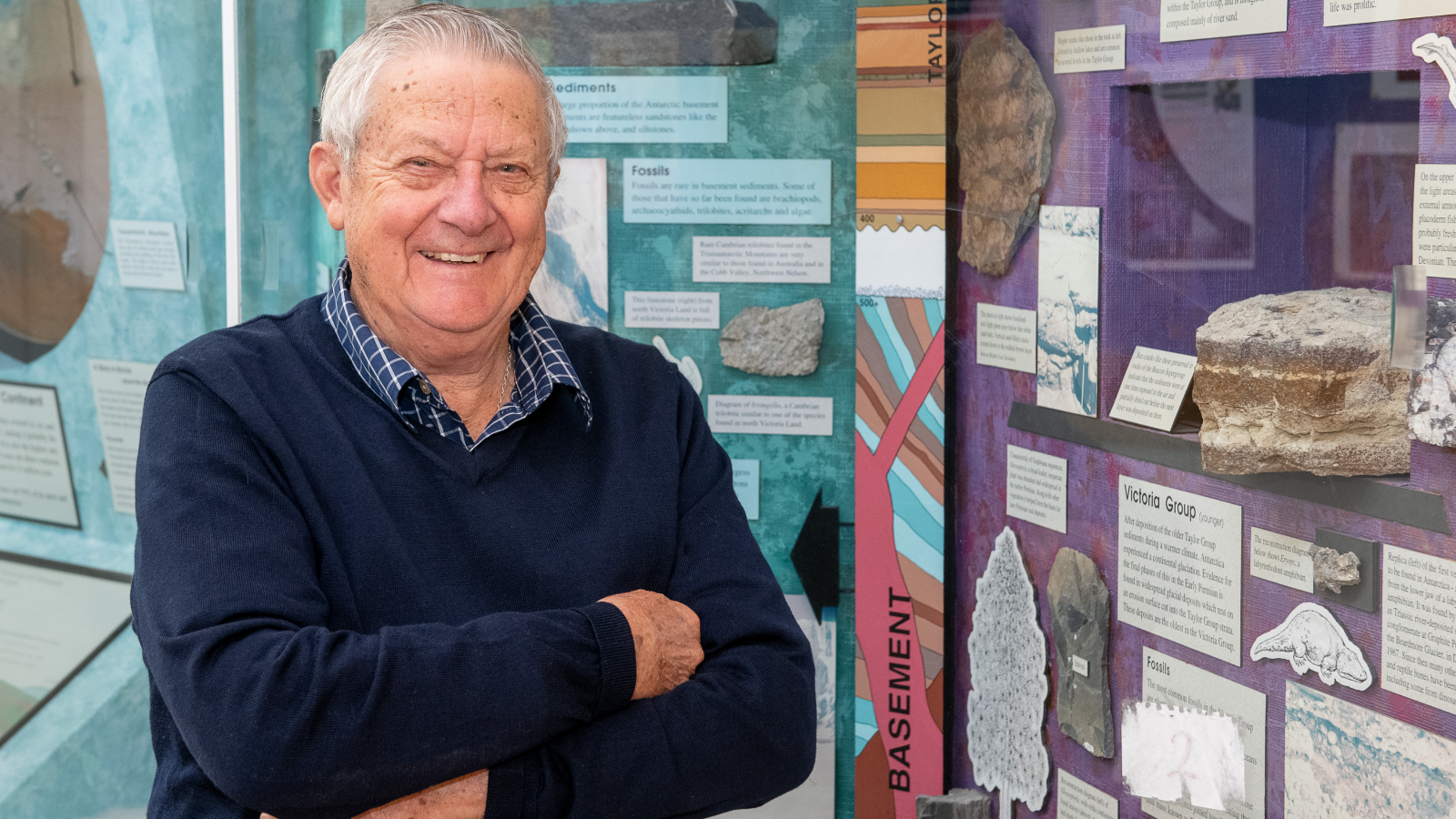 There was no approaching retirement with rest and relaxation in mind for rock-lover Alby Frampton.
At 65, the keen outdoorsman decided to get to the bottom of exactly what was in the rocks he'd spent so many years clambering over in Fiordland and the Tararuas. So in 2006 as retirement beckoned, he surprised his wife and daughter by declaring he was going to university.
Fifteen years of part-time study later, he now holds a Bachelor of Science majoring in geomorphology, a postgraduate dipoma in environmental science and a Master's in physical geography.
Alby spent his career first as a journeyman (a printer) and then joined the family business Frampton Signs. A couple of knockbacks by teachers at college had disuaded him from further academic study, but he'd always been a keen reader and in the 1980s had enjoyed a night course on geology at the University.
So, as he began his studies in 2006, it had been several decades since he was a student.
"It was just so new… it was pretty traumatic for someone who hadn't been at school for 40-odd, 50-odd years. But I was very lucky in having two excellent supervisors—Mike Hannah was one and Dene Carroll was another—Dene, in particular, really helped me. I managed, and then I was captured. Once I passed my first exam I thought, oh, it's not that bad."
One course followed another and by his third year of studying part-time, and a switch of major from geology to geomorphology, he set himself the goal of doing a full degree.
He says the field trips were a highlight of his undergraduate study—he travelled up and down the country, and over to South America to study volcanos, but it was on a trip closer to home the most memorable discovery was made.
While mapping greensand in Te Muna, near Martinborough in the Wairarapa, Alby and his team literally stumbled upon not a rock, but a tooth, of the largest shark that has ever existed, the extinct Megalodon (Carcharodon megalodon).
They were trying to find a new outcrop of greensand and were several metres beyond the area already mapped, when one of the team kicked a stone.
"I bent down and picked it up and bugger me days it was a beautiful white tooth. So, we went up and had a look at the new formation… we started chipping it with our hammers and, clunk, clunk, out popped these teeth. That was amazing, it really was. Everyone was really excited. We were world famous at Te Muna for that day."
One tooth went to Te Papa and the rest were distributed around the team he says, adding, "my grandchildren love it!"
With his BSc complete, Alby studied for a postgraduate diploma before setting a new goal, his Master's, focused on the extensive erosion across Waimarama farmland following a major storm and light earthquake in 2011. He scrambled over 55 slips to measure and document the impact on the land and community. Thanks to his Supervisor, Kevin Norton, he made it.
Now 82, Alby attributes his tenacity and achievements to goal-setting.
"I set goals. I don't always get there, but I will next year."
"Everyone is different, but even if you set a little goal, something that will get you from A to B, it doesn't have to be extensive—it doesn't have to be hard, but it's something you say, 'I'm going to do this, and you do it'. Once you've had a taste of success then you will challenge yourself again, and you'll go another step further."
He advises anyone thinking of following in his footsteps to just "do it".
"I think it's the unknown that sometimes puts people off, but when you get there, you'll meet people… I've made some fabulous friends going through varsity."
Finishing his studies freed up time for Alby to complete his first book. And he's not ready to slow down yet—his next goal is to write his second.