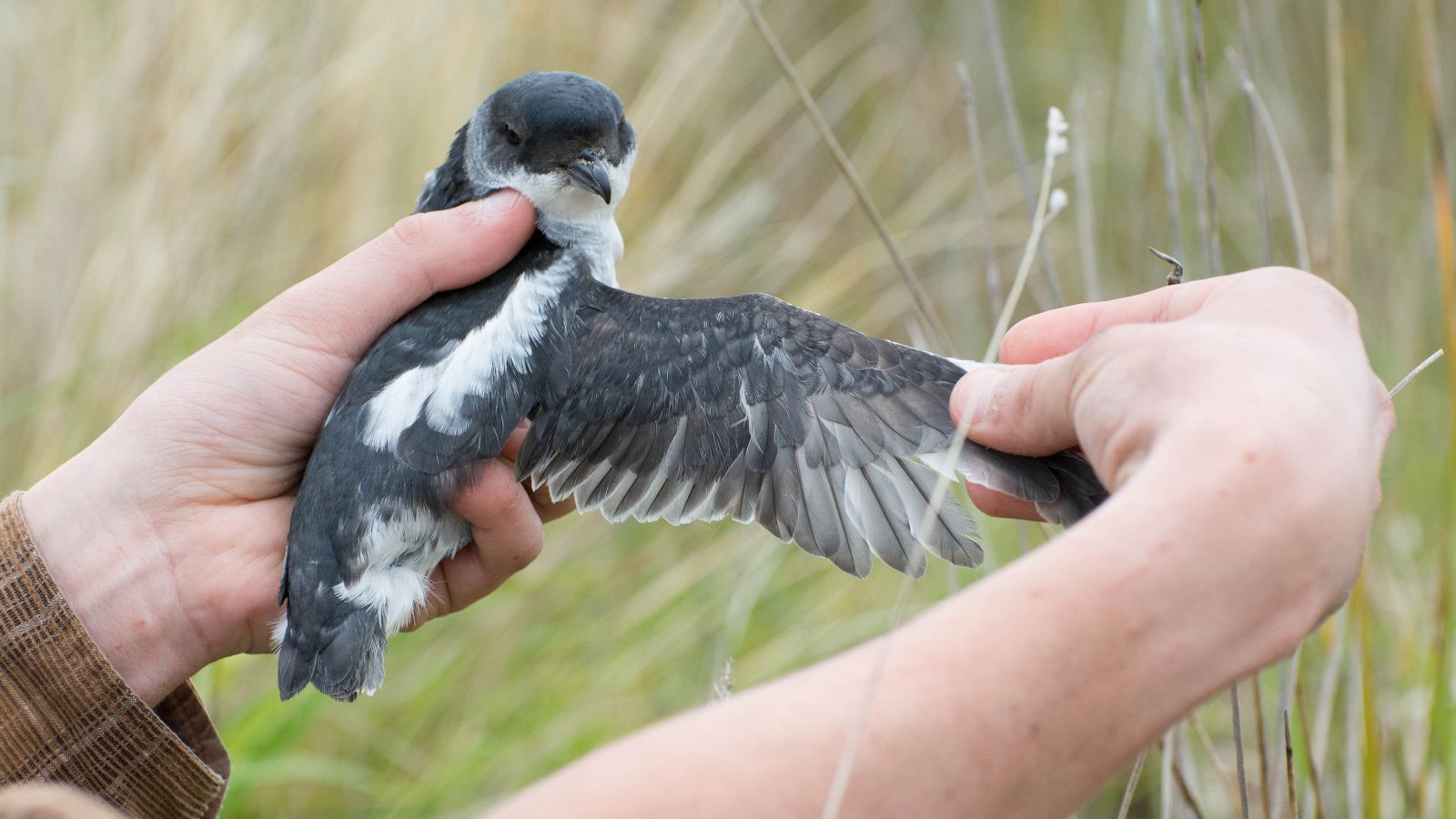 The Whenua Hou Diving Petrel. Photo credit: Jake Osborne.
Named the Whenua Hou petrel (Pelecanoides whenuahouensis sp. nov), the entire population – thought to be approximately 250 birds – live on a 1km sand strip.
The identification is the result of a joint research project between Victoria University of Wellington, the Department of Conservation (DOC), the Museum of New Zealand Te Papa Tongarewa and the Chizé Centre for Biological Studies in France.
Victoria University student and doctoral candidate Johannes Fischer, who worked on the project for his Master's thesis, says the researchers compared birds from the Whenua Hou population with museum specimens from around the world to uncover differences.
"Until now, it was assumed this was a population of South Georgian diving petrels. However, we discovered differences in the birds' size, shape and colour. They're also the only diving petrel known to breed entirely within a sand dune environment. Together, these differences are enough to identify them as a separate species based on the IUCN Red List of Threatened Species criteria."
The findings were published in the multidisciplinary, open-access journal, PLOS ONE this week.
Johannes worked with Kaitiaki Roopu, a group made up of representatives from Southland's four Ngāi Tahu rūnanga, to come up with a name for this new species and a te reo abstract has been provided in the publication. His Master's thesis was supervised by Victoria University Associate Professor Heiko Wittmer
DOC seabird researchers Dr Igor Debski and Graeme Taylor were heavily involved in the research and are now working with Johannes on a conservation plan.
"Discovering this last remnant population of consummate survivors is exciting news for conservationists, scientists, and all who value New Zealand's unique biological heritage," Mr Taylor says.
While the birds had not been officially designated as a new species until now, they have long been recognised as a threatened population, Mr Taylor says.
"Although the island is predator free, and the birds are safe from predation, there are still large threats facing this small population. Sand dunes are particularly vulnerable to erosion and turbulent seas have cut away much of their habitat. Climate change and storm surges also threaten the species' survival."
Mr Taylor says in the short term, the species' survival will depend on maintaining high levels of biosecurity and pest surveillance on the island, limiting any non-essential human activity on the fragile sand dune environment and supporting the research and monitoring programme.
Johannes is continuing to monitoring the birds as part of his PhD research, in collaboration with DOC, to fill knowledge gaps on this nationally critical species.
"As we gain more detailed knowledge of the species over time we can look to more proactive management, including translocations to suitable places to help the species thrive," Mr Taylor says.