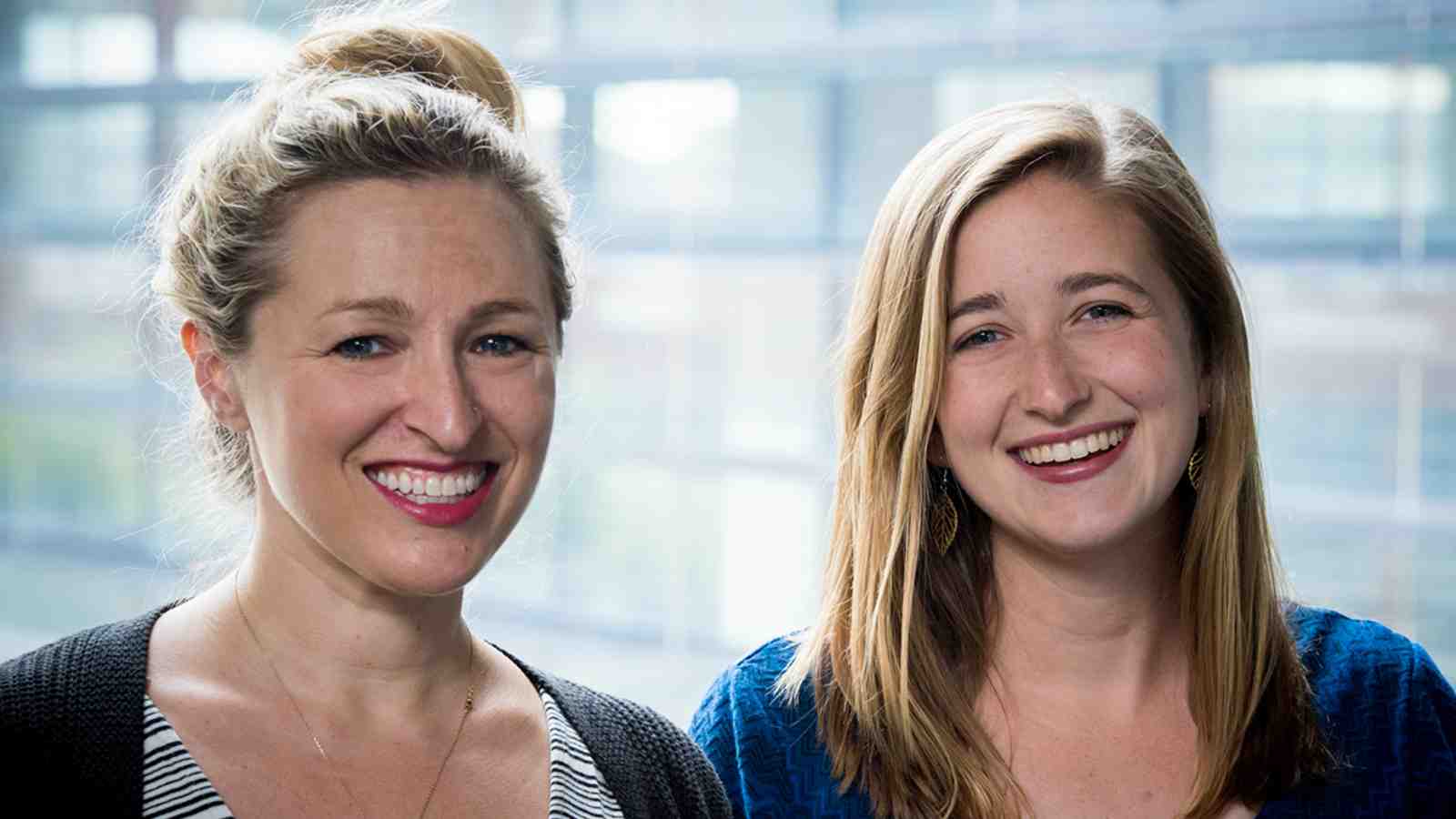 L-R: Haley Farrar and Lindsey Pointer.
Haley Farrar and Lindsey Pointer are both based in the office of Victoria's Diana Unwin Chair in Restorative Justice, which is led by Professor Chris Marshall. As restorative justice trainers, facilitators and researchers, they train students and staff members to use restorative justice in all aspects of their lives.
The restorative justice approach, Lindsey says, is focused on the repair of harm, rather than retributive punishment. It encourages dialogue between the person who caused harm and those impacted to bring about a solution that is satisfactory to both parties.
"If we can get people to sit down together and have a space where respectful conversation can unfold, then empathy is going to follow. It gives people a chance to understand the need and the story behind what happened," she says.
"The empathy goes both ways—the person who caused the harm develops an understanding of the impacts that were felt by others, and those who were impacted learn to see the person who caused the harm as a person, not just as one bad thing that happened. They get a chance to encounter each other's humanness.
"Restorative justice puts relationships at the centre. It does a really great job of creating a space where people feel like they can connect and build trust, and that has positive impacts on learning and wellbeing."
Restorative justice, Haley says, also demands that those who have caused harm take responsibility for their actions.
"So it can lead to deep learning as well, because people are taking a moment to reflect on why they've done the thing they've done, how it's affected people, and what they would do differently, rather than just accepting the fine and moving on with their life."
The pair's work at the University includes encouraging the use of restorative justice in student halls of residence by training facilitators to respond to student misconduct and other issues with the restorative justice process. They also train residential advisers in the circle process, a restorative justice practice that aims to proactively build community.
"The circle process aims to establish trust based on open communication and respect, and that culture change ideally means fewer issues are coming up in the long term, because people have that feeling of belonging," says Lindsey.
The duo also offer the training to University staff, with the aim of creating restorative justice leaders who can take the practice back to their workplaces and communities.
"At this point it's very interest-driven," Lindsey says. "People hear about it and it resonates with them, and they want to learn more.
"The method is working really well, and we've seen some strong leaders with a lot of great skills coming out of that. But there's also been some interest in having an entire team trained in restorative justice."
The training is just one part of restorative justice implementation, which has been taking place at the University for a number of years, Lindsey says.
"An incredible amount of work had already been done before we got here to get policy in alignment, and to get people across the University on board."
Originally from the United States, the women have extensive backgrounds in restorative justice training, and came to New Zealand on Fulbright scholarships. They chose Victoria University, and New Zealand more generally, because they say there is no better place to study restorative justice.
"The fact that Victoria University has established a Chair in restorative justice is unique in the world," says Lindsey. "Victoria is taking on a leadership role academically by establishing the Chair, then matching that with a living of the discipline by transforming the University into one that deals with issues restoratively."
"I think the uniqueness of what Victoria is doing is something to be quite proud of," Haley says. "Part of it is the flexibility that exists within the University to try new things and be willing to be innovators and leaders.
"I've encountered a willingness to try new things here that has really benefited the students and staff involved in the implementation, which is just really exciting."
Among the University's innovations around restorative justice is the development of the world's first restorative justice Massive Open Online Course (MOOC), Restorative Justice and Practice: Emergence of a Social Movement.
Delivered through the prestigious edX platform as part of the University's VictoriaX MOOC programme, the online course starts on 1 May and is an introduction to the theory and practice of restorative justice. Drawing on the pioneering role New Zealand has played in incorporating restorative practices into its justice, welfare and education systems, the course traces how restorative justice has grown from small beginnings into a wider social movement for change across all sectors of society.
"People from all over the world can participate and learn together, and can access this course," says Haley.
"Being able to offer it internationally and on a larger scale for people who aren't in Wellington, or people who are busy with their day-to-day jobs, and be able to get this information out there I think is a great offering."
Lindsey says the restorative justice model has also seeped into other areas of their lives, and changed the way they deal with all kinds of conflict.
"We've used it with flatmates, both for building relationships that have open communication so you feel comfortable saying something if an issue comes up, and establishing norms around how you want to live together.
"It's like putting on glasses you can't take off—you see everything differently."
"I continue to be amazed by the degree with which it just works," says Haley. "If you start looking at a problem as harm caused and what we can do to repair it, you can come to a solution much more quickly.
"Usually when I get stuck with a problem, it's because I don't have the glasses on, and once I just sit down with 'what happened, who's affected and how, how can we repair the harm' then it becomes very clear what the answers to those questions are, and I'd say that's living restoratively."
If you are interested in learning more about restorative practices at Victoria University or would like to receive practical skills training in restorative practices, please contact Haley.Farrar@vuw.ac.nz or Lindsey.Pointer@vuw.ac.nz or visit the website for more information.
Restorative Justice and Practice: Emergence of a Social Movement starts on Tuesday 1 May. Enrol now for free online.