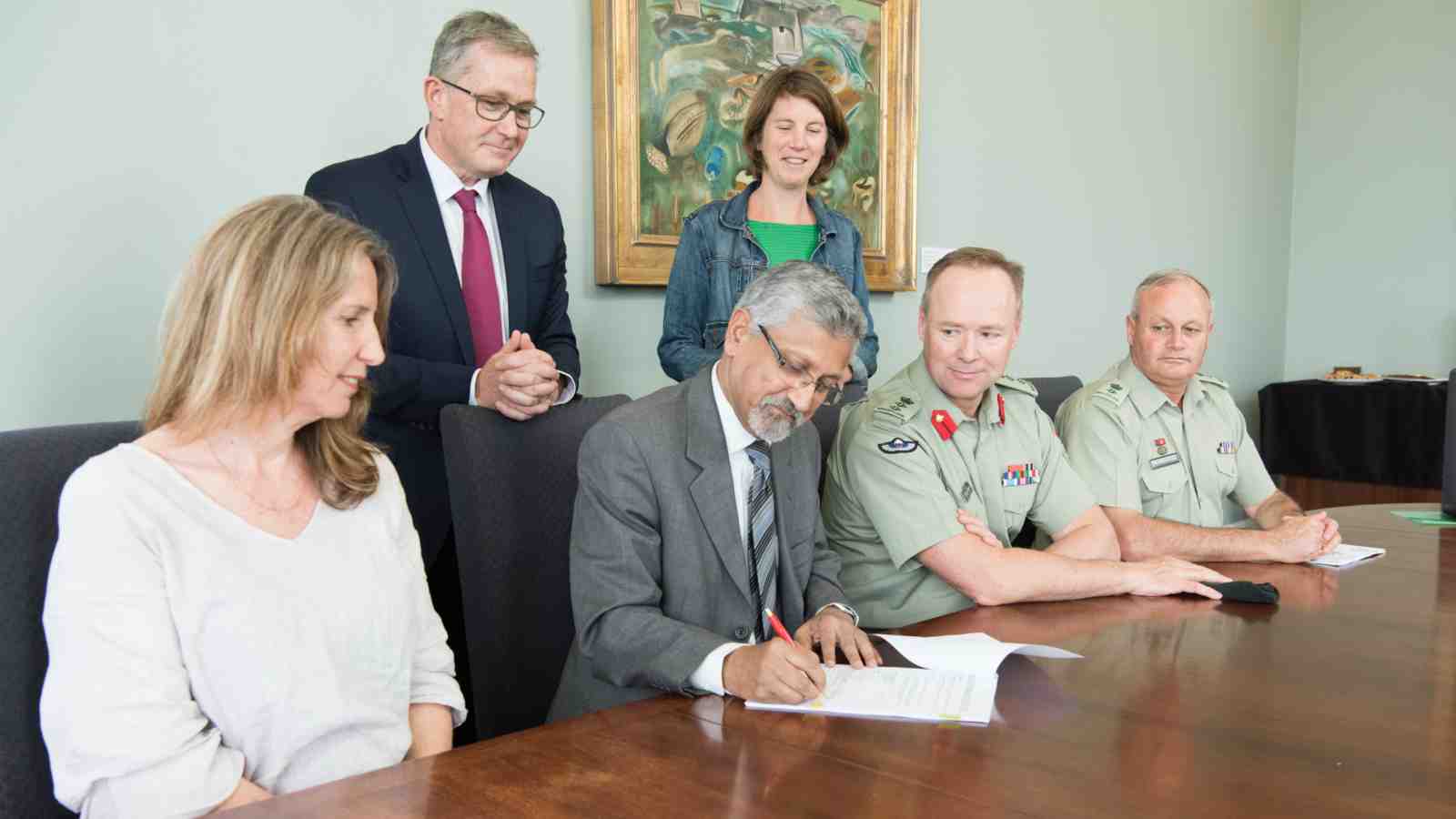 Victoria's Professor Sekhar Bandyopadhyay signs the NZDF Academic Services Contract
Victoria's Centre for Strategic Studies has won a major academic contract to teach its Master of Strategic Studies to officers from the NZDF's Advanced Command and Staff Course (ACSC), the NZDF's premier in-house development programme.
The ACSC provides professional military education for mid-ranked NZDF officers and a range of Asia-Pacific defence forces, who have been identified as having potential for higher level service.
Commandant Lieutenant Colonel Richard Taylor, of the Command and Staff Course, has welcomed the partnership: "I am excited that the Master of Strategic Studies is to become an integral part of the ACSC. Victoria University has supported the ACSC for many years and we now have a wonderful opportunity to build on that relationship. Our students consistently value the expertise and professionalism of Victoria's teaching staff."
Lieutenant Colonel Taylor says the NZDF will be looking for further engagement opportunities with Victoria in the future.
Victoria University's Centre for Strategic Studies focuses on national security and defence issues, conflict resolution, arms control and disarmament. It also examines the strategic implications of political and economic change in the Asia-Pacific region. In 2017, it was ranked as the #2 best think tank in Southeast Asia, Australasia and the Pacific in the University of Pennsylvania's annual Global Think Tank Rankings.
CSS Director, Associate Professor David Capie, says the partnership is a fantastic opportunity for Victoria to engage in conversations with NZDF professionals about the rapidly changing global security environment.
"The collaboration will let us increase the number of people we have looking at strategic and security issues in New Zealand and enable us to interact with the NZDF's future leaders, as well as international students from around the Asia-Pacific," he says.
"Victoria has worked closely with the NZDF on a range of programmes in the past and we now look forward to an even closer relationship in the future."
Enabling our Asia-Pacific trading nation is one of Victoria's eight areas of academic distinctiveness.