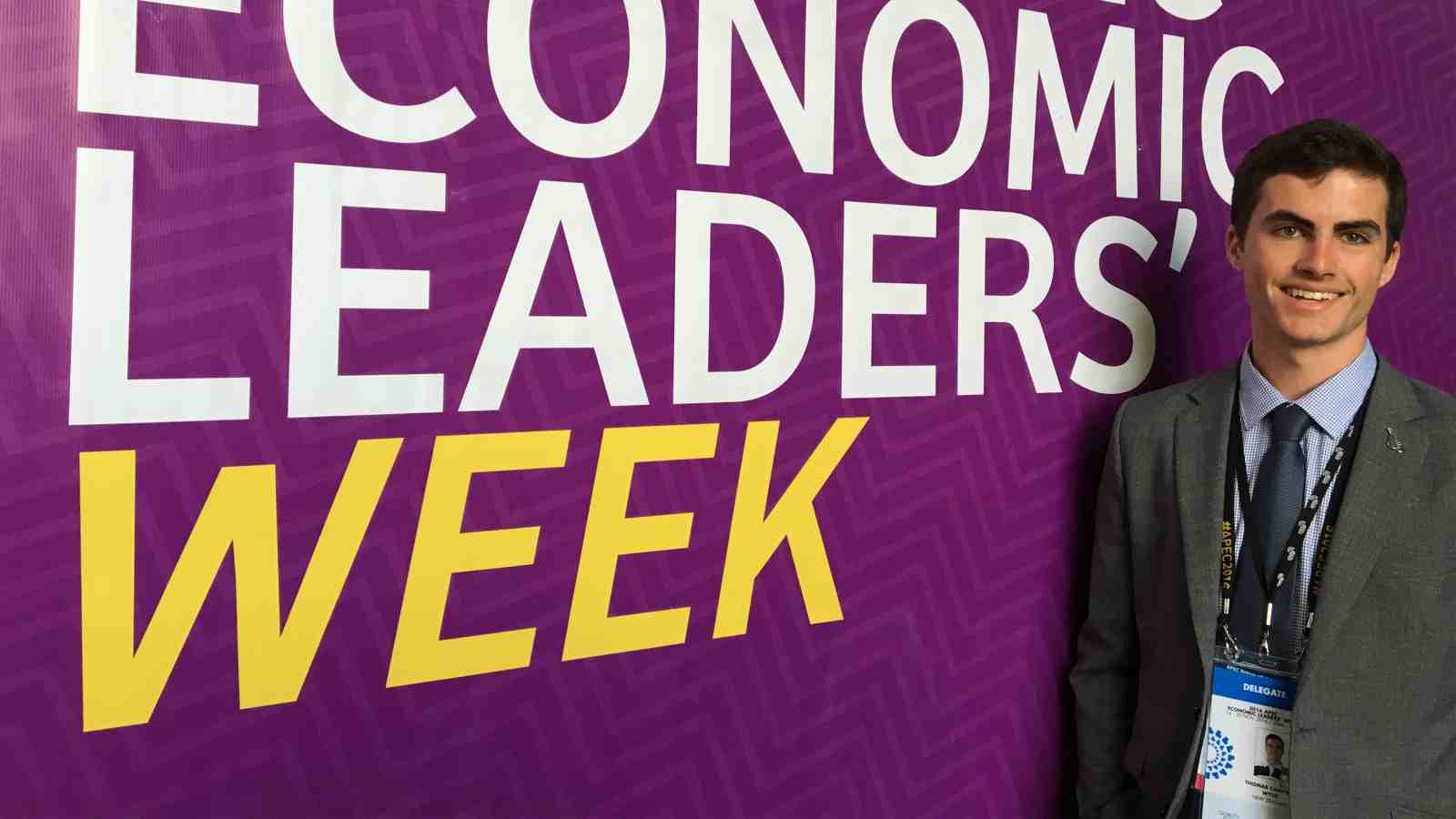 Victoria Commerce student Tom Wylie was part of a four-person New Zealand delegation at the APEC youth summit in Peru.
He met numerous international and senior officials when his group attended the APEC CEO Summit during the conference, but it was a 15 minute one-on-one conversation with then Prime Minister John Key that Tom singles out as a personal highlight.
"I discussed with him my career aspirations and he was more than happy to provide me with some valuable insight into his education and finance career. We even shared a traditional Peruvian drink, the pisco sour, which was an honour and experience I will never forget," the Accounting and Finance undergraduate said.
"The CEO Summit was very helpful in terms of developing my social skills as I learnt to communicate with top officials in a formal business setting—skills that will stand me in good stead for future interviews and workplace scenarios."
Tom attended to the conference as part of the four-member New Zealand Voices of the Future delegation.
He was designated as Victoria University's sole representative after receiving a scholarship from Victoria Business School for high grades as a first-year Commerce student in 2016.
The annual conference brought together over 120 youth leaders and educators from 15 member economies of APEC (Asia-Pacific Economic Cooperation) to discuss contemporary issues and to learn, network and interact with some of the region's top leaders, businesspeople and youth leaders.
Tom enjoyed this year's themed conference, which he says "focused on the promotion of free trade and open markets, the development of innovation opportunities and the need for equality".
He says the conference gave him a broader understanding of fellow youth delegates' views on trade and their respective economy's objectives, helped establish lasting professional and personal connections and provided a "real-life perspective on the areas we study".
"The conference gave me a comprehensive insight into the world of business at the highest level and it was incredibly enriching in terms of developing my cultural awareness and social interactions. It was a life-changing experience for me."