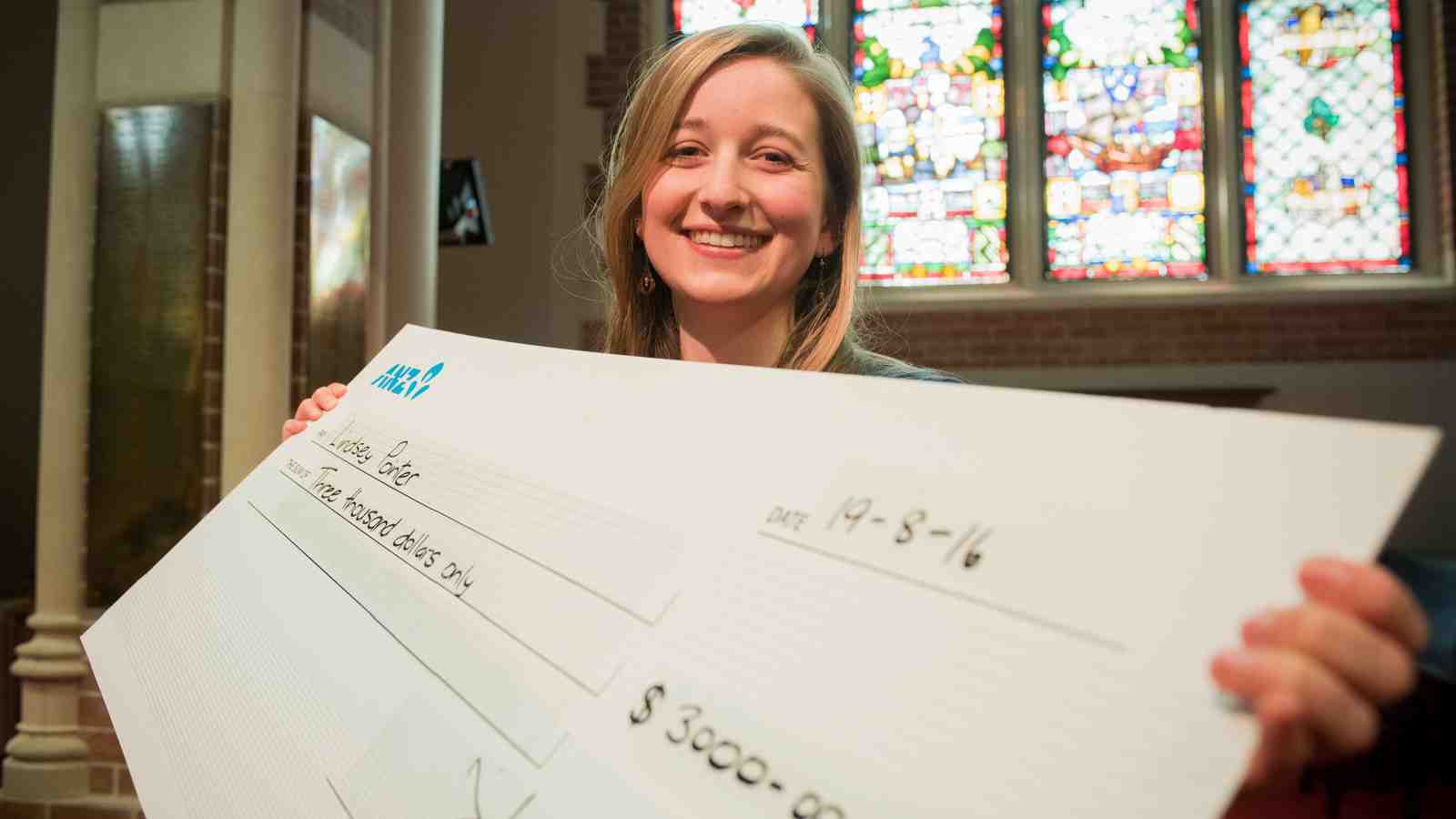 2016 Three Minute Thesis winner Lindsey Pointer.
Master's student Lindsey Pointer's presentation, titled Ritual and the Quest for Justice, described her experience when her only source of transport, a car affectionately nicknamed Janice, was stolen from outside her house overnight.
The Public Policy student outlined the need for justice after a crime occurs and how restorative justice is able to meet those needs.
The judges commended Lindsey, who received $3,000 for the top prize, for her engaging and confident style, and her clear explanation of the research and theory to a lay audience.
"I feel grateful to be studying restorative justice at Victoria University, a world-leader in this field. It was great to have the chance to share the work I'm doing with the wider community," says Lindsey.
Lindsey will represent Victoria University at the Inter-University Master's Three Minute Thesis competition in Palmerston North next month.
The Three Minute Thesis competition challenges students to effectively communicate the content and relevance of their research in just three minutes, and with the assistance of just one presentation slide.
Second place went to PhD Education student Lisa Terreni, who received $1,000 in prize money for her presentation on young children's access to and use of art museums and galleries.
Lisa will travel to Brisbane next month to compete in the Asia-Pacific Three Minute Thesis competition on behalf of the University.
Psychology student Simon Davies won third place and $500 for his presentation about reducing prisoners' risk of reoffending.
The People's Choice Award—which was voted by those in attendance—was given to Physical Geography student Rubianca Benavidez for her presentation on reducing flood risk in the Philippines through more effective land use planning.
A special category for the best international student was won by Karam Shaar, who presented on his research into international trade data, and Dean Broughton was awarded the prize for the top Honours student for his presentation on remembrance of the New Zealand Merchant Navy.
Vice-Provost (Research) Professor Kate McGrath congratulated the finalists, noting the important role postgraduate students play at the University, and the value these forums provide for emerging researchers to share their knowledge.
The Three Minute Thesis competition is organised and managed by Victoria's Postgraduate Students' Association.