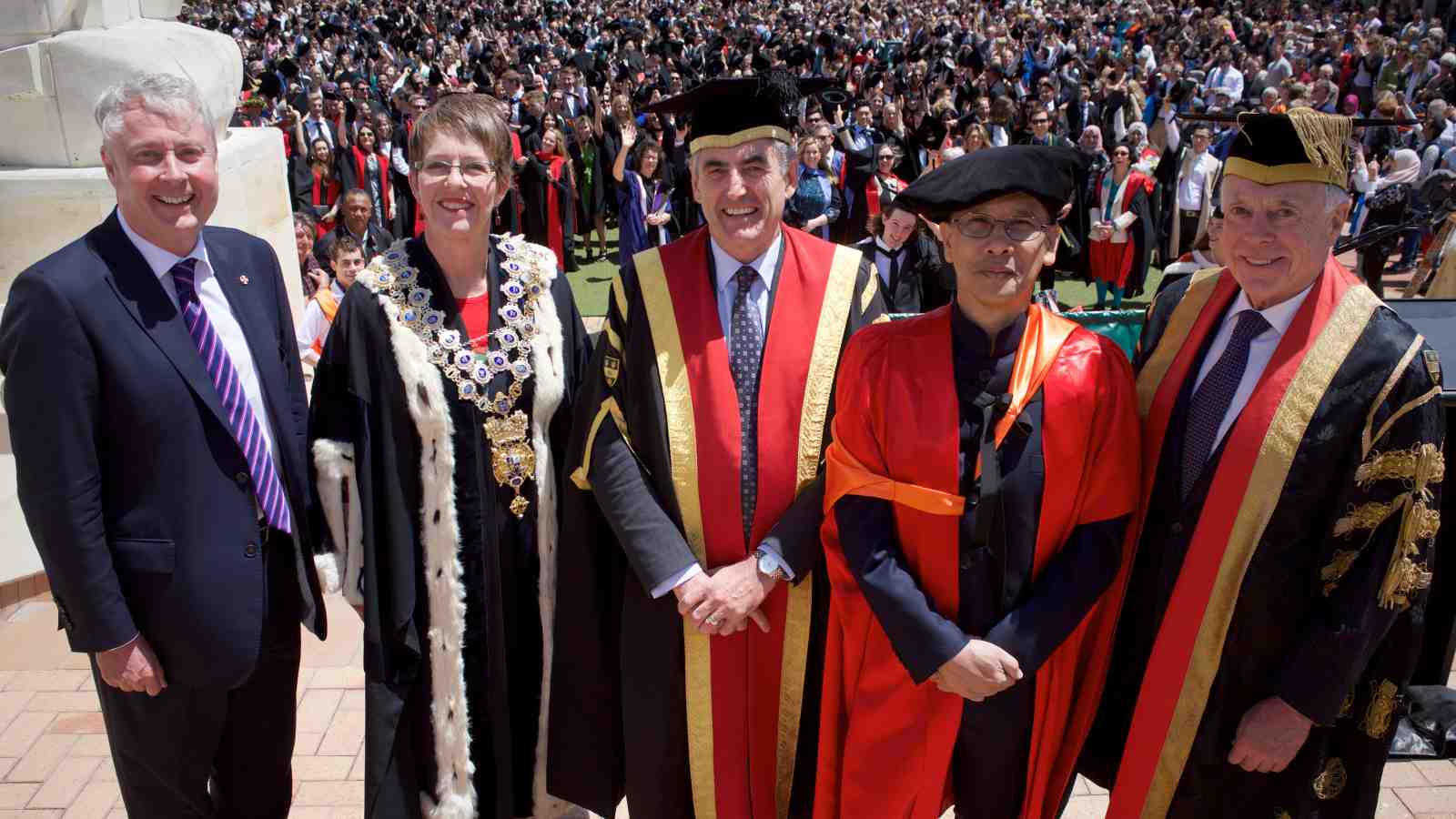 From left, Peter Biggs, Wellington Mayor Celia Wade-Brown, Vice-Chancellor Professor Grant Guilford, Honorary Doctorate recipient Tan Sri Halim Saad and Chancellor Sir Neville Jordan.
We stand together in this place—Te Upoko o Te Ika a Maui.
According to Māori legend, the hero Maui fished up the North Island from the depths of the sea.
And we are privileged to stand here—because the sweetest part of that fish was the head—which is this place, Wellington—"Te Upoko o Te Ika a Maui", the head of the fish of Maui.
Maui struggling to bring something up from the depths of the sea reminds me of another sea encounter—described by Michael King in his Penguin History of New Zealand. It was the first encounter between Europeans and Māori.
On 18 December 1642, two double-hulled canoes packed with Māori went to inspect Abel Tasman's ships. The Māori called out to the Dutch crew and blew on a pukaea—a long wooden trumpet. The Europeans responded with one of their trumpets.
The Europeans thought that they were establishing a basis for congenial mutuality. Māori had issued a challenge to fight and it had been accepted. The next day there was a physical confrontation—four Europeans and one Māori were killed. Tasman called the place Murderers' Bay—200 years later, the British settlers renamed it Golden Bay.
It's no surprise to me that the first contact between Māori and Pakeha was a creative and artistic collision, involving disruption, surprise and unexpectedness—I think we are the only country in the world where the first contact between indigenous people and European settlers was an exchange of music! Those things—creativity and positive disruption lie at the very essence of who we are as a city, region and country. As the poet Allen Curnow wrote in his poem The Unhistoric Story, we are "Something different. Something nobody counted on".
Curnow wrote a poem about this encounter, called "Landfall in Unknown Seas". The poem was commissioned in 1942 by the Department of Internal Affairs to mark the tercentenary of Abel Tasman's arrival in New Zealand.
It begins:
Simply by sailing in a new direction

You could enlarge the word…
And it goes on:
Time to go…and be gazed at going

On a fine morning, in the Name of God

Into the nameless waters of the world.
Today, you begin your new voyage as graduates, sailing in a new direction—and we gaze at, and we celebrate your going.
In a city and region renowned for entrepreneurial people and businesses, particularly tech start-ups, each of you, in your own way, is a "start-up" and, if you hold true to the qualities of any start-up—brave, agile, fast, smart, rule-breaking and driven—you will, as Curnow says "enlarge the world".
You are superbly shaped to do that because you are graduating from Wellington's—and New Zealand's—premier university, a university that consciously collides and engages with this wonderful capital city, described by Wellington's wonderful poet, Lauris Edmond as a place where: "you can't live here by chance, you have to do and be, not simply watch or even describe. This is the city of action, the world headquarters of the verb…"
You have been lucky, as I have, to have lived and learned in Wellington—New Zealand's most vibrant region and city—the place of the possible—a place packed with entrepreneurs, creators, thinkers, dreamers, achievers and doers. It is a place which is often wild, sometimes calm—but always alive with an energy and enthusiasm which makes anything possible.
So, congratulations on your graduation. I call on you now to take up the opportunity and privilege of living and working in Wellington, so that you can make us a country that seeks to enlarge the world by sailing in a new direction. We need to be a country that is the wonder of the world and is gazed at as we set off, before anyone else, into the nameless waters of the world.
This is our time. This is the New Zealand—and Wellington—century. We live in an age where weight and scale don't count. Agility and speed and creativity do. As a country and city, we are superbly equipped for agility, speed and creativity—and it will make us unstoppable.
So, let us be what Alan Curnow in his poem, "The Unhistoric Story", challenged us to be:
Whatever islands may be

Under or over the sea

We will be something different, something

Nobody counted on.
Kia ora—and, again, congratulations.