Students' crafty designs highly commended by judges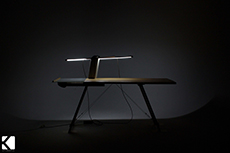 Three Victoria University of Wellington design students were highly commended for their innovative entries in this year's ECC New Zealand Student Craft/Design Awards.
Entries from Bachelor of Design Innovation students Kieren Thomas and Nick Lyford were in the lighting category, while recent Master of Interior Architecture graduate Lauren Hickling's entry was in the glass and ceramics category.
Kieren also won the People's Choice award for his design Glowsticks—a table lamp comprised of two thin mahogany LED light bars and a polished concrete base.
A redesign of the common desk lamp, Glowsticks' features are simplistic and elegant. The relationship between soft, warm mahogany and cold industrial concrete played a key role in the design process.
"I wanted to explore how contrasting materials could be combined in an interesting way to create something elegant," says Kieren.
Nick's entry, Clean Lines, is also a desk lamp designed with simplicity in mind.
Inspired by the aesthetics of French naval ships, Clean Lines has minimal detail and a soft colour palette.
"Even the switch is incorporated into one of the screws to ensure there is no disruption to the minimalist design," says Nick.
Lauren's entry, Eat Porcelain, a slipcasted porcelain dining plate, was inspired by the desire to understand how design can engage the senses when eating.
"I carried out a design investigation of the eating experience, which began with the plate and table surface before progressing to the full interior of the overall eating experience," says Lauren.
"Through this investigation the plate was identified as the key element to the ritual of dining."
While Lauren is already working in her chosen field, both Nick and Kieren are eager to see where their passion for design will take them once they graduate.
The ECC New Zealand Student Craft/Design Awards recognise designers and crafters in the early stage of their career.