Keynote Speaker - Professor WANG Gungwu
Biography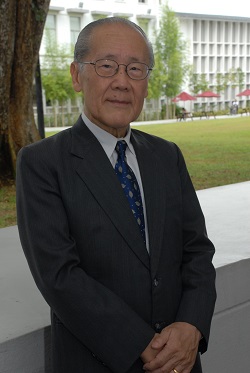 Professor WANG Gungwu is National University of Singapore University Professor (formerly Director, East Asian Institute, 1997-2007) and Emeritus Professor of Australian National University.
His recent books include The Chinese Overseas: From Earthbound China to the Quest for Autonomy (2000); Don't Leave Home: Migration and the Chinese (2001); Anglo-Chinese Encounters since 1800: War, Trade, Science and Governance (2003); Diasporic Chinese Ventures: The Life and Work of Wang Gungwu, edited by Gregor Benton and Liu Hong (2004);《移民及兴起的中国(2005);《离乡别土:境外看中华》(2005);Wang Gungwu: Junzi: Scholar-Gentleman, In Conversation with Asad-ul Iqbal Latif (2010); Wang Gungwu, Educator and Scholar, edited by Zheng Yongnian & K.K. Phua, (2012);《华人与中国:王赓武自选集》(2013); Renewal: The Chinese State and the New Global History (2013); Another China Cycle: Committing to Reform (2014); and 五代时期北方中国的权力结构 (2014). His dialogues on world history were edited by Ooi Kee Beng and published as The Eurasian Core and it Edges (2015).
He also edited Global History and Migrations (1997); Nation-building: Five Southeast Asian Histories (2005); and (with Zheng Yongnian) China and the New International Order (2008).
He is a Fellow and former President of the Australian Academy of the Humanities; Commander of the Order of the British Empire (CBE); Foreign Honorary Member of the American Academy of Arts and Science; Member, Academia Sinica; and Honorary Member, Chinese Academy of Social Sciences. He was also awarded the Fukuoka Asian Cultural Prize and the Nara Economic and Social Science Prize.
In Singapore, he is Chairman of the Institute of Southeast Asian Studies; and Chairman of East Asian Institute and Lee Kuan Yew School of Public Policy at the National University of Singapore. He has also been awarded the Public Service Star Award and the Meritorious Service Medal.
Professor Wang received his B.A. General (1952), B.A. Honours (1953) and M.A. (1955) from the University of Malaya in Singapore, and his Ph.D. at the School of Oriental and African Studies, University of London (1957). He was Professor of History at the University of Malaya, 1963-1968; Professor of Far Eastern History at the Australian National University, 1968-1986 and Director of Research School of Pacific Studies, 1975-1980. From 1986 to 1995, he was Vice-Chancellor of the University of Hong Kong.