Celebrating National Poetry Day 2019
Printing a collaborative found poem with rare wood and eclectic metal types.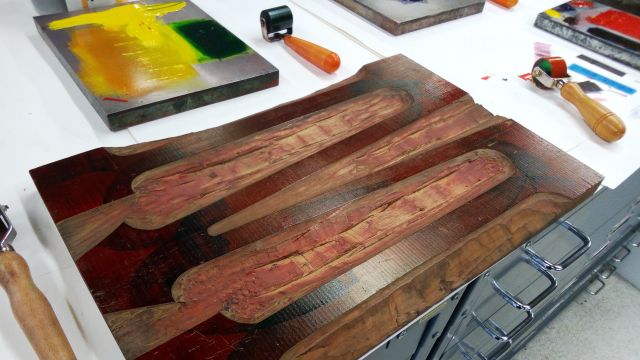 On Friday 23 August, Wai-te-ata Press celebrated National Poetry Day 2019 by printing with a rare set of large hand-cut wood type.
According to local lore, an apprentice or journeyman printer at The Evening Post spent his smoko breaks at the firm's delivery dock carving these letters. Just bigger than an A3-page, each letter has such raw energy and vitality, it's easy to overlook the occasional error of a letter carved the wrong way around.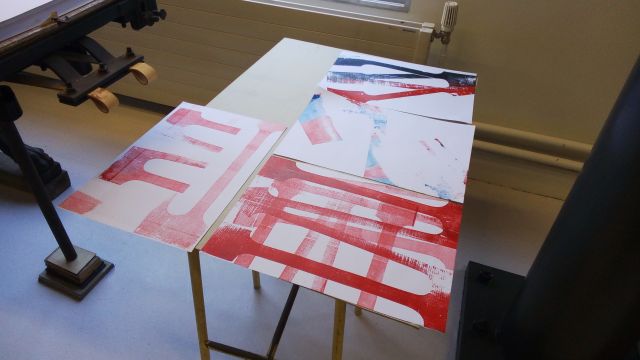 Four regular PDF attendees – Ya-Wen Ho, Kathleen Kerr, Bob Kerr, and Erin Page – plus Printer Sydney worked together and individually to generate a body of work from these wood types, to be overprinted later. The group combined techniques such as multi-colour hand-inking, rotation, and masking to create evocative textures and dynamic compositions.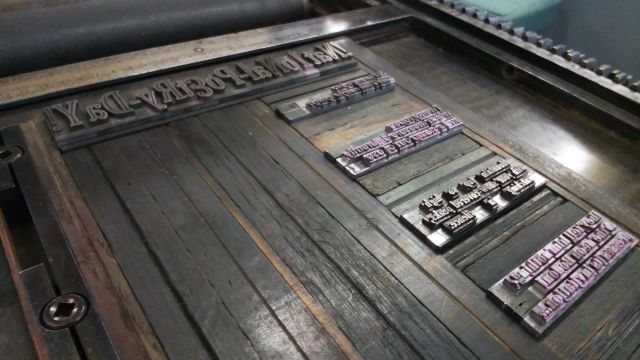 Each participant also hand-set a stanza in various fonts of 18-pt metal type to create a found poem, which was overprinted onto the wood type compositions. The titling was set in an idiosyncratic 84pt Cheltenham Inline.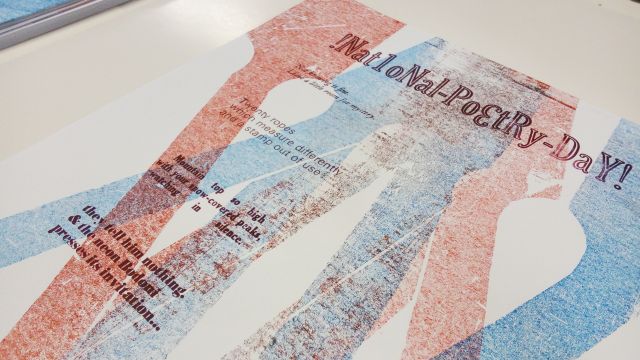 National Poetry Day
Not knowing is fine.
Leave a little room for mystery.
Twenty ropes
which measure differently
and a stamp out of use
Mountain top so high
with your snow-covered peaks,
watching in silence.
they tell him nothing.
& the neon Bodoni
presses its invitation…
Some stanzas were snippets found in curious places - a horoscope from Salient issue 7: Taboo (Kathleen Kerr), the title of a work by Edgardo Antonio Vigo, collected by National Gallery of Australia (Bob Kerr), and a line from Houseboat Days by John Ashbery (Ya-Wen Ho on behalf of David Naulls).
Some stanzas were fresh original writing – Erin Page says "Haikus are a unique form of poetry that I really took to a few years ago. Having lived surrounded by various mountain ranges growing up, this stanza reflects how I often saw the mountains."
To round off our day of celebrations, Dr. Sydney Shep also hosted members of the New Zealand Conservation of Cultural Materials Wellington branch for a tour of the Press. We have no doubt we shall be seeing some attendees back to get their hands dirty at Printer's Devils Fridays!