The hills have names
How does it shift your perspective if you see the landscape as the head of the fish—Te Upoko o Te Ika a Maui?
Victorious Spring 2017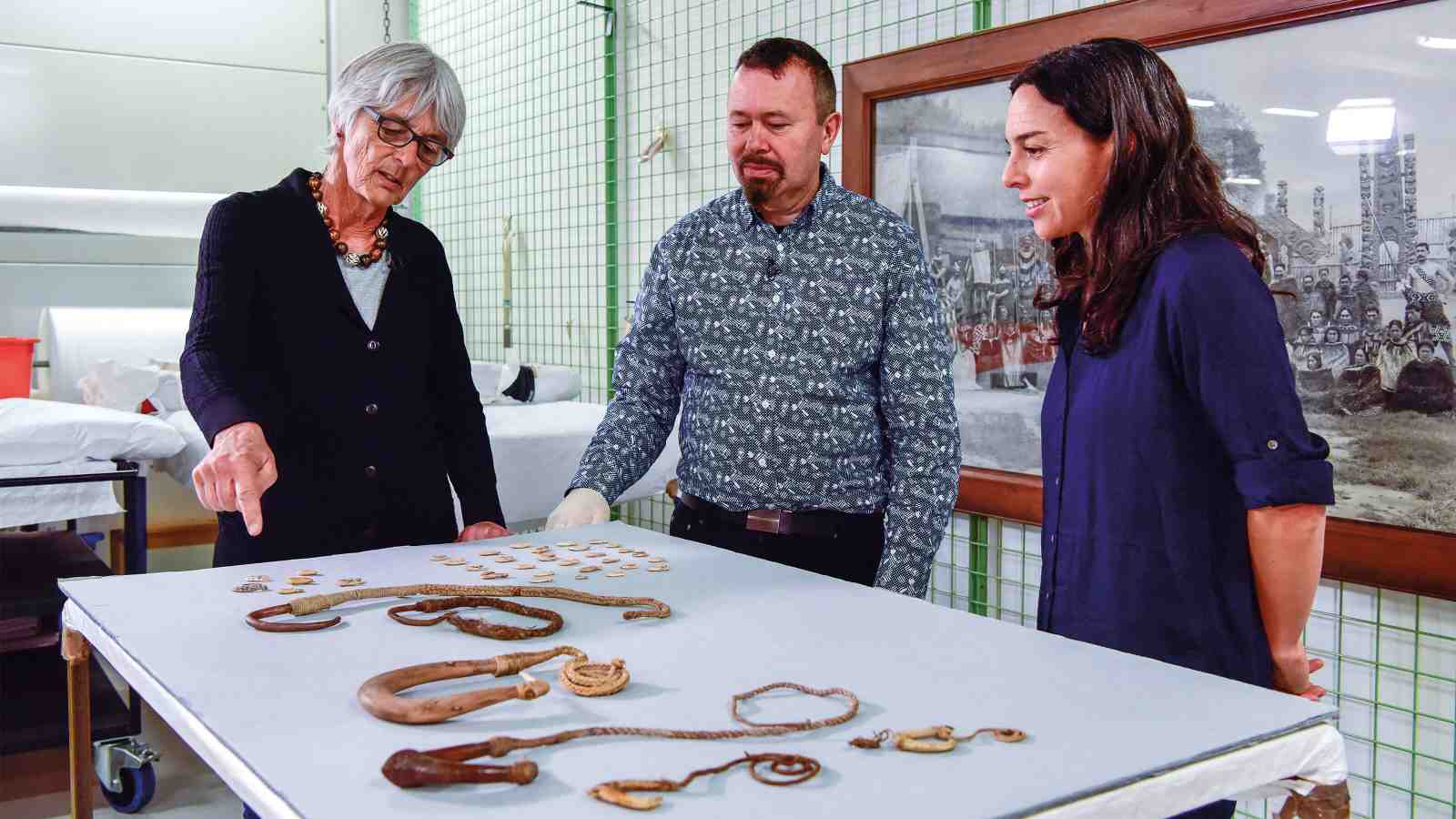 New Zealand Landscape as Culture, the latest massive open online course (MOOC) offered on Victoria's edX platform, is all about challenging perspectives. Maui enters the story early on and, with matauranga Māori and te reo Māori layered throughout the course, writers and presenters Emeritus Professor Lydia Wevers and Dr Maria Bargh believe it is New Zealand's first bicultural MOOC and unique on the international stage.
"We want to expose students to Maori ideas and to disrupt any stereotypes they might have had from watching Lord of the Rings that somehow we are Middle Earth and that the landscape is neutral and wasn't populated, except with hobbits," says Maria.
Aware the audience will be largely international, they also want it to be about much more than beautiful scenery. "We want them to think about their own landscape and what culture might be embedded there that they haven't thought about. Landscape is never neutral—the hills have names and they mean something," says Lydia.
Lydia, just retired as the long-serving director of the Stout Research Centre, initially had the idea of a course on landscape and culture for first-year students. The concept—which showcases Victoria's Enriching National Culture academic theme—then grew into a MOOC. The first four-week course beginning in November this year is Islands—Ngā Motu, which will be followed in 2018 by Mountains—Ngā Maunga.
The course taps into expertise from across the University—Deputy Vice-Chancellor (Maori) Professor Rawinia Higgins tells one of the Maui stories, and Professor John Townend from the School of Geography, Environment and Earth Sciences picks up the thread when he looks at the geology of New Zealand. The course also utilises external expertise, including trips to Te Papa to look at artefacts such as pre-European fish hooks and waka, and dips into stories from other cultures, including perspectives on the film Moana.
The pair make light work of navigating a bicultural view of landscape. They have worked together before, have a shared understanding of what they want to convey and they spark off each other.
Lydia says, "We are basically inventing an entire course—the subject and its content. You couldn't do it on your own."
Assistant Vice-Chancellor (Digital Futures) Professor Steven Warburton is director of Victoria's edX programme, which sits on the global edX platform alongside courses from top-ranked United States universities such as Harvard and MIT. "These MOOCs build on the research distinctiveness of Victoria and provide an opportunity for the world to join an educational experience with our outstanding academics."
Victoria ran its debut MOOC, Antarctica: From Geology to Human History, on the edX platform in April. It was presented by Dr Rebecca Priestley and Dr Cliff Atkins and attracted more than 5,000 enrolments. A return journey to Antarctica is planned, as is a series on restorative justice.