Graduates secure funding for game promoting entrepreneurship in New Zealand
Graduates of Wellington School of Business and Government's entrepreneurship course have received a grant from the Ministry of Youth Development to make their concept for a game that teaches students about entrepreneurship a reality.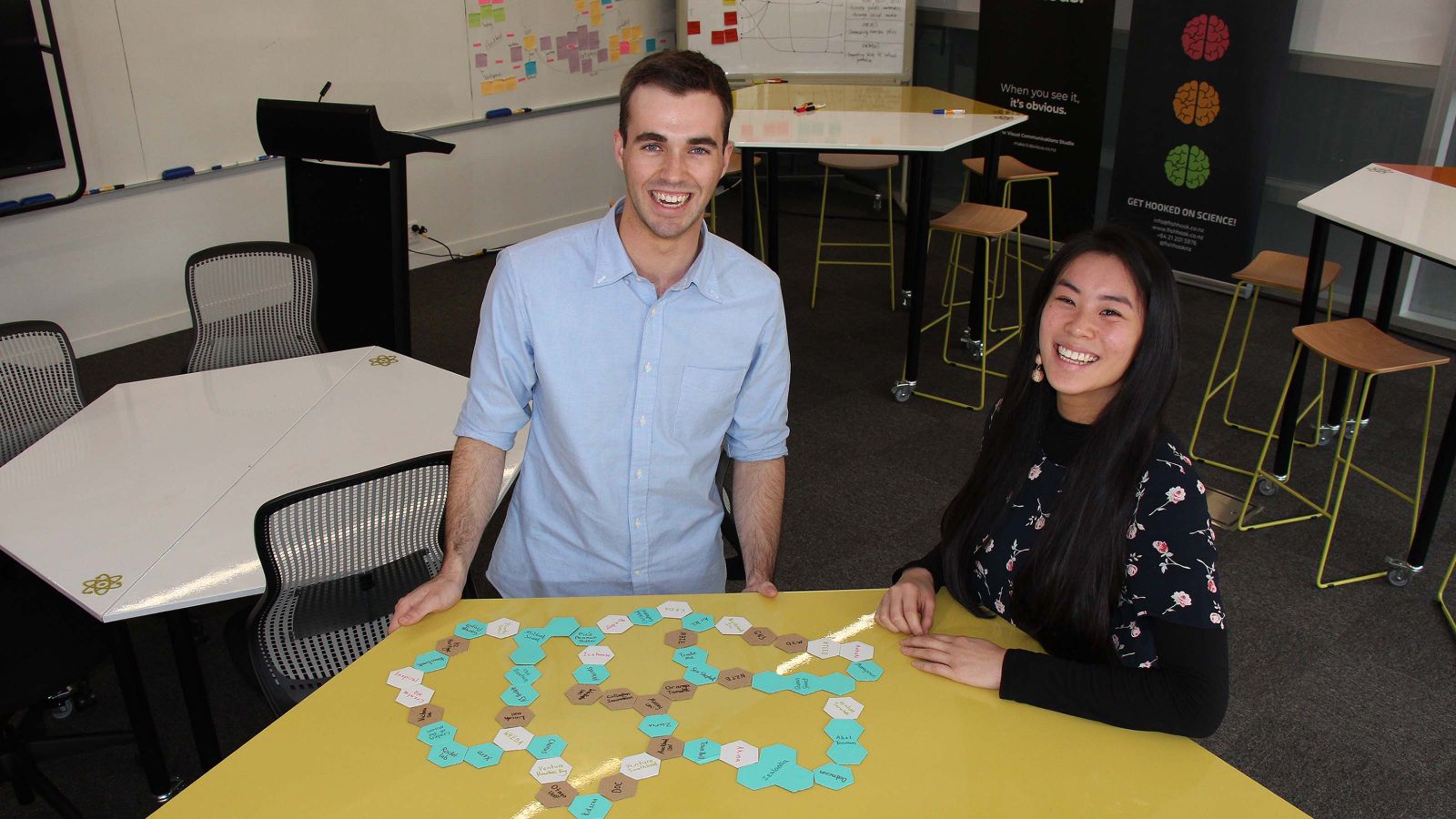 Seeing a need for a resource to teach school students about entrepreneurship, Michelle Goh and Jack Welch created the game 'Startup Story' as a project for the Business School's Entrepreneurship course in 2018—winning the ThinkPlace best visualisation project prize in the process.
Since then they have continued to run with their idea and have now secured a $4000 grant from the Ministry of Youth Development, as well as the guidance of mentors, to help them make their concept a reality.
"With table-top games experiencing a resurgence, we see an opportunity to provide young people with a tangible connection to entrepreneurship. Startup Story might only be a game for a few players but the potential for one of those interested young people to be inspired to engage with the 'real world players' in New Zealand's entrepreneurial ecosystem are limitless," says Jack.
Since developing the game last year, Michelle and Jack have continued to refine the game to make it as engaging as it can be.
"The idea has seen a lot of change and a fair few iterations—all in the interests of creating an engaging game that brings the ecosystem to the learner," says Jack. "We've had a blast creating the game and are confident there isn't any other entrepreneurship resource this dynamic or attractive in the world—let alone New Zealand."
Startup Story sees players become a young entrepreneur travelling through New Zealand's entrepreneurial ecosystem as they create and lead the next startup, viral campaign or social enterprise in New Zealand.
"The game downplays blind luck and conflict in favour of development and self- determination, as all players compete to affect change or build their start up," says Jack.
Now that Michelle and Jack have the support of the Ministry of Youth Development they are taking steps to bring their game to market—all while managing their other work and study commitments.
"Now that we have funding and mentors we plan to socialise Startup Story to a wider audience to get our concept off the ground. We'll be busy testing our prototype further, starting to juggle finances, honing our pitches and talking with manufacturers," says Jack. "We're looking forward to working with our mentors and getting our game in front of young New Zealanders."